09 Aug 2019
Sam Donnachie from Colour Hive Talks Trends
Ahead of Autumn Fair we sat down with Sam Donnachie, the Executive Creative Director of our trend partner Colour Hive and MIX Magazine, to find out about how trends emerge, and what patterns and colours we will see in SS 2020. In addition, she gave a sneak peak into the trends that will be at Autumn Fair this September.
Who is Colour Hive?
We're a creative agency based in London and we forecast, analyse and track trends in colour, material and finish for the design industry.
What is MIX Magazine?
MIX Magazine is Colour Hive's quarterly publication where we publish our trend concepts and colour forecasts two years ahead of the season, along with features that give context to the whole forecast. Our ethos is that forecasts should be intelligent, inspirational and functional, this is why we create all our own concept images and have developed infographics to communicate simply how colour families are evolving.
How do trends emerge?
Trends are all around us, these are the big picture or macro drivers that shape peoples tastes and behaviours such as sustainability or economic uncertainty. We track these drivers and predict their influence; our trend design concepts are our creative interpretation of the outcomes. We see it as storytelling based in fact.
What colours will we see in SS 2020?
While we do define a 32-colour palette for each season, it's more important from a product development perspective to note how colour families are behaving. For example, in SS 2020 we can highlight the layering of tonal reds and a really interesting expansion of greens.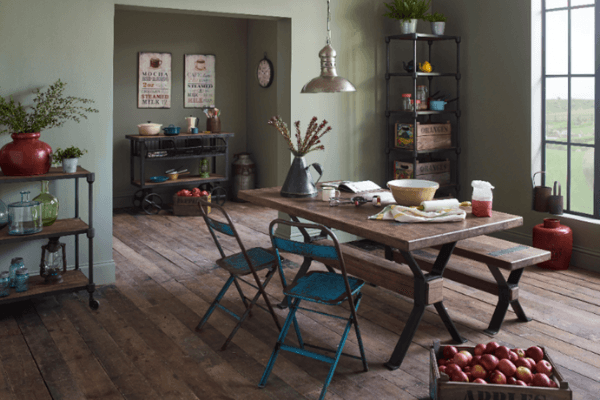 Credit: Besp-Oak Furniture
What patterns will we see in the home for SS 2020?
Nostalgia and reassurance are playing an important role in interiors, with a craving for cosy, reassuring spaces. To this end we're seeing a return to restrained Neoclassicism in wallcoverings and textiles in archive colours. At the other extreme, we're seeing bold freehand illustrative pattern with an expressive art school vibe.
Do different areas (gifts, cars, home) see different colour trends, or can Colour Hive's trends be attributed to multiple sectors of the retail industry?
This is a good question. Accurate colour forecasts are applicable across different industries, but the nature of the product determines whether you are selecting colours for longevity such as automotive, or shorter-term trend impact for gifts or home accessories. This is why we illustrate the evolution of colour families as a whole; this way you can track the subtle shifts in core colours in parallel with faster moving trend accent colours.
What is Colour Hive doing at Autumn Fair?
We'll be presenting our Colour Material & Finish trend forecast every day, and we've designed a trend installation to inspire product development and colour planning for AW 2021. We will also be at stand 10E102-D103 at the show if anybody wants to book in a meeting.
What Colour Hive tones will be evident at the show?
Some of our forecasted trend colours for SS 2020 will be used for wayfinding around the different sectors at the show. The seven main ones that will be used on each door are Dutch Blue, Pistachio, Turquoise, Tinned Salmon, Egg Yolk, Peach Jelly, and Grape. The trend feature will also feature a range of tones for AW 2021 that will show complementing products and colours.
For the next seven days, Autumn Fair will be releasing one SS2020 trend colour a day on our website and social medias. Check out the first colour Dutch Blue that was released today.
Don't forget to register for your free Autumn Fair ticket to see the trends, and get free access to the trends seminars, in person.
Explore More Newsletter Content
SS2020 Colour Trends Male Beauty Trends Fashion Trends Personalised Gift Trends