21 Aug 2020
Spotlight On: Wilberry Toys
Our exhibitors are the people who make our shows so special, and we always love to shine a spotlight on our favourites. We sat down with Peter and Sue Lockey, owners and founders of Wilberry Toys and The Puppet Company, to find out a bit more about them.
Tell us a bit more about Wilberry Toys
Following the success of The Puppet Company, and having all the manufacturing contacts, we decided to add a second string to our bow, hence Wilberry Toys! Wilberry combines the design skills of six different designers and fabric makers and benefits from the market experience gleaned over 20 years with sister company The Puppet Company.
Every Wilberry Toy is geared to give the retailer at least a 2.4 – 2.6 margin, and our USP is that every year we add at least a hundred new designs so the range continues to evolve and develop year upon year.
The name Wilberry comes from the address of our head office and warehousing which is on Wilbury Way, Hitchin in North Hertfordshire, and so the name Wilberry Way was born!
Do you have a favourite toy or collection?
Sue: I love our new Wilberry Pets in Baskets, the range includes little elephants, geese and bears, and is adaptable and collectable. I also love the Wilberry Dancers, especially the hippo who is very sweet!
Peter: I'd say it's hard not to like a unicorn in a tutu! As a keen bird-watcher I think our Wilberry Feathery Friends are fabulous.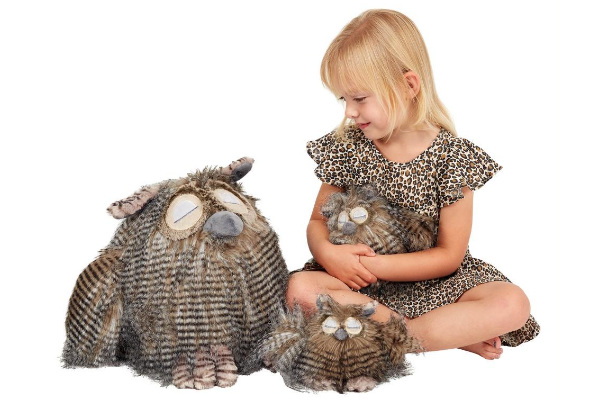 How have you navigated the lockdown, and have you taken away any lessons from it?
As with most wholesalers, lockdown has presented huge problems, most notably that all our customers' shops have been shut and the challenges we've faced trying to support retailers who are continuing to sell. However, this time has also given us breathing space to develop new designs which we will be showing online in November and has also allowed us to work on increasing our engagement and interaction with our customers.
We've been working behind the scenes with some amazing teachers, actors and entertainers using our soft toys and puppets to help keep children entertained and learning through play during the lockdown. As ex-teachers, we are both passionate about the power of puppets and soft toys to help entertain and educate. Seeing all the pictures and videos families have sent us using our Wilberry and The Puppet Company products has been wonderful.
In terms of lessons learnt, you quite simply never know what's around the corner. Whilst extremely difficult, this situation has taught us to adapt and establish new ways of working and supporting our customers, end users and employees.
How long have you been coming to Spring and Autumn Fair and why is it so important for you?
We've been attending both Autumn and Spring Fair as buyers for 20 years and as exhibitors for 18 years, so we're nearly coming up to our 40th Autumn Fair anniversary! It's a great meeting place for new customers, touching base with existing customers as well as getting feedback and showing new designs. To sum that up, Autumn Fair is our shop window! We love meeting our customers, existing and new, and always bring our big red fridge full up of water and fruit juice for informal drinks and chats on our stand.
What are you most looking forward to about Autumn Fair @ Home?
Not having to put up our massive stand! That aside, meeting our customers virtually is something we're really looking forward to, and as always showing new product is key. We believe it's more important now than ever before to support our customers and in the run up to Christmas will be introducing new special offers and packages.
Finally, do you have any words of positivity to share during this difficult time?
Things will improve. It goes without saying that this has not been easy for anyone, but we will all learn to adapt to this latest challenge. We're finding ways to do things differently, and that's why we're so excited for Autumn Fair @ Home - finding new ways to reach and support our customers during these extraordinary times.
Make sure you discover the new Wilberry Toys collection at Autumn Fair @ Home; the virtual showroom will be launching soon!
You can contact Wilberry Toys using the details below:
Wilberry Toys
Units 2-4 Cam Centre
Wilbury Way
Hitchin
Hertfordshire
SG4 0TW, UK
T: +44 (0) 1462 446040
F: +44 (0) 1462 446041