01 Jun 2023
Are you ready for summer shopping?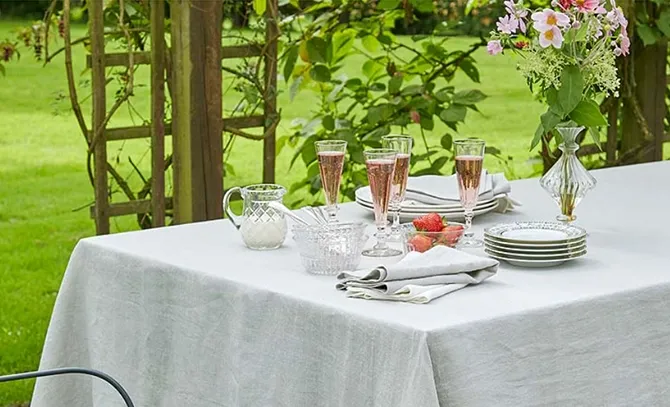 As the warm breeze fills the air and the days become longer, it's time to embrace the vibrant spirit of summer. With the arrival of the summer shopping season, customers tend to revitalise their outdoor spaces and indulge in the pleasures of garden dinner parties and al fresco dining.
One of the highlights of the summer season is undoubtedly the chance to host enchanting garden dinner parties. Most people picture a beautifully set table adorned with elegant tableware and vibrant cutlery sets, surrounded by lush greenery and fragrant blooms.
You can help them making their dinner table truly captivating by offering a wide range of home products specifically designed for outdoor use. It's good to invest in durable, weather-resistant materials that exude both style and functionality.
To create a truly magical ambiance, some people like adding garden mirrors and candles to their outdoor space. Mirrors not only reflect light, making the garden feel more spacious, but they also add a touch of elegance to any setting.
Part of Teal International Ltd., the Satchville Gift Company specialises in accessories for the home and garden, offering products in their signature rustic style while also reacting to the latest trends with more contemporary ranges. Their large wooden heart mirror is an exciting option to help transforming summer gatherings into memorable experiences.
The enchanting glow of the evening can be complemented with an array of candles, casting a warm and inviting light. Scented candles infuse the air with delicate fragrances, further enhancing the sensory experience for guests. Inis is a family-owned boutique perfumery operating from a converted farmhouse in County Wicklow Ireland.
Their product range includes home fragrance candles with a scent as uplifting as a sunny day by the sea. Inis is the core founder of the Irish Whale and Dolphin Group, dedicated to the protection, conservation and better understanding of whales and dolphins in Irish waters and across the world.
"The full name of our signature collection is Inis Energy of the Sea. Inis was inspired by the sea, so it's nice to give back, in our small way, to the source of that inspiration." David Cox, Managing Director of Inis
The natural world is also an inspiration for Samuel Baker, who has a passion for design. Blooms by Samuel Baker reflect years of wild trek adventures, jungle journeys and deep sea diving. Samuel incorporates his escapades into a collection of scent to boost wellbeing.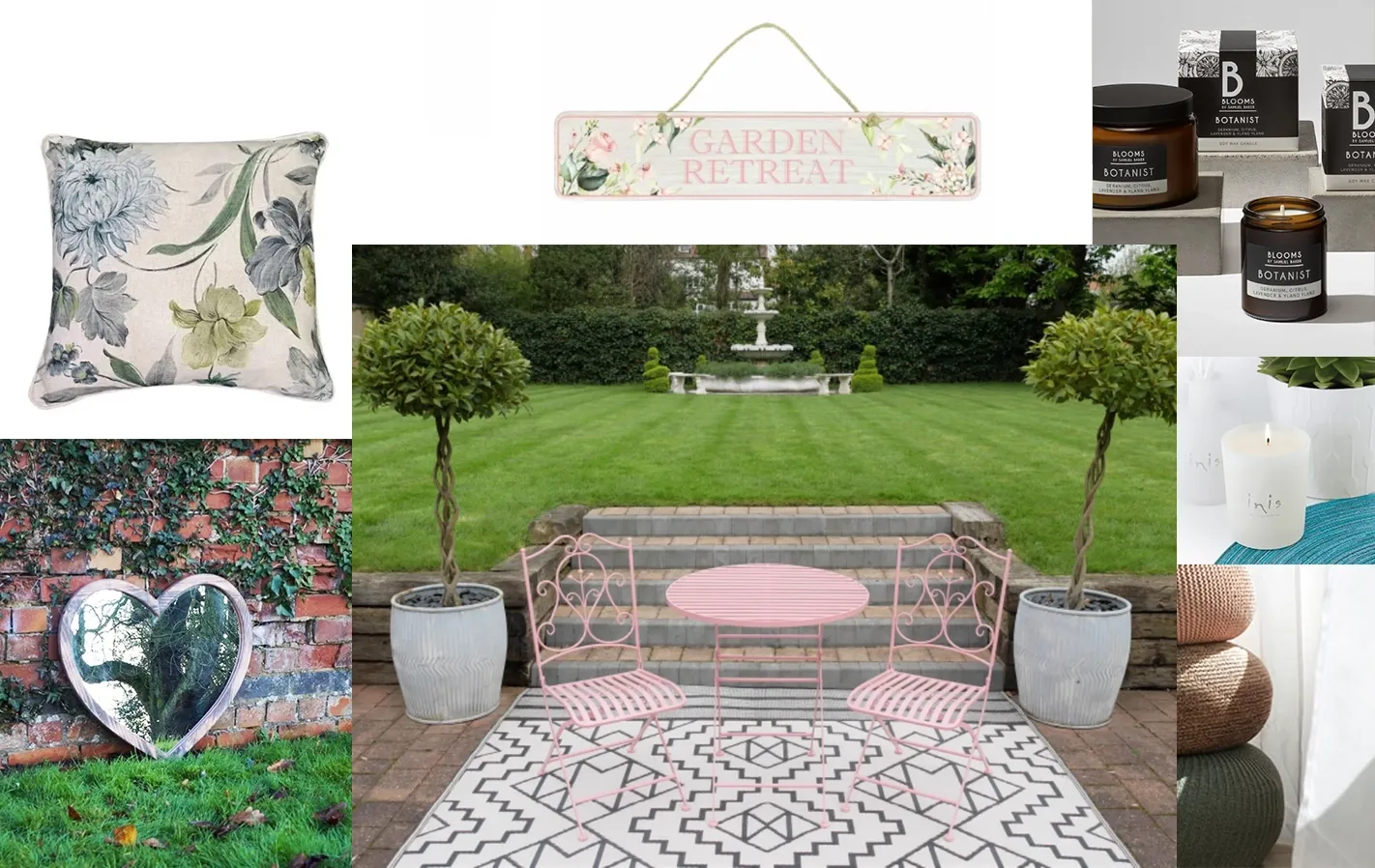 Garden furniture - Dutch Imports; heart mirror - Teal International Ltd; cushion - Malini - 'Garden retreat' outdoor sign - Inspire Gifts UK; candles - Blooms by Samuel Baker and Inis; pouffes - Indra Importer
Cushions and pouffes are essential elements to consider when setting up an outdoor seating area. It's worth adding cushions in vibrant colours and patterns to your buying plan. Malini are retailers and wholesalers of soft furnishings based in the UK and have a wide variety of designs.
Cushions not only add a decorative touch but also provide a cosy seating experience for your customers' guests. Pouffes, on the other hand, offer versatile seating options, allowing people to relax and unwind during the festivities.
Indra Importer is a family-run business specialising in authentic Indian soft furnishings for the home sector. Their pouffes reflect the rich cultural heritage of India and are produced in materials that ensure their durability throughout the summer season.
Of course, no summer dinner party is complete without the perfect tableware and cutlery sets. The clinking of glasses and joyous laughter of guests as they savour delicious meals in the open air always come to mind when remembering al fresco dining.
Customers tend to invest in high-quality tableware that showcases their personal style and sets the tone for their gathering. Walton & Co are creators of beautiful table linens and soft furnishings, and their exclusive designs are made to rigorous quality levels.
With the summer shopping season just around the corner, now is the time to prepare for your customers. Retailers need to ensure their business offers a vast array of home products that reflect today's informal eating and entertainment, inside or outside.
Customers will start getting ready for the summer season soon to bask in the warmth of the sun, surrounded by the beauty of nature, while creating lasting memories with loved ones. All brands mentioned in this article are exhibiting at our next Autumn Fair. Register now to get your free ticket!
Other Digital Content
With its Power of One campaign across all UK Retail trade shows, Hyve empowers change by encouraging retailers and suppliers to take steps towards sustainability, and help shaping the future of the in ...

Watch a woman in tech and female entrepreneur, Bobbi Trehan-Young, and learn how she managed to succeed despite many challenges. She designs stylish and functional tech accessories for women in the co ...