17 Apr 2018
Global Handicraft: Rise in demand for artisan products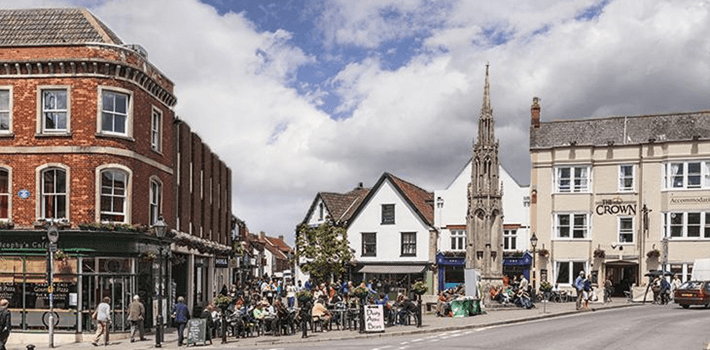 UK Market Landscape
2017 was a challenging year for the UK economy. In 2016, Britain and Germany were the fastest growing economies in the G7 (US, Japan, Germany, France, Italy and Canada). However, the most recent data from the Office of National Statistics shows that in 2017, Britain fell from the top to the bottom of the league, with slower growth than any of the other seven major economies.
While there were several factors that contributed to this stall in GDP growth, contributing to a five-year high in inflation as the weak pound has struggled since the Brexit vote in June 2016. This has pushed up import prices, a cost which inevitably has been passed onto consumers.
Against this economic backdrop, it will come as no surprise that retailers are operating in a tremendously challenging environment. As shoppers become savvier with technology allowing them access information at a greater rate, retailers are forced to differentiate their product range from online retailers – which in turn, is driving the rise in demand for handicrafts.
In 2016 The Guardian reported that the £3 billion UK crafts market is growing by 4.5% a year and with consumers' growing awareness of what they buy, they are continually looking to connect with the makers behind distinctive products, and are growing interested not only in the story of the production but the story of the maker. In addition, the total annual value of retail market stood at just under £351 billion in 2016. In 2017 this figure grew to just over £366 billion with the most recent analysis coming from The Office for National Statistics. (January 2018).
Combatant Retailers & Changing Market Trends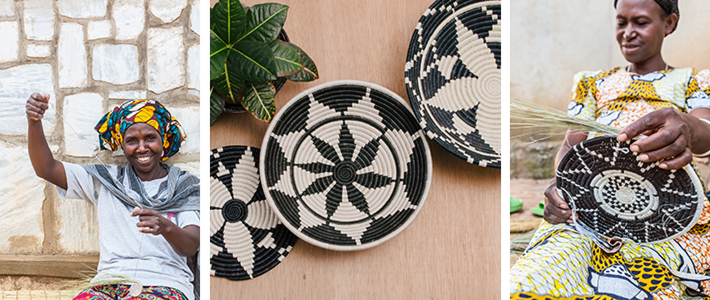 Kazi Goods exhibiting at Autumn Fair 2018 for the first time, showcasing contemporary, handcrafted goods from artisans in African communities.
Despite a number of retailers struggling to get customers through the door over the Christmas period, such as Marks & Spencer, House of Fraser and Debenhams, it wasn't all doom and gloom. Next, Sainsbury's, Waitrose and John Lewis all reported an increase in sales over the same period.
The retailer chose to uphold its 'never knowingly undersold' pledge despite widespread discounting. Chairman Sir Charlie Mayfield said that while this was the right choice, the price matching policy ultimately hurt profits.
"The pressure on margin seen in the first half of the year has intensified because of our choice to maintain competitive prices, despite higher costs mainly due to the weaker exchange rate," Mayfield explained. "Looking ahead to 2018/19 we expect trading to be volatile due to the economic environment and anticipate that competitive intensity will continue, driven by the structural changes taking place in the retail industry. Our focus continues to be offering our customers the best range of products and the best value, supported by a market leading service."
The SME Growth Tracker a quarterly report by Capital Economics, Amazon UK and Enterprise Nation, found that nearly nine in ten SMEs expect to be selling online by the end of 2018 compared to 64% of SMEs who said they were selling online today. Small businesses using e-commerce anticipate more than triple the revenue growth and double the jobs growth in 2018 compared to those not selling online.
In order to compete with the likes of Amazon, retailers have focussed on delivering unique and exciting experiences to their customers. There is a strong appetite for bespoke and artisan products, and retailers that carefully curate these products and deliver that additional 'x factor' are likely to ride the wave of market challenges ahead. This has created a new market opportunity for independent and boutique retailers.
Companies employing fewer than 250 people are the backbone of the UK economy, making up over 99% of all UK businesses and accounting for more than 60% of UK private sector employment. Their success is therefore critical to the wider retail sector. The SME Growth Tracker also found that British SMEs are forecasting an average of +1.6% revenue growth, +0.9% profit growth and +0.6% jobs growth over the coming 12 months in 2018, despite small business confidence being at an all-time low.
The global handicraft market is forecasted to grow at a tremendous rate of 12% between 2015 and 2019. Global trend forecaster, WGSN, has been tracking this trend for a number of years and called for it to start reaching mass adoption in A/W 16/17 with their Artisan theme; they also predict it will continue to grow increasingly important across all interiors categories in the seasons to come.
The Autumn Fair Solution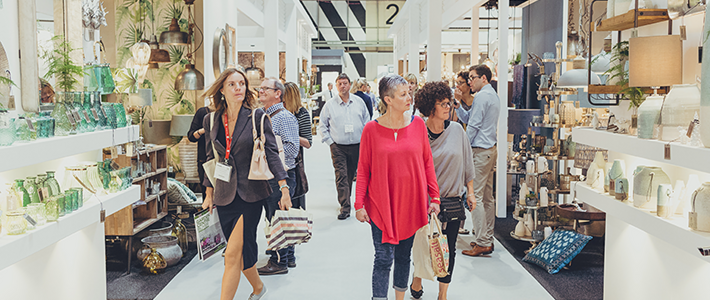 Autumn Fair, the season's number one home and gift marketplace for the retail industry is launching a new section at the 2018 edition - Global Handicraft, featuring a showcase of bespoke, artisanal products from across the world, ranging from jewellery to fine ceramics.
Louise Young, the Managing Director of Spring and Autumn Fair, explains "Consumers have made it clear they want to connect with the products they buy, and know how they were created and the story behind their purchases. With this new section, buyers can get their hands on products that are handmade, inspiring and steeped in culture, and get their orders in ahead of the competition."
"Autumn Fair is retailers' gateway to the golden quarter and key retail spikes such as Easter and Mother's Day. The show is perfectly timed for short orders and the key holiday selling period, as well as giving retailers the chance to be the first to see and order products for 2019. Handicraft is a growing source of revenue across the industry, from independent gift retailers to multi-store high street retailers."
Laura Peters, the Marketing Manager at Cornwall-based exhibitor Jo Downs, have seen this first hand at Autumn Fair. Exhibiting for the fifth-consecutive year at Autumn Fair 2018, she explains how they've seen interest rise for handicraft products at the 2017 edition "We have noticed an increased demand from our buyers, especially independent retailers, who are constantly looking for new and unique products that have a story behind them. The handmade in Cornwall aspect is a key selling point for us and Autumn Fair enables us to showcase our handmade, bespoke products."
This is further supported my fellow long-standing exhibitors Carrie Elspeth and their Creative Director, Carrie Shapiro who said "Autumn Fair is a great platform for us to be able to showcase our new collections. Handmade is our USP and it's apparent that consumers are becoming more conscious of the quality and origin of product, which is something that we are very passionate about."
With shoppers more in-tune with global environmental and social issues, the UK's handicraft industry often presents buyers with the ethically and ecologically conscious merchandise that consumers now demand.
Looking for more retail insight? Visit Autumn Fair and take part in our free seminars and workshops.