15 Apr 2021
Enduring trends: stargazing
Here are Autumn Fair, we're always on the look-out for the key industry trends. In anticipation of Autumn Fair's return this September, we've been taking a look at our exhibitor line up and there's one trend that's shining out at us; the astrologers out there will be pleased to see that stars continue to be a popular motif in more ways than one. Since this ever-popular trend shows no sign of slowing down, take a look at some of the most stellar collections in the Autumn Fair line up.
Not just a passing trend…
Stars have always been a popular motif, both seasonally (particularly Christmas) and throughout the year, so it's clear that they're not going anywhere. However, what we've seen in the past few years is a fascination with the astrological and mystical connotations of stars, as well as the standard five-pointed star motif we all know and love.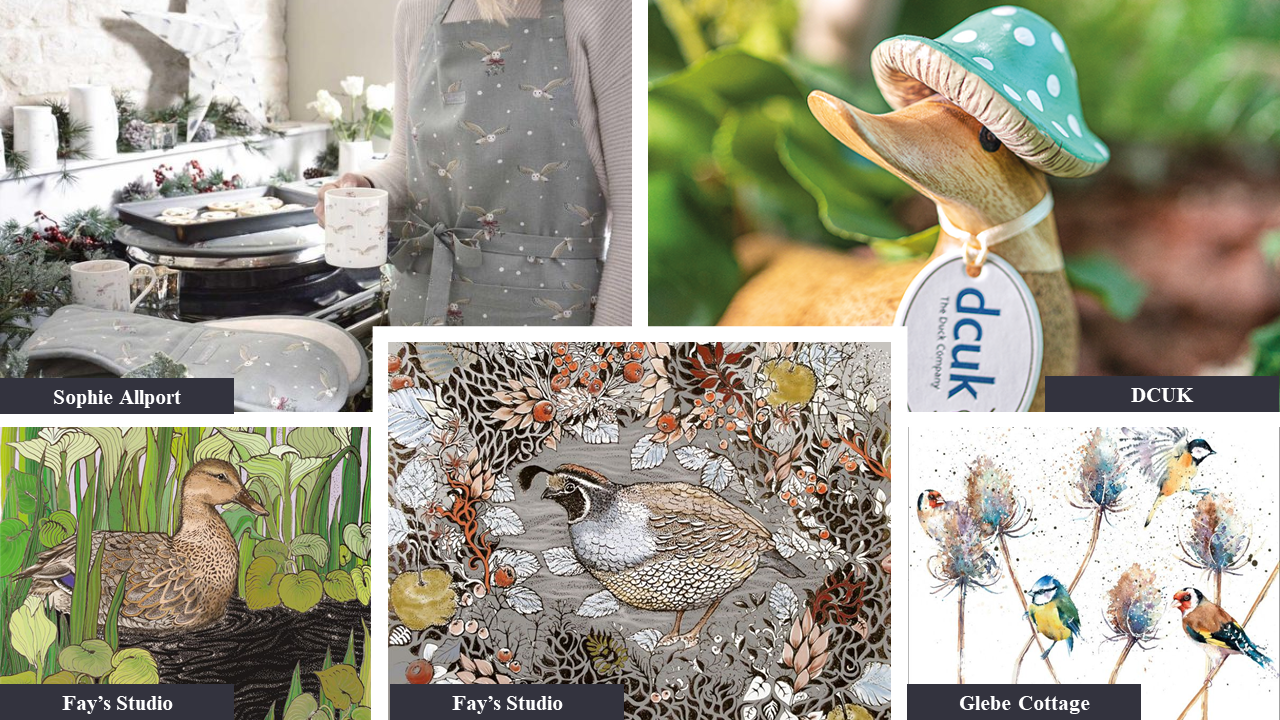 It will come as no surprise that millennials are largely responsible for this shift, with a generational fascination in astrology and zodiac signs abounding. And when we see a boom in trends within the younger generations, it's only natural that social media is behind it. In a generation that is obsessed with labels and finding one's place, the idea of a "star sign" holds obvious appeal.
Interestingly, a small psychological study (albeit from 1982) found that people turn to the stars for guidance in times of stress. And in a world where political and social stress abounds, and anxiety is at an all-time high among young people it's no surprise that this trend has stood the test of time for the past few years.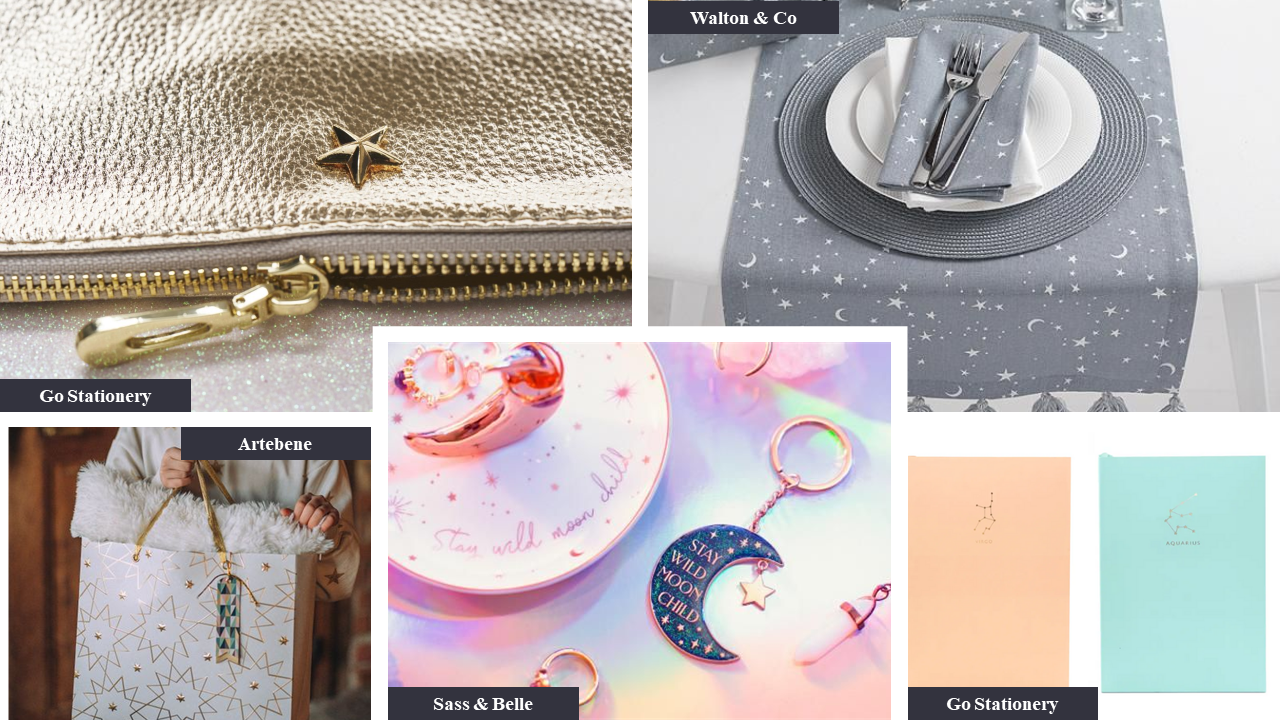 But it's not just astrology that's buoying up the star trend. Since 2016, stars themselves have also been a popular motif, even briefly displacing florals on Spring/ Summer Fashion Week runways in New York, Milan, London and Paris. Again, their symbolism has a lot to answer for here. Stars symbolise good luck, hope, spirituality, renewal, popularity… the list goes on. Again, in challenging times, this symbolism is not to be sniffed at and could very well explain the ongoing appeal.
Where are we seeing the stargazing trend coming through?
From stationery to fashion accessories, there's no shortage of star-focused collections this season. Just a few of our starry-eyed brands include:
Gringo Imports
Running for over 30 years, Gringo Fairtrade is a small, family business based in South Wales, providing fairly traded and ethically sourced goods from Nepal, Bali, India and Thailand. Their gift and homeware ranges feature stars of all shapes and sizes, in beautiful bohemian and artisanal styles.
Casa Verde / Terrace & Garden
Terrace & Garden are well known for their exquisite hand-thrown terracotta pots and their work with the Royal Botanical Garden at Kew, London. In January they launched a new collaboration with a collection of products from the wonderful Casa Verde in Majorca. Their wire florists' rings make the perfect template for a festive star-shaped wreath or a beautiful floral decoration for any time of year.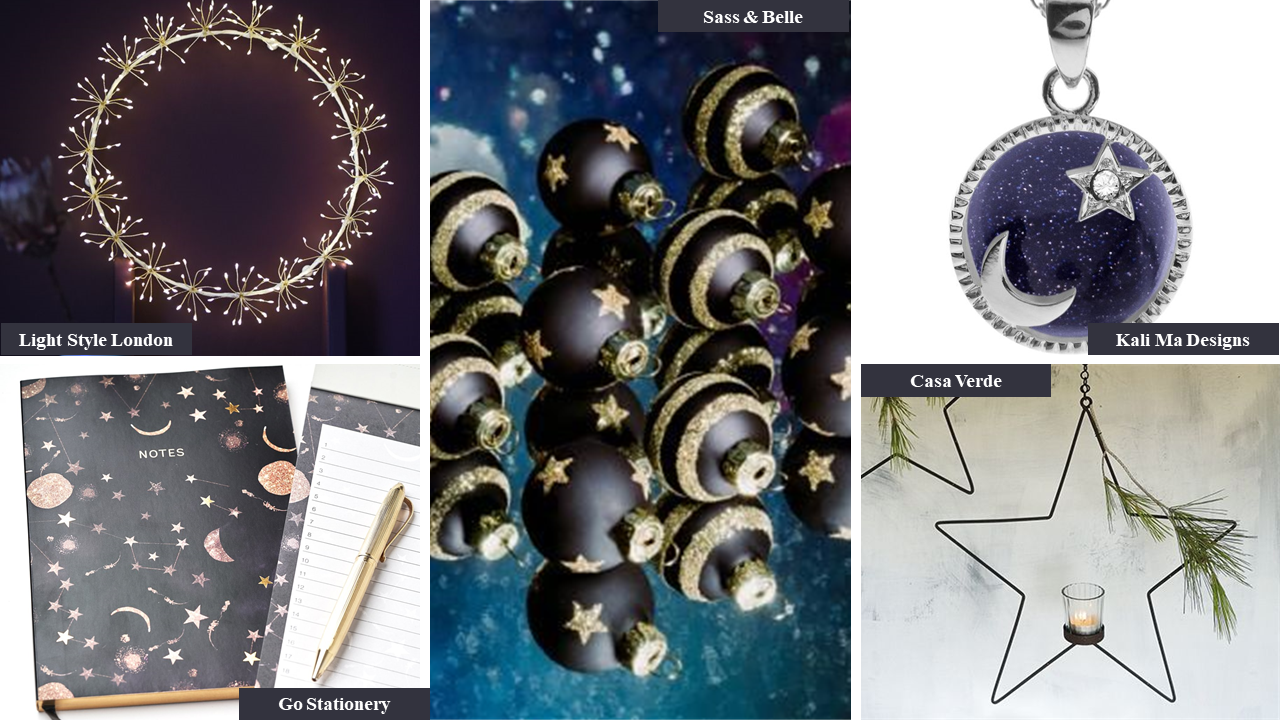 Sass & Belle
The ever-on-trend Sass & Belle never fail to create exciting and original products designed to make you smile. Their promise is to provide lovable, trend-led and affordable gifts to an ever-evolving gift market. Formed in 1998, Sass & Belle offer unique charm and personality in every one of their ranges.
Artebene
Christmas wouldn't be Christmas without an array of stars, and Artebene have just the star for every present. Artebene has been creating stationery and lifestyle products of premium quality since 1985 and has become a lifestyle brand with unique design characteristics creating "everyday art".
Go Stationery
Zodiac lovers will flock to Go Stationery's personalisable lines. Supplying premium, trend led stationery to customers across the world, Go Stationery base every design decision on their keen eye for fashions and colours. Their astrological range holds obvious appeal for younger customers, with stationery for every star sign.
Ti Sento Milano
With over 17 years in the industry, Ti Sento Milano is one of the world's best kept jewellery secrets. Well know for their quality, design, and eye-catching pieces, Ti Sento Milano are loved for gifting and self-purchasing alike.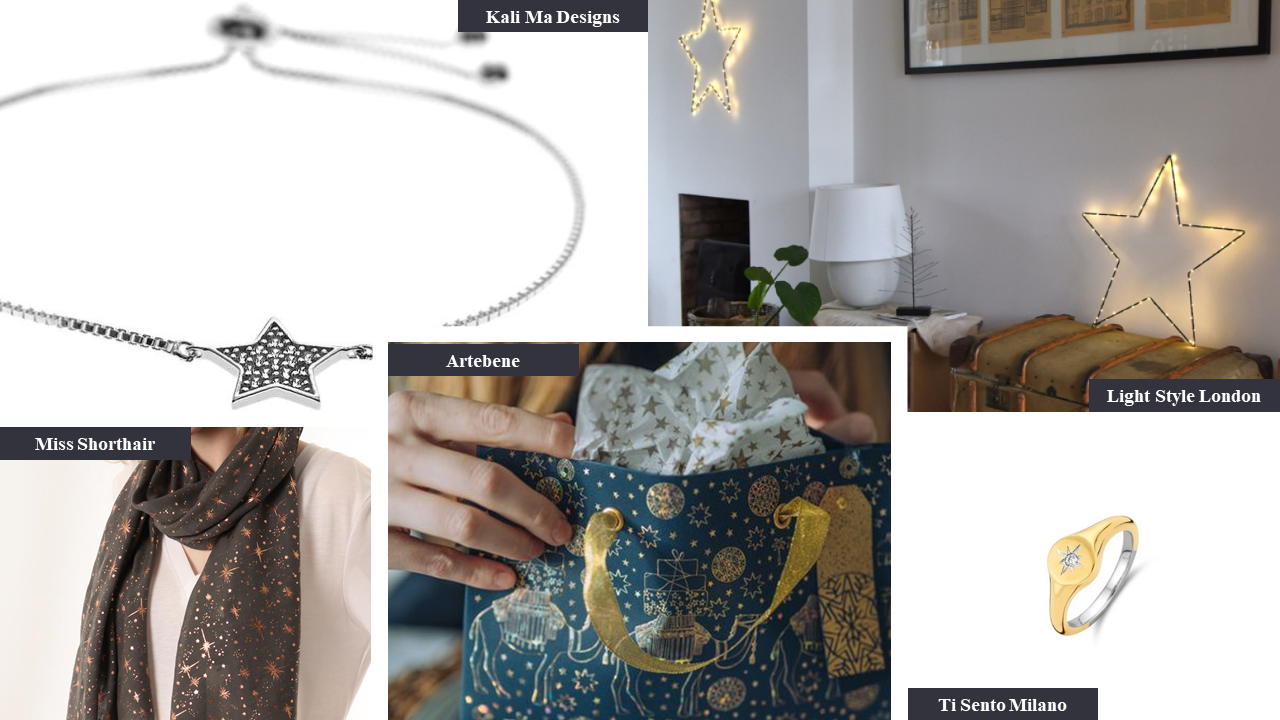 Light Style London
Established in 2001, Light Style London have enchanted independent and up-market store groups across the country and around the world. The brand has transformed the simple fairy light with their starburst range brings a delicate interstellar aesthetic to any home.
Walton & Co
Walton & Co are a British design led company based in North Yorkshire. For the past 20 years, they have supplied independent home & gift retailers, garden centres and department stores in the UK and Europe with new, stylish, and good quality table linens, soft furnishings, and nursery gifts.
Kali Ma Designs
Based in beautiful South Devon, Kali Ma Designs has been in the jewellery trade for over 25 years. Carrying one of the largest and most diverse selections and ranges of Sterling silver jewellery in the UK, their beautiful ranges encompass all things astral amongst many other enduring trends.
Miss Shorthair
Miss Shorthair is a Glasgow based scarf company with an eye for trends and a commitment to quality. The label's diverse designs appeal to a wide audience, with something to suit all tastes as well as an in-house design team to create bespoke items.
Discover even more of the latest trends and most exciting brands at Autumn Fair this September. Join us from 5-8 September 2021 at NEC Birmingham as we refuel retail.
Register your interest Apply for a stand
---
More from Autumn Fair...