11 May 2021
Enduring trends: kitsch revival
As the UK's leading home and gift trade show, we're always on the lookout for the most exciting products and aesthetics out there. Whilst trends have a reputation as faddy and "flash in the pan", there are certain long-term trends that transcend a traditionally seasonal approach. Ahead of the return of Autumn Fair this September, we've been taking a look at some of these trends that have stood the test of time; one of which is a love for all things campy and kitsch.
Origin story…
Kitsch today is a well and truly tongue-in-cheek aesthetic. Briefly, it can be defined as art or design that uses popular or cultural icons in humorous ways to appeal to a mass market and entertain.
Tracing its roots back to the 70s, kitsch has traditionally been seen garish, cheap and in poor taste. Thankfully today, the term has come to take on more positive connotations, with quirky, fun, individual, and nostalgic being more accurate terms to describe the trend.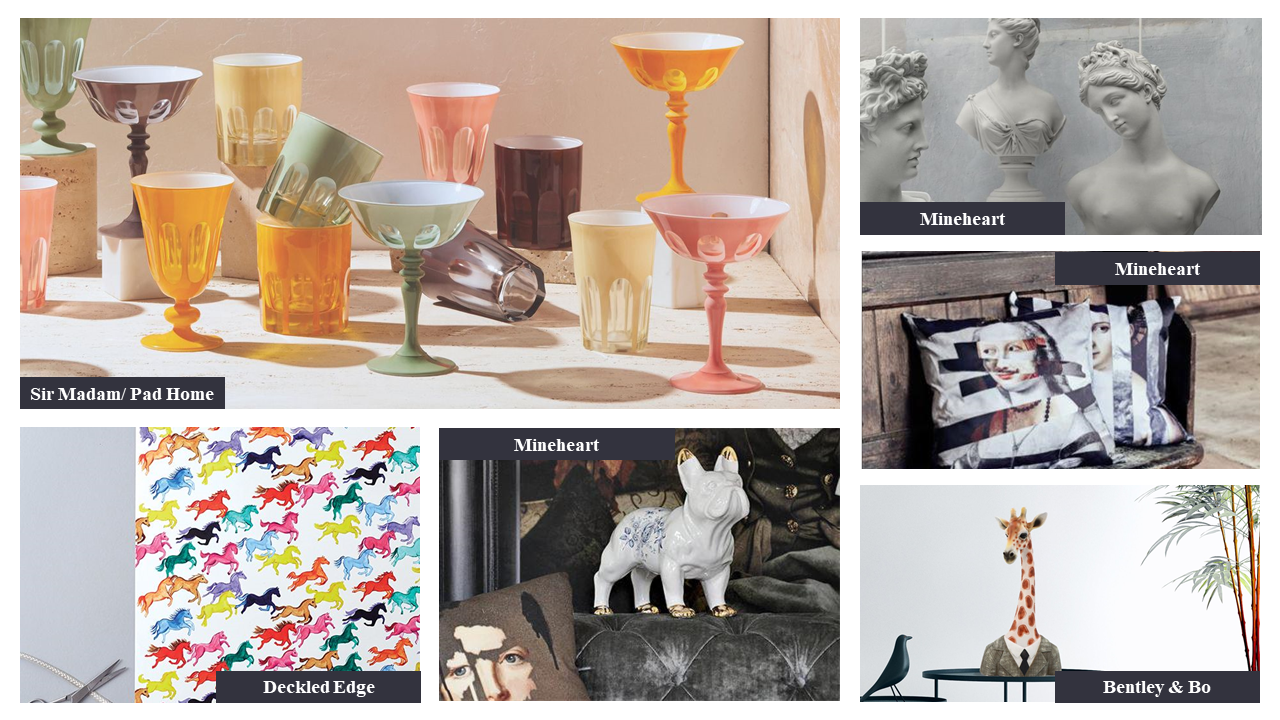 Nostalgic trends have been coming back around since around 2011 now, in everything from fashion to food. Originally deemed "retro" or "vintage", trends from the kitsch era have fast become mainstream, with bell bottoms and maxi dresses taking over the fashion world, and Campari reclaiming its place as a must-order bar beverage.
And, as we all seek to reconnect to our roots, and a "simpler time", it's no wonder that this sense of nostalgic fun has re-entered our homes and lifestyles as well.
Throwing it back…
So, who's doing the time warp at Autumn Fair? We have a few favourites:
Bentley & Bo
From giraffes in suits to astronauts with balloons, Bentley & Bo's collections are nothing if not unique. Bringing flair and personality into the home is what Bentley & Bo do best; and if that's not kitsch we don't know what is.
McGowan & Rutherford
McGowan & Rutherford's home and interiors collections encompass a broad range of styles with something for every preference. Their antique flamingo lamp is not only quirky and fun but brings to mind undeniably kitsch Club Tropicana vibes.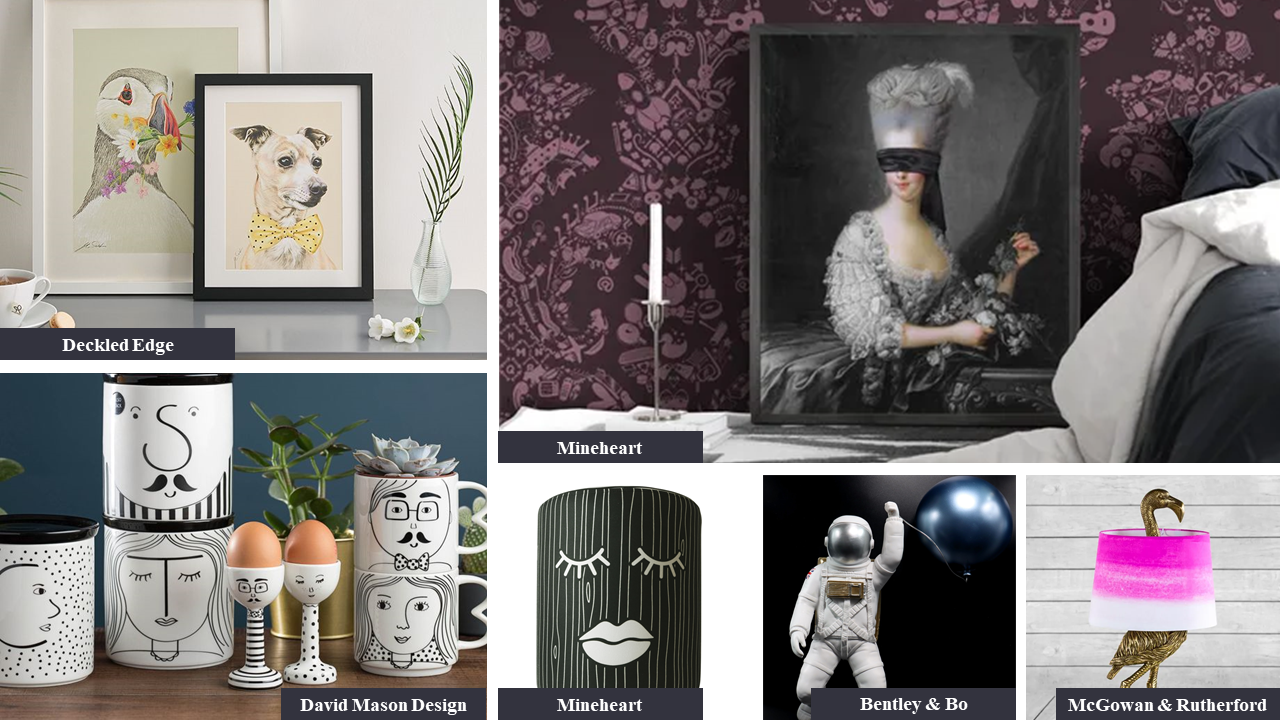 Deckled Edge
Anthropomorphised animals and bright, bold colours bring kitsch to life in the Deckled Edge range. Once again, adding a fun and playful edge to everything they do, Deckled Edge is the perfect fit. Their Warhol-esque horse print wrapping paper brings the perfect element of nostalgia, whilst their animal portraits add a twist on the traditional pet gift.
Mineheart
If kitsch is all about subverting high art and cultural icons into something quirky and fun, Mineheart are an essential to add to this list. From their classical bubblegum portraits of nobility to their delft French bulldogs, there's nothing if not a sense of playfulness pervading the Mineheart range.
Sir Madam/ Pad Home
There's something oh-so-retro about the Sir Madam Rialto range. The pastel colour palette fits the kitsch theme perfectly, offering a twist on traditional glassware, whilst the shapes on offer fit the modern-meets-retro bill perfectly.
Discover even more of the latest trends and most exciting brands at Autumn Fair this September. Join us from 5-8 September 2021 at NEC Birmingham as we refuel retail.
Register your interest Apply for a stand
---
More from Autumn Fair...