27 Apr 2021
Enduring trends: Birds of a Feather
Here are Autumn Fair, we're always on the look-out for the key industry trends. In anticipation of Autumn Fair's return this September, we've been taking a look at our exhibitor line up and there's one trend that's soaring high above the rest; birds are swooping into home and lifestyle, with exotic motifs, English countryside favourites and feathery textures taking over. We've chosen a few favourites from the Autumn Fair line up…
Origin story…
Our fine feathered friends have been with us since around 2015. In the UK, the rise of the English country motif in particular has seen feathered creatures, such as pheasants, doves and peacocks taking centre stage in homes. This particular avian trend comes from one of the key consumer trends of the past decade; the need to slow down the ever-busy urban lifestyle and recapture a connection to nature that has been lost in the hustle and bustle of city life.
With that in mind, it's easy to see why some of our more exotic and stylised avian friends have become popular. In a society that needs to slow down and escape, birds represent freedom and serenity to contrast city life.
However, there are other influences that have led to the bird trend taking flight. Our last Enduring Trend, the Tropical Jungle, has also brought its fair share of bird and feather motifs into the mainstream, with tropical birds and rainbow feathers bringing a sense of the exotic into homes.
Taking flight…
With birds on the brain, there are plenty of exhibitors bringing this enduring trend to life at Autumn Fair. Here are just a few:
COUNTRYSIDE REGULARS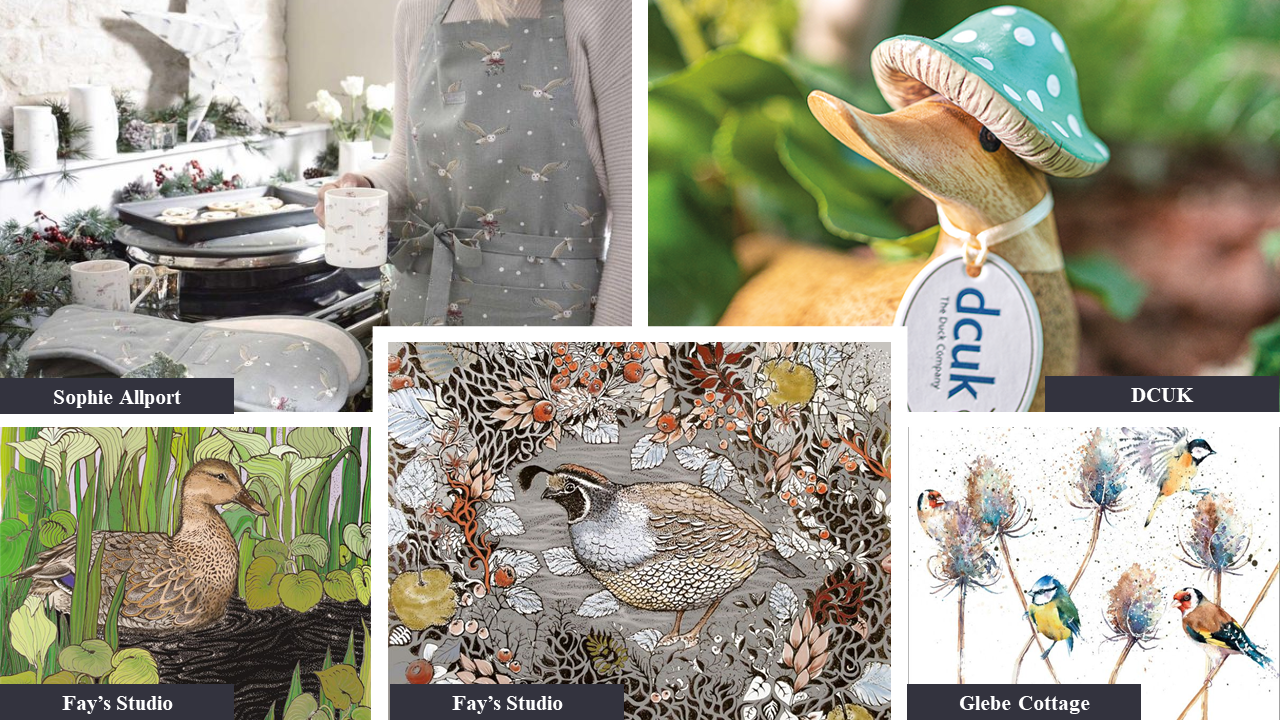 DCUK
Based in beautiful Devon, DCUK are truly at the heart of the English countryside. Their original wooden duck models have become household favourites throughout the UK, with additional feathered friends, such as puffins and penguins recently joining the line-up.
Sophie Allport
When talking about the bird trend, you can't avoid owls. These nighttime birds are a popular motif in their own right, and when looking at Sophie Allport's beautiful, understated collection it's easy to see why. The brand's Night Owl range perfectly encapsulates a traditional English Countryside aesthetic, whilst also bringing a subtly festive touch, perfect for Christmas.
Fay's Studio
From hens to robins, Fay's Studio's beautiful illustrations perfectly encapsulate the domestic and wild English countryside. Offering the perfect selection for any bird-lover, Fay's Studio greeting cards have something for every occasion, including the festive season.
Glebe Cottage
Another greetings card supplier offering stunning avian art is Glebe Cottage. Another Devon-based company, Glebe Cottage's range includes stunning bird photography and illustrations from The Wildlife Trust, Rachel Toll and other contributing artists, perfectly encapsulating the British countryside and all its creatures.
TROPICAL TWEETERS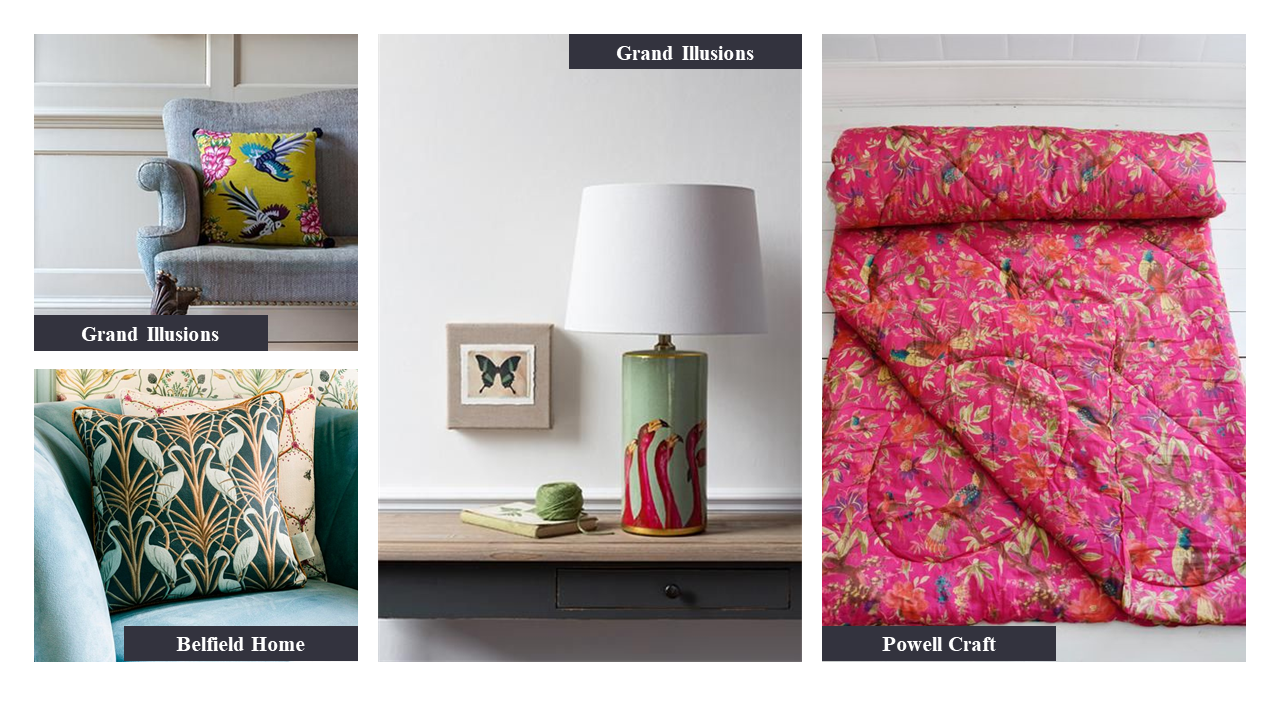 Belfield Home
Belfield Home's recent collections feature all manner of flora and fauna, including the bee, which we explored in our bumbling trend a few weeks ago. In terms of feathery friends, Belfield's Nouveau Heron collection brings an exotic twist on the wading bird, with prints inspired by traditional Japanese depictions of the lucky bird.
Powell Craft
Bright and bold is the only description for Powell Craft's bird-based prints. The label's beautiful bedding ranges depict colourful exotic birds and hummingbirds, to bring an exciting pop of colour into any bedroom.
Grand Illusions
From hot-pink flamingos to soaring swallows, the Grand Illusions collection is nothing if not eclectic. Defined by sumptuous colour and a sense of fun, Grand Illusions have well and truly captured the vivid rainbows of exotic birds.
FEATHERED FANTASIES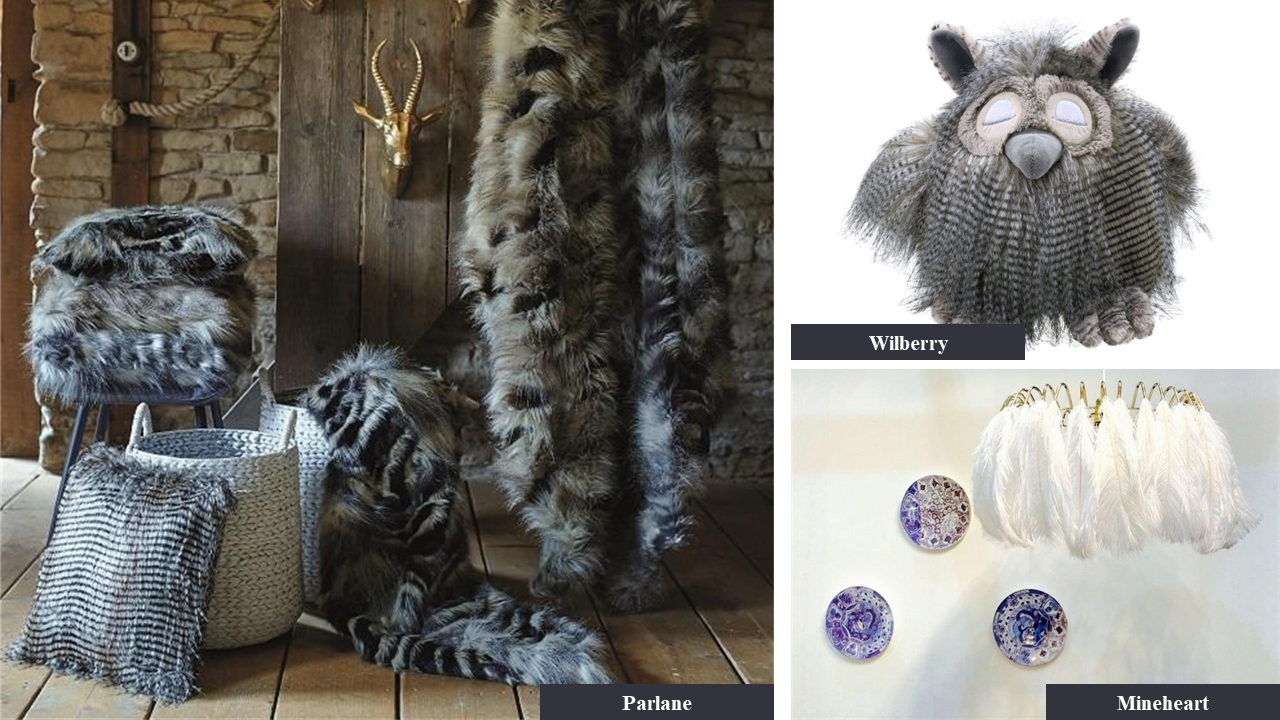 Wilberry
Bird buddies have their place in the toy world too, with Wilberry's Feathery Friends swapping fluff for (faux) feathers. Bringing back our ever-popular owl, the Feathery Friends make the perfect bedtime buddy for children of all ages.
Mineheart
Everything Minheart does is infused with a sense of fun, invoking a sense of "kitsch" in every piece. Alongside their tongue-in-cheek noble animal portraits, which include an emu wearing a ruff and a parrot in full military regalia, their glamrous feather pendant lamp brings to life the bird theme in the most lavish way.
Parlane
Ever on trend, Parlane's faux fur collection is perfectly complemented by their luxurious, imitation falcon feather cushion. This soft and tactile piece is perfect for lounge or bedroom, bringing with it a sense of cosiness, perfect for winter.
Discover even more of the latest trends and most exciting brands at Autumn Fair this September. Join us from 5-8 September 2021 at NEC Birmingham as we refuel retail.
Register your interest Apply for a stand
---
More from Autumn Fair...