16 Mar 2021
Enduring Trend: The Bee
Here are Autumn Fair, we're always on the look out for the key industry trends. In anticipation of Autumn Fair's return this September, we've been taking a look at our exhibitor line up and we've noticed a buzz around one particular motif; bees. Since this ever-popular trend shows no sign of slowing down, take a look at some of our favourite bee-inspired collections from the Autumn Fair line up.
Not just a passing trend…
When we talk about trends, it's all too easy to believe that each and every one is just a flash in the pan. But there are certain trends, like bees, that we've seen appear in collections season after season and it's clear that they're here to stay.
Bees have long been a part of fashion and lifestyle history. Since the '70s, Gucci have used the bee motif on some of their signature collections. Then, in 2015 Gucci's then newly appointed Creative Director Alessandro Michele revived the bee motif (along with a whole focus on wilderness, flora, fauna and so on), prompting many other high-fashion staples to follow suit. Notably in 2019, Gucci further resurrected the buzz with their apian home collection and the humble bumble has been popular in consumer product ever since.
Of course, it's not just the fashion houses who have bumped the bee trend. With an ever-increasing spotlight shining on sustainability, bees have become a symbol for the devastating effects of climate change and how it's impacting our ecosystems close to home. Consumers' concern for the declining bee population is yet another factor to have increased the popularity of our buzzy friends, and bee motifs, as well as bee-friendly products have become high on the agenda.
Where are we seeing the bee trend coming through?
From bee motifs on greetings cards, stationery and homeware to bee-friendly products to promote biodiversity and protect the countryside it's safe to say our black and yellow friends are swarming every inch of the consumer product landscape.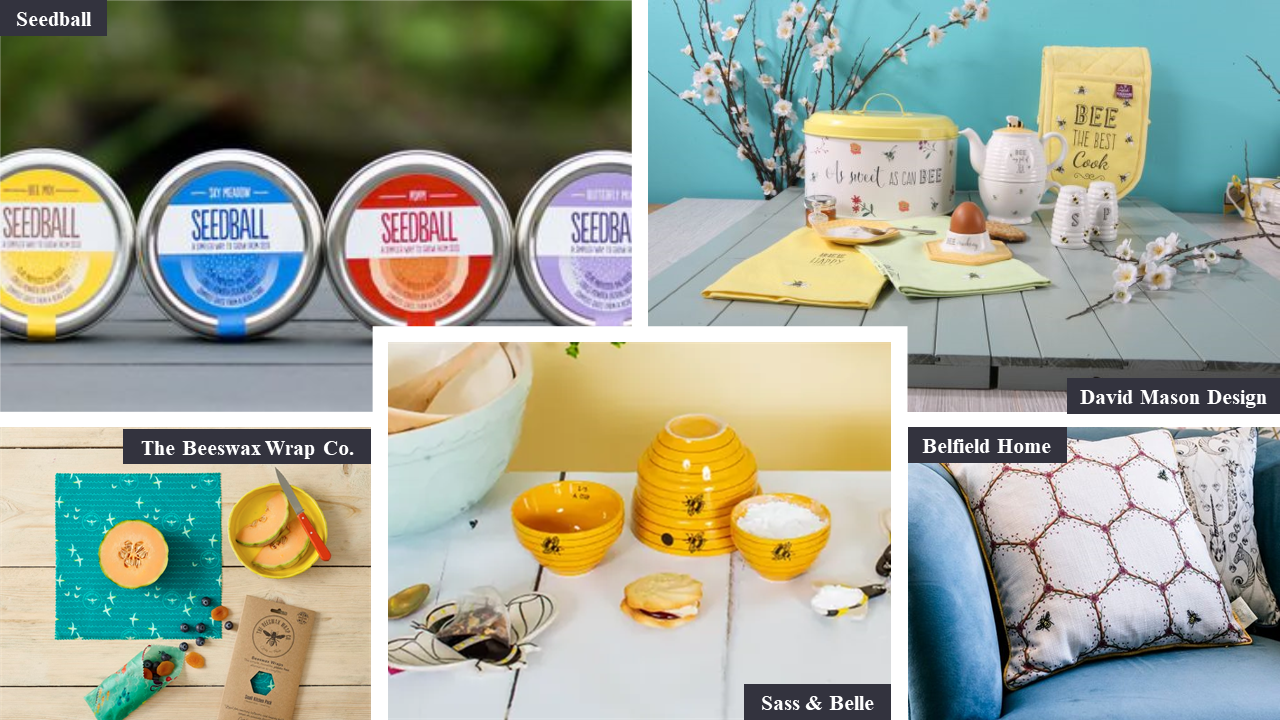 So, who's in the Autumn Fair colony for 2021? Here's a few of our favourites:
GIFTS & GREETINGS
Apples to Pears
From "Build Your Own Bee House" kits to bee-topped olive picks, Apples and Pears have taken the bee theme to the next level with quirky and bee-friendly products to boost the buzz. Based in the beautiful Cotswolds, Apples to Pears are renowned for their innovative and creative gifts that put a smile on the faces of adults and kids alike.
Lola Design
Lola Design's best-selling Wildlife Botanical greeting card range beautifully combines flora & fauna in celebration of the natural world, including, of course, our bee friends. Based in the UK, Lola Design is well-known for their wildlife motifs and signature style.
Life Charms
Bees have long been a symbol of positivity, industriousness and communication, which shines new meaning on the Bee Happy motto we so often see. Life Charms have channelled this energy into their thoughtful jewellery range, combining it with the ever-popular rose gold trend that is dominating the jewellery market.
HOME & LIVING
Belfield Home
Bringing the hive to the home, Belfield's Honeycomb collection is all about celebrating bees alongside another customer favourite: geometric patterns. UK-based Belfield supply some of the nation's biggest brands continually offering new and unique collections all designed and manufactured in-house.
David Mason Design
From butter dishes to oven gloves, David Mason Design's award-winning Bee Happy range is all the affirmation we need. Established in 1962, the company is quintessentially British in everything they do, with each and every range designed in-house.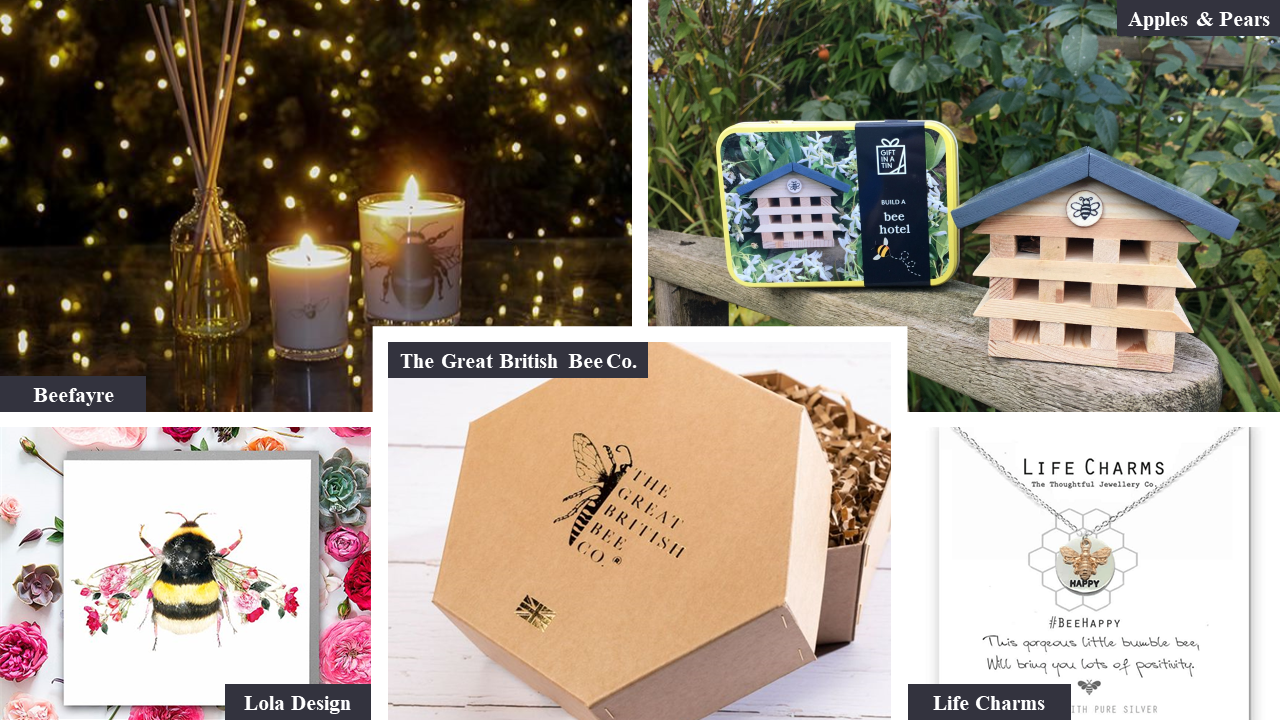 Sass & Belle
Autumn Fair staple Sass & Belle are always right on trend with the products and will be launching their Bee Kitchenware range at Autumn Fair for the very first time, along with plenty of other bee motifs among the collection. Founded in 1998, Sass & Belle continually launch unique and exciting designs that are perfect for gifting or adding that little something different to any consumer's home.
Beefayre
Beefayre is a company inspired by nature and the plight of the honeybee. Made in the UK, using natural ingredients, the collection includes scented glass candles, reed diffusers and body & bath products. Designed by artist Sharon Jervis, the Beefayre range combines distinctive style with quality ingredients.
BUSY BEES & BEE BY-PRODUCTS
The Beeswax Wrap Company
Bees are some of the most industrious creatures on the planet, and they've made their presence known in the consumer sphere in more ways than one. The Beeswax Wrap Company literally does what it says on the tin: beeswax food wraps designed to replaced single-use plastics like clingfilm.
Seedball
Taking a step away from bee motifs and wax for just a moment, Seedball are a bee-friendly brand that absolutely shouldn't be forgotten. Their wildflower seed tins are developed in collaboration with conservationists to provide customers with an easy way to rewild and bring bees, butterflies and more native species back to their gardens.
The Great British Bee Co.
The Great British Bee Company exist to provide funding for bee conservation and research. Their range of artisan soaps and fragrances are well-loved by customers throughout the UK, and they work closely with bee farmers as well as local makers to produce the very best products.
Discover even more of the latest trends and most exciting brands at Autumn Fair this September. Join us from 5-8 September 2021 at NEC Birmingham as we refuel retail.
Register your interest Apply for a stand
---
If you enjoyed this article you might also like:
Drawing buyers from across the UK, Ireland and across the globe, the leading wholesale marketplace for home, gift and fashion, Autumn Fair opened today with a spectacle of newness and source of ...

All eyes will be on Autumn Fair this September as it offers the most exciting and inspirational line-up of giftware when it opens from 3rd – 6th September at NEC Birmingham. Visitors to the UK's ultim ...