CHAMPIONING THE BEST NEW PRODUCTS AT AUTUMN FAIR

Buyers attending the NEC this week were enthralled by the diversity and variety of products spanning across 6 halls at Autumn Fair. The UK's definitive 'shop for shops' attracted thousands of buyers with the best new products, collections and innovations taking centre stage across the home, gift and fashion destinations.
Daniel Mayhew, Event Director, Spring & Autumn Fair says, "Both the Gift Of The Year Showcase and New Product Showcase are displaying some of the best products in show and buyers have made a beeline for Hall 6 to discover the hottest designs for the season ahead. We've really enjoyed creating a dedicated space to champion our Autumn Fair newcomers and hope they've had a great show."
New Product Showcase
This season's New Product Showcase championed the new home, gift and fashion brands joining the Autumn Fair line-up for the first time. Buyers on the hunt for newness discovered a curated display of over 50 new exhibitors showcasing over 100 exciting new products as well as the latest products from established favourites and some exciting new designs from returning brands, all situated in the heart of the Gift sector in Hall 6.
Simon Mitchell from new brand Green Laurels says, "As a new business this is our first experience at a trade show and it's going really well – we are delighted to be included in the New Product Showcase. The community amongst exhibitors is lovely and the atmosphere and quality of visitors is fantastic at Autumn Fair. We've made some really interesting connections and buyers seem very keen to discover new, made in England and particularly sustainable and ethically produced products like ours."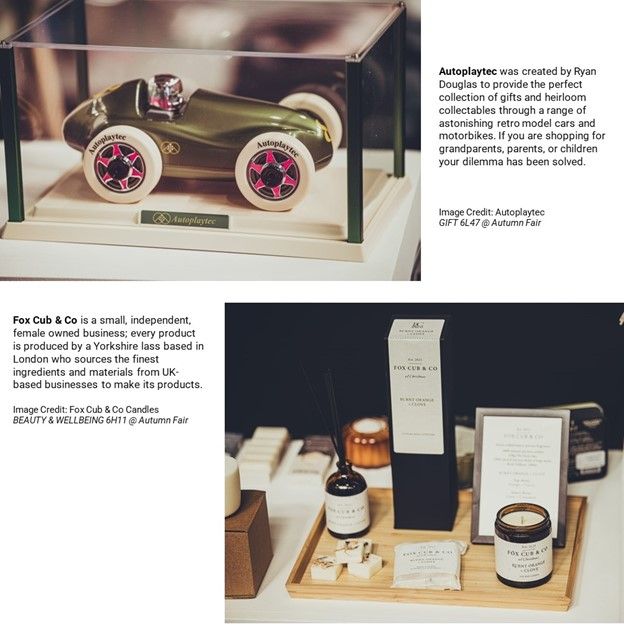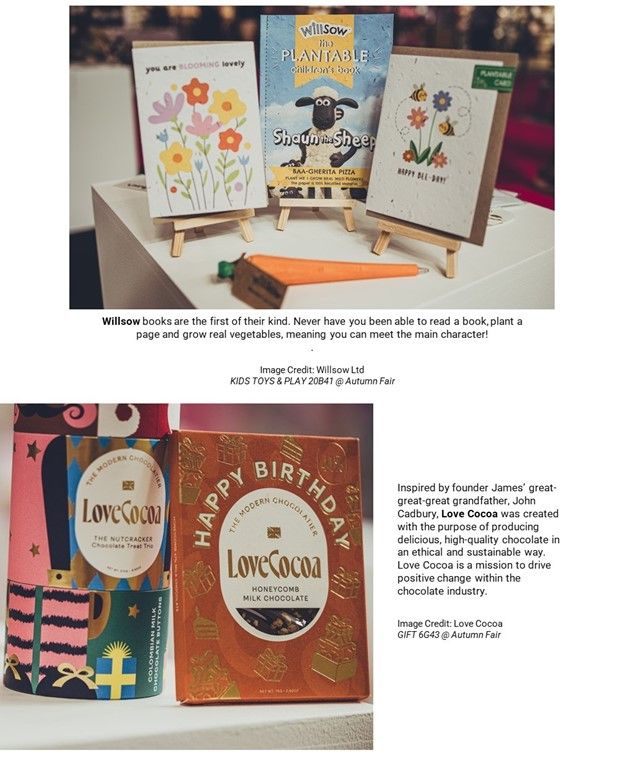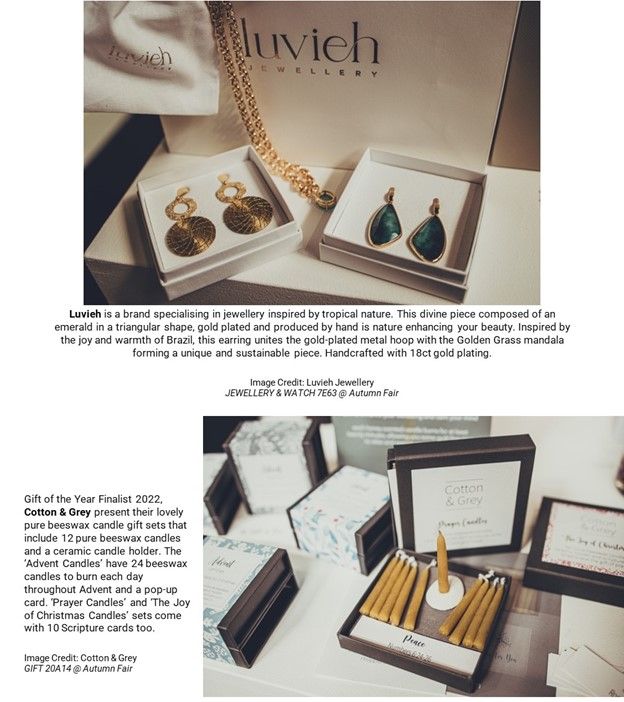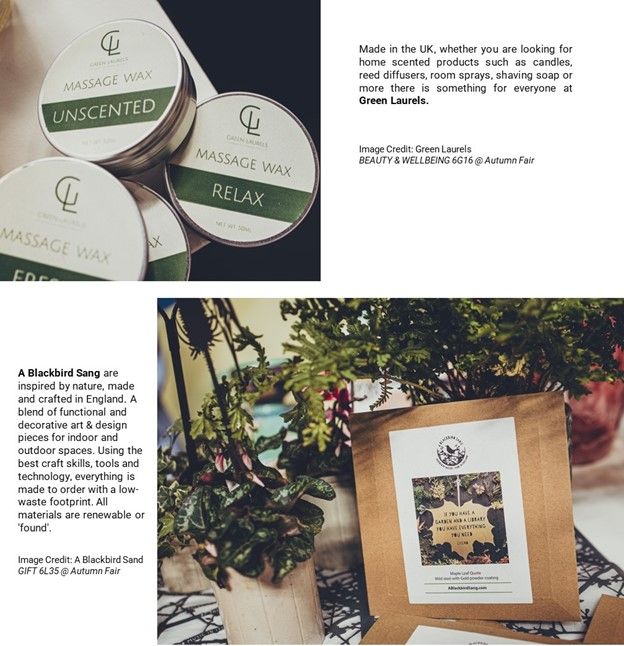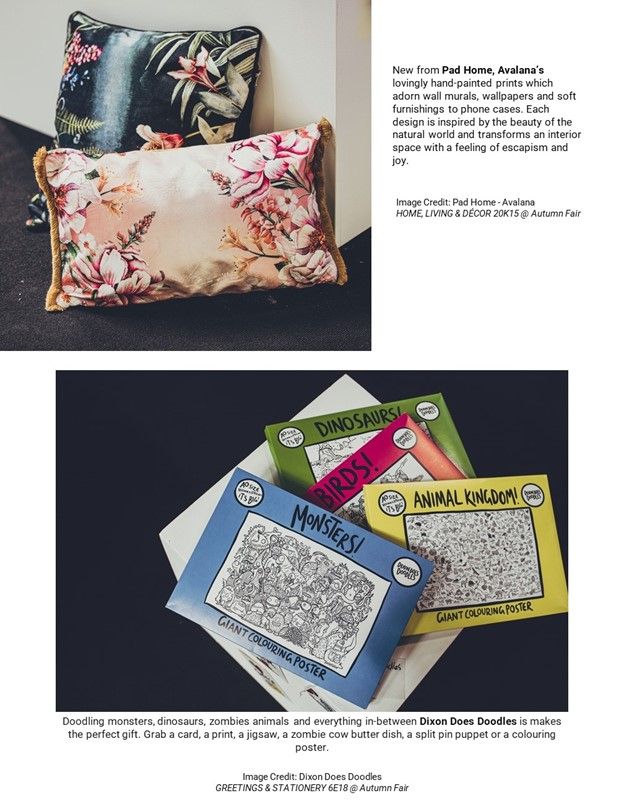 Visit www.autumnfair.com for more information.
For further press information, images and interviews, please contact Philippa Suitters at Good Results, E: philippas@goodresults.co.uk
About Autumn Fair
As the buyers one-stop marketplace for everything new and on-trend for 2023, Autumn Fair is the leading home, gift and fashion buying showcase. It runs from 3rd – 6th September at NEC Birmingham.
Offering a treasure trove of new ideas and new trends just waiting to be discovered and displayed in shops, garden centres, showrooms, or e-commerce platforms, Autumn Fair is the place to touch, feel, and experience what's new and innovative across the home, gift, and fashion retail industry.
The show encompasses 11 sectors within four destinations – Home which includes Home, Living & Décor, Everyday, and The Summerhouse; Gift including Gift, Beauty & Wellbeing, Greetings & Stationery, and Kids, Toys & Play; and Moda fashion featuring its own Catwalk as well as Jewellery & Watch, Clothing, Fashion Accessories, and Footwear; plus, with the newly launched responsible sourcing show Source Home & Gift, the variety of products at Autumn Fair is unmatched. From contemporary gifts to greeting cards, candles and garden accessories, children's toys and outerwear, footwear and furniture, there's endless opportunities to find your next bestsellers.
Text copy from above:
Autoplaytec
Autoplaytec was created by Ryan Douglas to provide the perfect collection of gifts through a range of astonishing retro model cars and motorbikes. If you are shopping for grandparents, parents, or children your dilemma has been solved.
Fox Cub & Co Candles
Fox Cub & Co is a small, independent, female owned business; every product is produced by a Yorkshire lass based in London who sources the finest ingredients and materials from UK-based businesses to make its products.
Willsow Ltd
Willsow books are the first of their kind. Never have you been able to read a book, plant a page and grow real vegetables, meaning you can meet the main character!
Love Cocoa
Inspired by founder James' great-great-great grandfather, John Cadbury, Love Cocoa was created with the purpose of producing delicious, high-quality chocolate in an ethical and sustainable way. Love Cocoa is a mission to drive positive change within the chocolate industry.
House of Disaster
Make a splash with your table setting with a gorgeous lobster butter dish. Covered in beautiful hand-drawn illustrations of fish swimming through coral and seaweed, this lovely dish is made extra luxurious with gold foil touches on the base. There's even a little 3D lobster sitting on the top to look after your butter! It would make a lovely gift for fans of nature and the sea.
Luvieh Jewellery
Luvieh is a brand specialising in jewellery inspired by tropical nature. This divine piece composed of an emerald in a triangular shape, gold plated and produced by hand is nature enhancing your beauty. Inspired by the joy and warmth of Brazil, this earring unites the gold-plated metal hoop with the Golden Grass mandala forming a unique and sustainable piece. Handcrafted with 18ct gold plating.
Cotton & Grey (Gift of the Year 2022)
Lovely pure beeswax candle gift sets include 12 pure beeswax candles and a ceramic candle holder. The 'Advent Candles' have 24 beeswax candles to burn each day throughout Advent and a pop-up card. 'Prayer Candles' and 'The Joy of Christmas Candles' sets come with 10 Scripture cards too.
Green Laurels
Made in the UK, whether you are looking for home scented products such as candles, reed diffusers, room sprays, shaving soap or more there is something for everyone at Green Laurels.
A Blackbird Sang
Inspired by nature, made and crafted in England. A blend of functional and decorative art & design pieces for indoor and outdoor spaces. Using the best craft skills, tools and technology, everything is made to order with a low-waste footprint. All materials are renewable or 'found'.
Letterbox Love (GIFT OF THE YEAR 2022 Winner)
Plant flowers in their memory... this beautiful sympathy bracelet is a thoughtful gift for a friend who has lost a pet, it comes with a sympathy poem to help ease their pain and dainty bracelet to keep forever. Celebrate the life of your beloved pet with a Handcrafted Eco-Friendly Pet Sympathy Keepsake, and let the blooming wildflowers serve as a living tribute to the love and companionship they brought into your life.
Solar Eclipse
An eco-friendly accessories and gift brand, its best-selling products are inspired by nature and animals. Small-batch styles carefully crafted from cellulose acetate - an eco-friendly, biodegradable material made from recycled wood pulp.
Avalana
New from Pad Home, Avalana's lovingly hand-painted prints which adorn wall murals, wallpapers and soft furnishings to phone cases. Each design is inspired by the beauty of the natural world and transforms an interior space with a feeling of escapism and joy.