03 May 2023
Autumn fair & trendbible reveal gifting & celebration trends

Autumn Fair, the UK's leading marketplace for wholesale Home, Gift and Fashion which returns to the NEC Birmingham NEC from 3rd – 6th September 2023, has collaborated with trend agency partner TrendBible to offer buyers and retailers insightful trend overviews on The Future of Celebration 2024 which focuses on joy, hope and authenticity, and The Festive Forecast 2023 which centres on reflection and a more pared back, natural approach.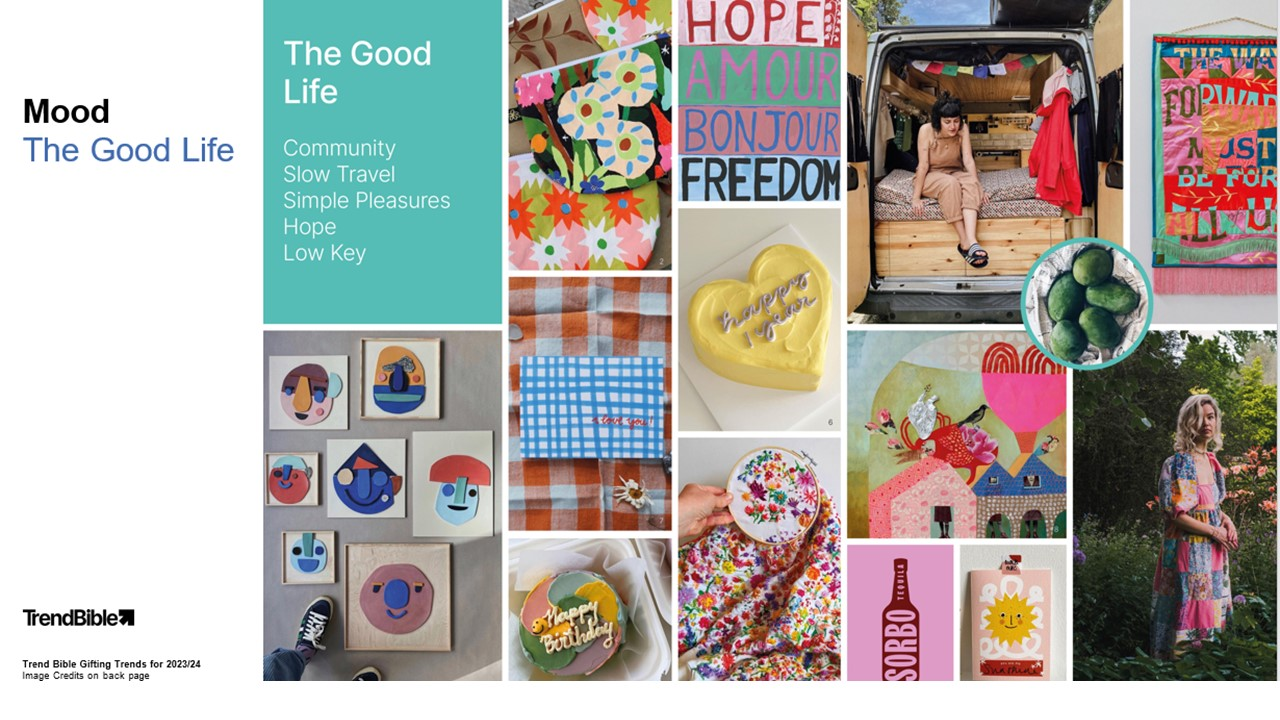 The report, which was presented live on the Inspiring Retail Stage at Spring Fair, is now available to all at https://www.springfair.com/on-demand-registration and highlights two key trends, The Good Life and Repose.

Kate Usher, Senior Trend Consultant at TrendBible says, "Against a backdrop of global unrest and financial crisis, celebration offers the respite so desperately needed. An escapist desire dominates but is coupled with a search for authenticity. This drives a fresh and honest take on who we are, what we want to celebrate and how. The Future of Celebration 2024 unlocks the key trends impacting consumers and the opportunities which will elevate your celebration, occasion, and gift ranges to new levels."
The Future of Celebration 2024 - The Good Life

Focusing on who and what makes you feel good is the key message in this story, inspiring low-key, low-pressured celebrations for 2024. Following a period of rigorous constraints and limitations, a new generation of financially savvy, digital nomads are rejecting traditional pathways in search of new, more meaningful experiences. This quest for 'the good life' sees families adopt an anti-hustle mindset, allowing them to withdraw from elusive standards of success and focus instead on building a life that truly brings them joy.

The Good Life puts authentic celebrations with people and community at its heart. Time well spent on simple joys. Gatherings for birthdays and personal milestones are filled with personality. The sustainability of gifts and greeting cards remain at the forefront but take on a more colourful and hopeful aesthetic.

Primary brights balanced with fresh turquoise and cool sugar pinks evoke moments of bustling chaos alongside happy pockets of doing nothing. A rich and warm orange toned red sits at the heart of the palette and can be used in plentiful amounts.

In gifts, the creative revolution continues as people embrace making and doing simply because it brings them joy, even if the results aren't perfect. Craft kits elevate hand-made gifts and encourage the recipients to stop and enjoy time with their family. Gift wrap becomes an expression of personality by combining colourful, eco papers with stickers and stamps for truly one-of-a-kind designs. Greetings and stationery designs are bold, bright and expressive with hand-drawn, hand-painted stripes and checks.


Festive Forecast 2023 - Repose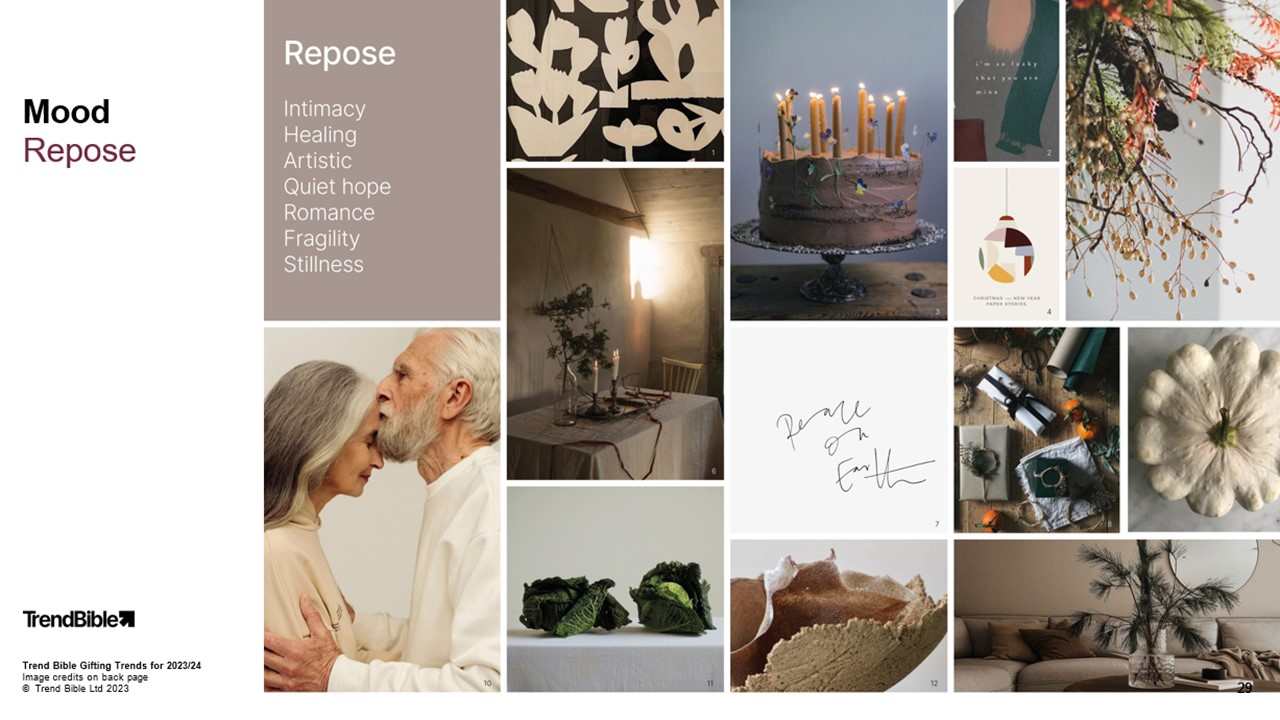 Usher says; "Following the collective grief that has united the world, 2023 is time to reflect, heal and reconnect." Pared back decorations of simple ceramics hang on rustic tree branches, whilst ornamental chords and leafy vegetables signify a changing of the seasons. Natural and almost ugly forms in chunky proportions contrast with fragile forms of dried florals. A narrative of deep connection and intimacy is expressed through gift and greetings. Blind letter press cards reveal simple messages charged with emotion, hand-painted brush strokes adorn baubles and gift wrap in rich earthy tones. Warmth and tactility come from layering of textures rather than excess pattern. Intimate dinners are set with place cards of hand-made paper resting on crumpled linens and stoneware dishes for a rustic yet personal feel.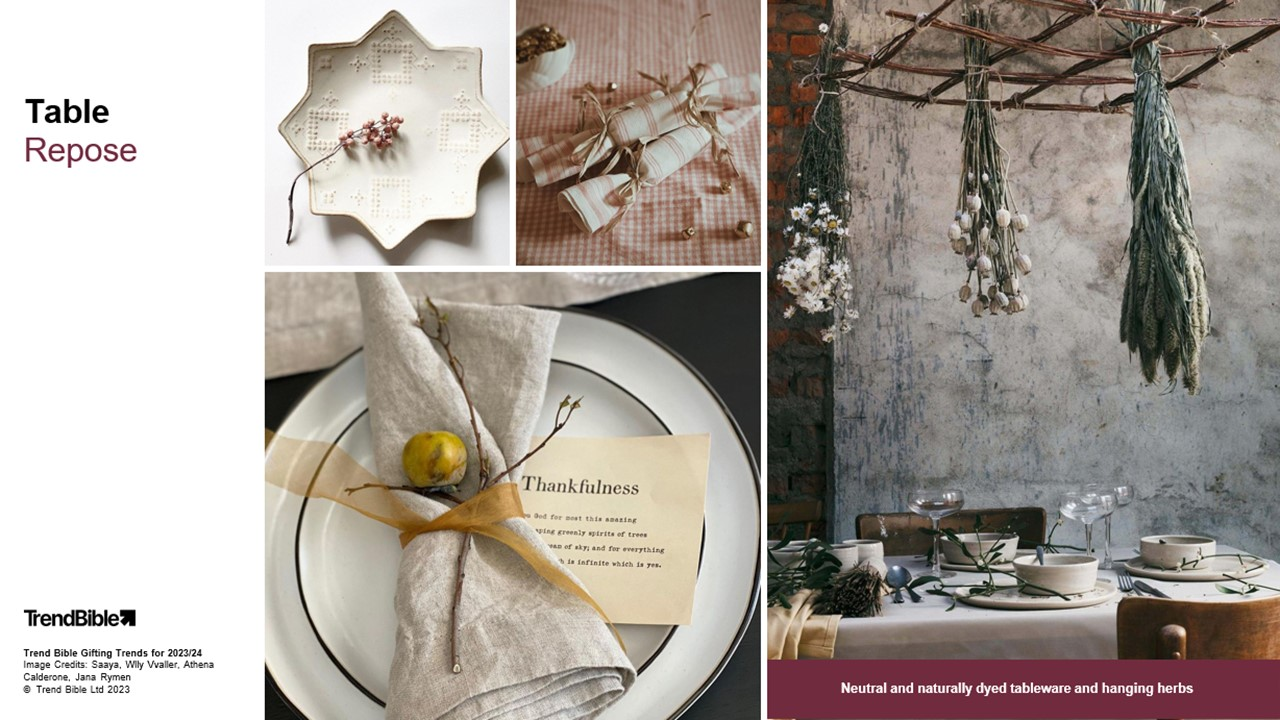 Warm neutrals and rich yet dusty tones reflect the calming pace of this intimate soiree. Tonal pairings of Ash Rose, Ethera and Perfectly Pale creates a subtle and sophisticated palette while Rhododendron and Duck Green provide a traditional festive combination. A bright and lively story might contain a pop of cherry red, combined with bright sugar pink and a mint green, whilst more subdued and pared back palettes will include greyed off greens and earthy neutral shades as the backdrop for a rich deep feel to enhance the cosy but calm winter mood.

About Autumn Fair

As the buyers one-stop marketplace for everything new and on-trend for 2023, Autumn Fair is the leading home, gift and fashion buying showcase. It runs from 3rd – 6th September at NEC Birmingham.
A launchpad for new collections, new innovations and product inspiration, Autumn Fair is well-established as the UK's most vibrant marketplace for wholesale home, gift, and fashion. As the definitive 'shop for shops', the show supports the retail industry like no other. The four-day event is centrally located and easily accessible at the NEC Birmingham, offering the best products and inspiration just in time for the Golden Quarter, providing the perfect opportunity for buyers to top up their stock and make last minute orders in time for retail's busiest and most profitable time of year.

Offering a treasure trove of new ideas and new trends just waiting to be discovered and displayed in shops, garden centres, showrooms, or e-commerce platforms, Autumn Fair is the place to touch, feel, and experience what's new and innovative across the home, gift, and fashion retail industry.

The show encompasses 11 sectors within four destinations – Home which includes Home, Living & Décor, Everyday, and The Summerhouse; Gift including Gift, Beauty & Wellbeing, Greetings & Stationery, and Kids, Toys & Play; and Moda fashion featuring its own Catwalk as well as Jewellery & Watch, Clothing, Fashion Accessories, and Footwear; plus, with the newly launched responsible sourcing show Source Home & Gift, the variety of products at Autumn Fair is unmatched. From contemporary gifts to greeting cards, candles and garden accessories, children's toys and outerwear, footwear and furniture, there's endless opportunities to find your next-best sellers.
About Connect @ Autumn Fair

Offering a new way to shop the show, Connect @ Autumn Fair will help buyers find the right brands their customers will love, and help Autumn Fair exhibitors to create leads, orders and opportunities in an incredibly efficient and effective way, by fuelling thousands of pre-arranged meetings before the show even opens.
Designed to be the most efficient pre-show planning tool, it's never been easier for buyers to find what they are looking for. Buyers will have access to detailed information on all exhibitors before the show opens with the ability to search and filter them by criteria that is most important to their business. This includes searching by product type, sustainability accreditation, minimum order value, carriage paid, and much more. For example, searching by exhibitors offering LGBTQ+ cards that are FCS certified with a minimum order value of £50 or less.
All meetings take place during the show on the exhibitors stand, so buyers can view, touch, and ask them questions about their products in person, providing the perfect opportunity to launch new products. With valuable time saved by managing their time efficiently and prioritising important meetings, buyers have more time to shop the show for unexpected new product finds, trends, and inspiration.
The new programme is completely free for buyers to use and there is no minimum meeting requirement. Register here https://www.autumnfair.com/visitor-registration
For further press information or images contact Philippa Suitters at Good Results. Email: PhilippaS@goodresults.co.uk Tel: 07866362980.