03 Aug 2021
AUTUMN FAIR: Meet some of our sustainable brands!
Please see below information from some Autumn Fair exhibitors who are keen to talk about their sustainable credentials. Not all have completed the information required for The Sustainability Library yet. Please refer to the accompanying press release for those who have.
The Ministry of Soap Stand: 6K14 - Beauty & Wellbeing
The Ministry of Soap's mission is to create beautiful soap with minimal impact on the environment. The use of segregated sustainable palm oil (certified by RSPO) ensures the palm oil is sourced from locations where native communities, wildlife and habitats are not threatened. Twenty-seven beautifully designed soaps made at The Somerset Toiletry Co.'s new UK manufacturing facility include eco-friendly, recyclable packaging. Naturally coloured with no colourants, the triple-milled soap bars are cruelty-free and suitable for vegetarians and vegans. Opulent and natural designs, all soap is scented with fine fragrance or essential oil and can be displayed on bespoke in-store display units.

Heaven Scent Incense Stand: 6G02 – Beauty & Wellbeing
Home of natural home fragrance and body products. Est.1993 we were the first to create a Soy Wax Candle and wholesale natural products. We are a UK manufacturer and specialise in 'own label'. We have many products to choose from and offer customers low minimum order quantities. All our candles are Vegan, this means they contain no animal ingredients and are not tested on animals. We source our ingredients responsibly with sustainability in mind always. We have an Ethical Purchase Policy. We are working to towards a plastic free working environment. Our production factory is 70% carbon neutral. We offset our Carbon Footprint by donating to tree planting charities.

The English Soap Company Stand: 6H02 – Beauty & Wellbeing
We produce pure vegetable oil luxury soap bars that will leave the skin soft and smelling fresh. All our perfumes are made in England by expert perfumers and have been designed specifically for the English Soap Company. Our products are hand finished before going out, ensuring quality and care from inception to finish.
As well as sustainable packaged soap bars, we offer a range of luxury gift soaps, hand creams, hand sanitisers, shower gels, eau de toilettes and soy wax candles.
What began as a small kitchen table business is now an internationally recognised soap and toiletries brand, exporting to over 40 different countries all over the world, with partnerships with large global brands such as Fat Face, Disney, and The Royal Botanical Gardens at Kew.
The English Soap Company still makes all of their products on the farm site in the heart of the English countryside, in Waldron, East Sussex. Living in this beautiful part of the world, sustainability is very important to us, so we are proud to say our products incorporate sustainable packaging, vegan friendly and cruelty free ingredients, all made in England.

Wellness by Manuel Stand: 6E06 – Beauty & Wellbeing
Enjoy organic and soothing aromatherapy with Wellness By Manuel's soy candles. From refreshing to unwinding, the inhalation our range of candles provides you with a treatment like effects and can either help you to feel energised or tranquil for a peaceful night's sleep, with each candle you also receive a unique meditation video. Each candle is wrapped in seed paper, up-cycle your jar to grow lavender wildflowers.

My Gifts Trade – Home & Gift
My Gifts Trade / ECP Design is a family run independent business based in the North West of England, with a growing range of award-winning gifts and homeware. Our standards are high - we seek out only the very best homeware and gift designers and product ranges, to ensure that our retail partners are always able to offer the very best to their own customers, whatever their personal taste and preference.
We are very excited to be launching a number of new designer ranges this season, and two primary brands have a strong sustainability message – Costa Nova/Casafina and Urban Nature Culture.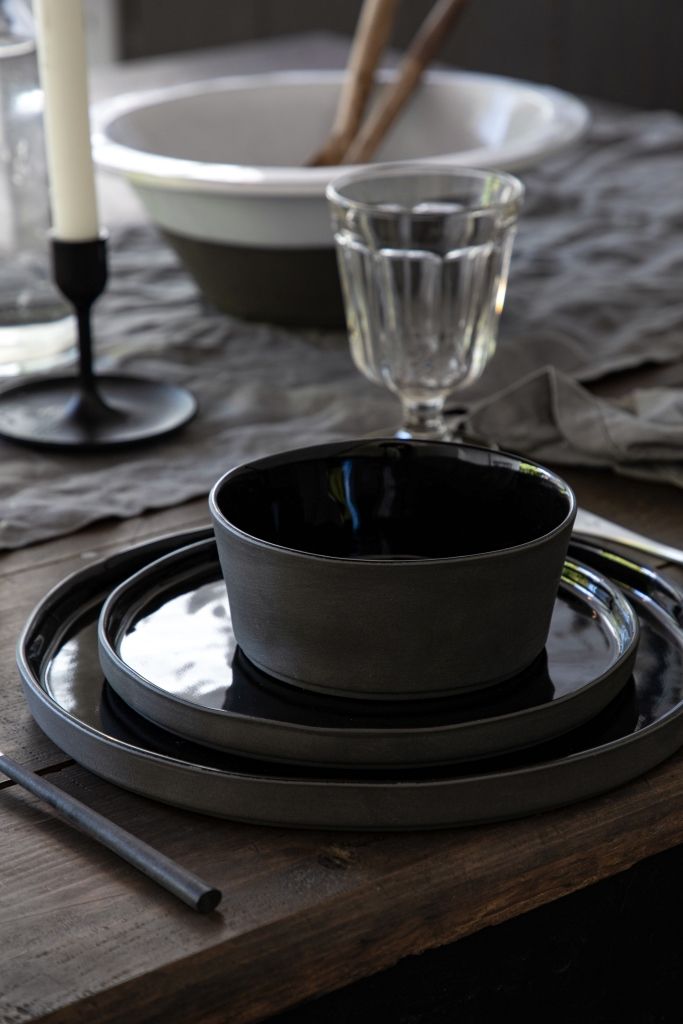 Grestel's Costa Nova and Casafina brands see their products and operations as part of a long-life cycle and Grestel is committed to taking better care of the community and of the world.
Costa Nova is a Portuguese brand dedicated to designing and manufacturing tableware and accessories made of fine stoneware from the best natural resources in Portugal. The range is very on trend and celebrates all that is irresistibly Mediterranean: the love of enjoying life, family, friends and good food. The Plano and Lagoa collections are made using the new Eco-Gres® material - a reinvented clay, made of recycled materials and completely eco-friendly - and prove that ergonomic beauty and sustainability can go hand in hand.
URBAN NATURE CULTURE
Since the age of 19, Anne Marie Hermans has been travelling the world, finding beauty and treasures in every corner of the planet. Ever inspired by inventive minds and the incredible products that can come to life from that, her travels always lead her to find new products, hidden gems and creative people, who inspire her for new collections to come. Curating ancient techniques and art, in harmony with nature, is one of the most important goals in her life. Which is exactly why she started her own Urban Nature Culture brand.
One of the reasons Urban Nature Culture Amsterdam was brought to life, is because Anne believes that taking care of the future of our world, nature and its inhabitants, can only be achieved by looking at ourselves. The change lies within ourselves. UNC is a home and lifestyle brand that continuously challenges her – wondering about ways to add better value to our planet and its inhabitants, us people.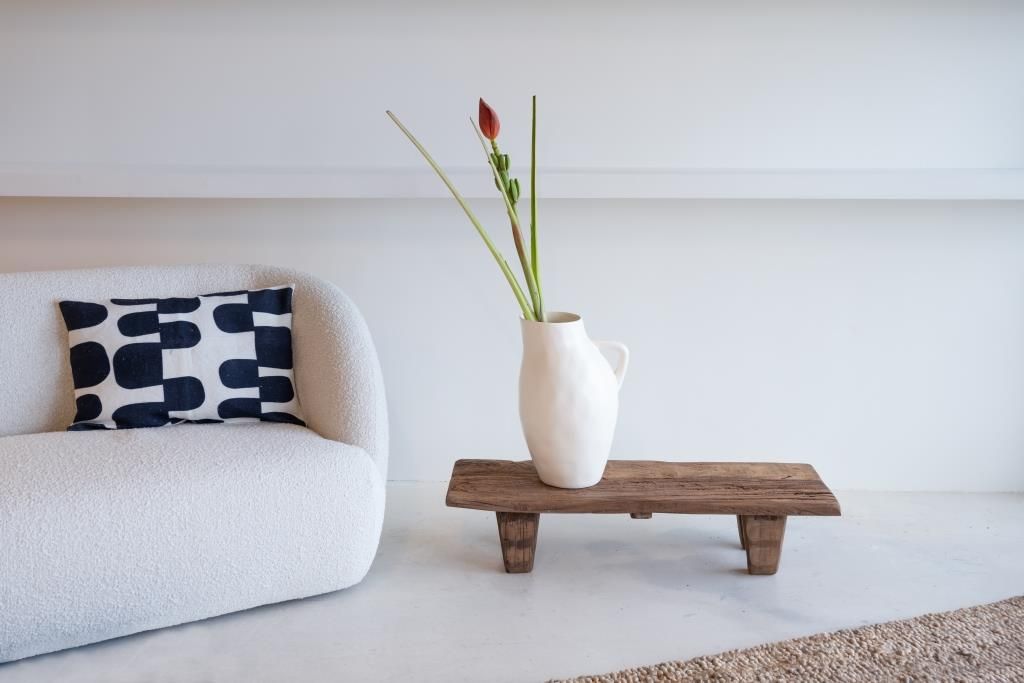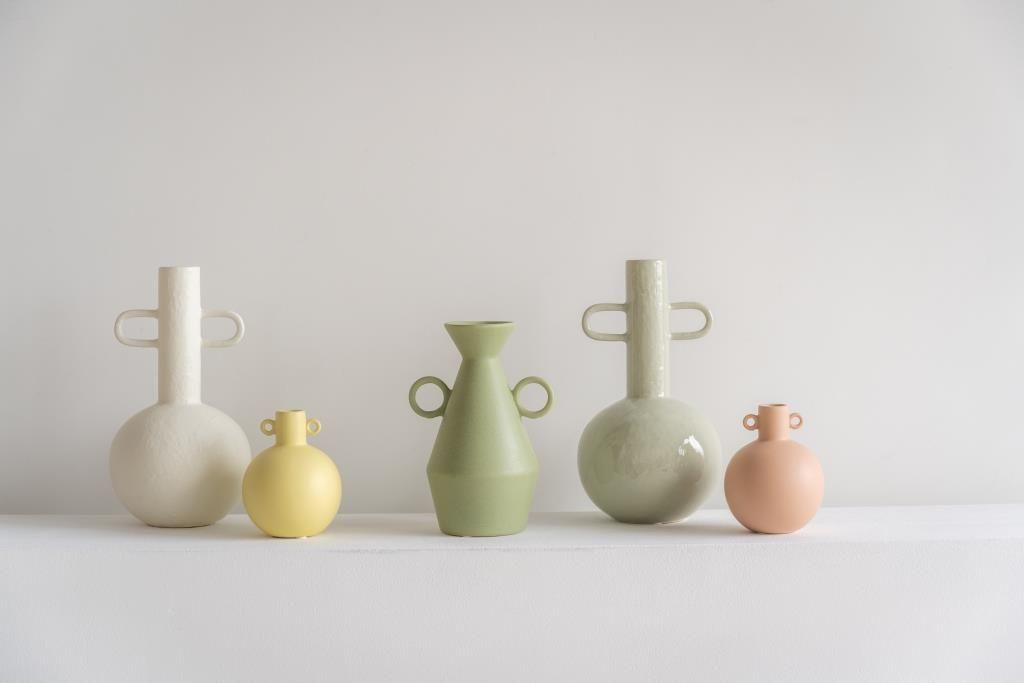 Step by step, we find more ways to produce products in a sustainable way. Not just by paying fair wages to the talented craftsmen or honest dealers and companies who provide great products for our homes, but also by using new and planet-friendly sources, or secondary instead of new, raw materials. It is our obligation to invest in the future and to be transparent about the way we produce our goods.
Urban Nature Culture Amsterdam, for the love of our world.
Find Your Glow Stand: 20C15 – Gift
In creating F.Y.G. it was important to produce not just another scented product but an immersive experience. What started as a desire to re-capture my childhood joy of family holidays spent in Greece, then developed into a project of encapsulating a range of significant and beautiful experiences from the past.
Whilst each candle's /diffuser's scent has a story and individual character to evoke memory, feeling and mood, it was equally important to create modern designs – to fit in with and subtly enhance any living space. And with all of that, F.Y.G. had to be sustainable. That is why each product is 100% natural and recyclable.
Amaura London Stand: 6D34 - Gift
Amaura London 'eco-luxury' home fragrances are luxurious, sustainably made, mood-boosting and lovingly hand-poured in the UK.
Our unique, artisan candle vessels are hand-rolled using recycled & reusable metallics and have been designed with modern luxury decor in mind. They are available in three on-trend metallics options; brass, copper and stainless steel, and fit perfectly as a metallic accent piece into home interiors.
Made using 100% natural coconut & rapeseed wax, infused with a blend of premium fragrances and essential oils. We use only lead-free cotton braided wicks so our candles provide a clean and slow burn. Providing over 60 hours of burn time, they release only long-lasting mood-boosting therapeutic scents, with no harmful carbon or soot. Paraben-Free | Cruelty-Free | Paraffin-Free
In addition, our range of luxury reed-diffusers are available in gold, rose gold and chrome to complement the candle collection. Blended with an eco-friendly, non-toxic, sustainable base that is alcohol and glycol free and made from renewable sources with no petrochemicals, they last up to 6 months.
The collection is available in six addictive scents. With each scent available in all three colour options in both candles and diffusers. Our scents range from floral and fresh to oriental and woody and include popular scents oud, patchouli, sandalwood, eucalyptus, and warm amber.
New for Autumn/Winter we will be ranging our 'limited edition' Christmas scent 'Spiced Orange and Cinnamon' & launching our NEW 'Dark Amber and Sandalwood' scent.
The Seed Card Company Stand: 6A17 – Greetings & Stationery
Following a successful direct-to-consumer online launch in February 2021, ethical greetings card business The Seed Card Company will launch its collections along with their festive range. The Seed Card Company offer an inspirational range of beautifully designed bio-degradeable, recyclable and plantable eco-friendly greetings cards and wedding suites made from post-consumer waste embedded with wildflower seeds, or recycled eco-friendly board, and printed with vegan-friendly inks.
The Seed Card company's first Christmas collection features new illustrations within its popular collections including Plant Pot People and Continuous, as well as more Christmas pun designs within Oodles of Doodles. Look out for The Wise Pots! The show will also see the first reveal of post-consumer waste Christmas wrapping paper designs which coordinate with the Christmas card collection.
A stunning new greeting card collection called Nature Always Wins will also be unveiled. Inspired by the founders' own eco journey and passion for the environment, the collection references the destruction humans are causing to the plant and the need for us to allow nature to recover and fight back.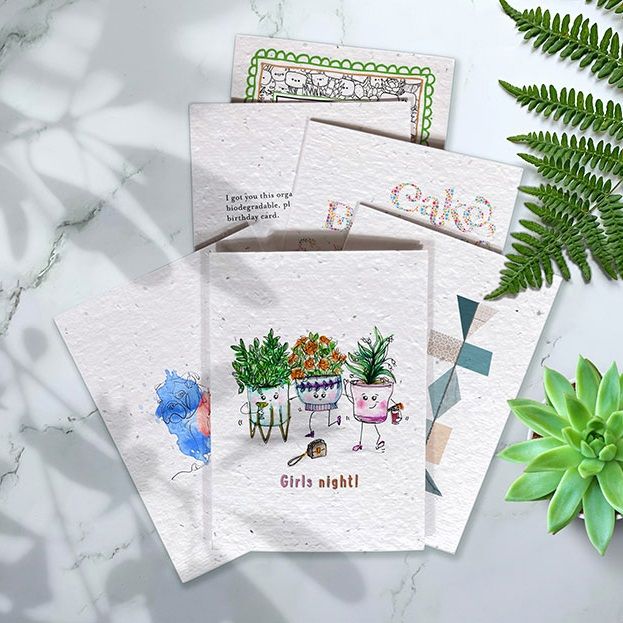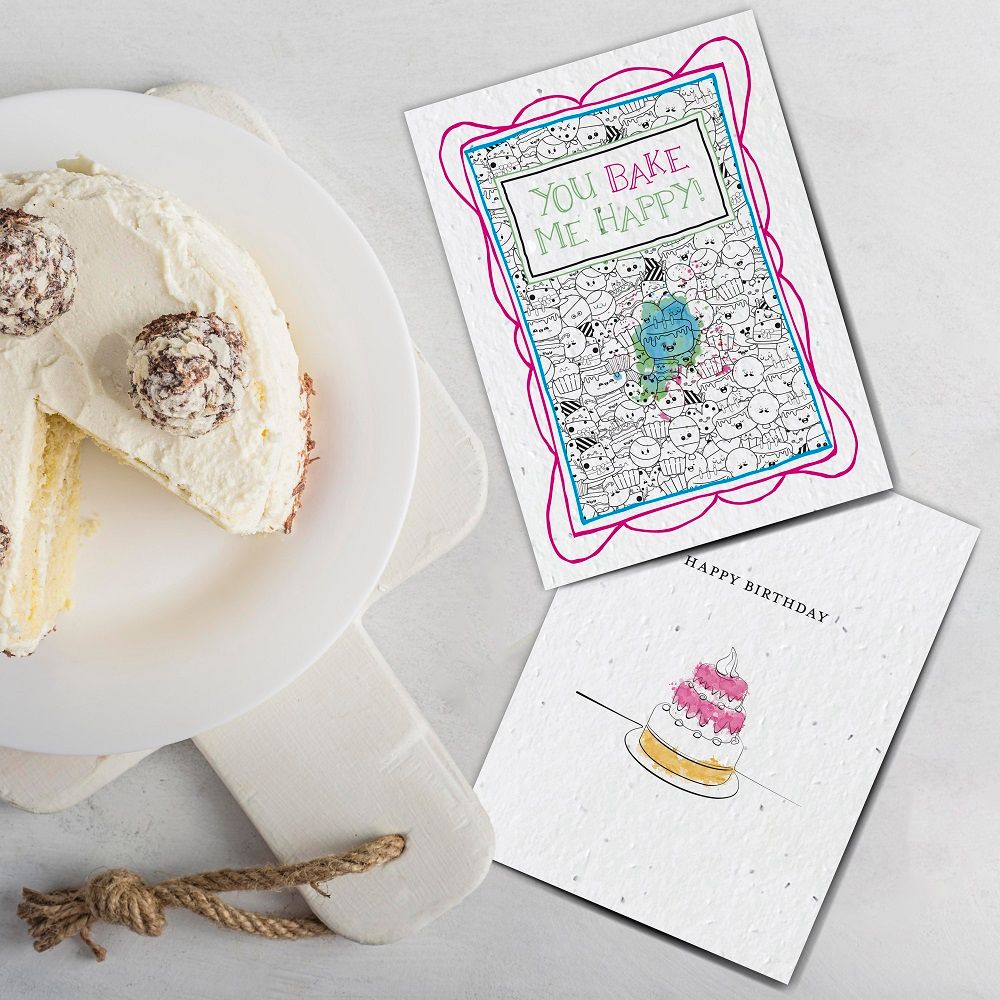 Vent for Change Stand: 6B11 – Greetings & Stationery
VENT is one of a growing number of conscientious brands that combine beautifully designed products with impeccable eco credentials and an ethical purchasing alternative for customers.
Made entirely from recycled and sustainable materials their ranges also support children's education projects with every item sold.
Set up by social and environmental entrepreneur Evan Lewis, Bristol based VENT for Change combines its ethical and social philosophy with award winning design.
From its UK made pencils produced in-house from recycled CD cases to its pocket books made using reclaimed coffee cup fibres and journals from recycled leather, every item as a strong environmental message of its own.
Penguin Ink Stand: 6C13, 6B37 – Greetings & Stationery
Luxury animal Letterpress cards designed by Lizzie Parker. Originally from Suffolk, Lizzie is a professional Graphic Designer based in Bristol with her husband and young family. Each of her letterpress cards sits within a collection, designed to work together or as standalone pieces. All cards orders are hand-selected and packed to ensure customers always receive the highest quality product. Our cards are traditionally pressed by an established printer, Archivist Press in England onto beautiful 100% recycled card and packed naked as standard. Letterpress is a beautiful technique using gorgeous old machines, it is a true craft. The finished card has a tactile, embossed finish exuding quality with thick paper stock and crisp pressed design. These are beautiful, high-quality cards that you will want to keep for yourself!
The Art File Stand: 6B30-C31 – Greetings & Stationery
The Art File is a multi-award winning publishing company based in Nottingham, and specialises in designing, producing and supplying of the highest quality, unique and commercially proven greetings cards, stationery, gift packaging, and a comprehensive award winning Christmas collection to discerning retailers worldwide. We use only the finest boards from some of the world's most well regarded paper mills, all proudly carrying the FSC sustainable woodland certification. The Art File have also introduced 100% recyclable packaging across many of our popular Christmas Luxury Boxed, Trio Box and FORM 3D Pop Up card formats, as well as offering Everyday greetings card stock completely plastic free. We have over 175 brand new designs across our festive formats for you this year, as well carrying over the best of the best sellers from 2019's successful campaign.
We've also introduced a number of new Everyday range extensions to offer you for the Autumn/Winter Season, such as a range extension from our Nature Trail range, designed by the highly skilled printmaker and textile designer Kate Heiss. This collection is inspired by the beautiful natural landscapes of East Anglia and combine Kate's love of florals, bold colours and geometric patterns. The heavy debossing and bright colours accentuate the designs beautifully, which have been created by linocut printing, resulting in an impressive finish. The new designs bring fresh scenes and colours to an already truly unique collection. These brand-new designs have a universal appeal that we're sure will look fantastic in garden centres and farm shops alike.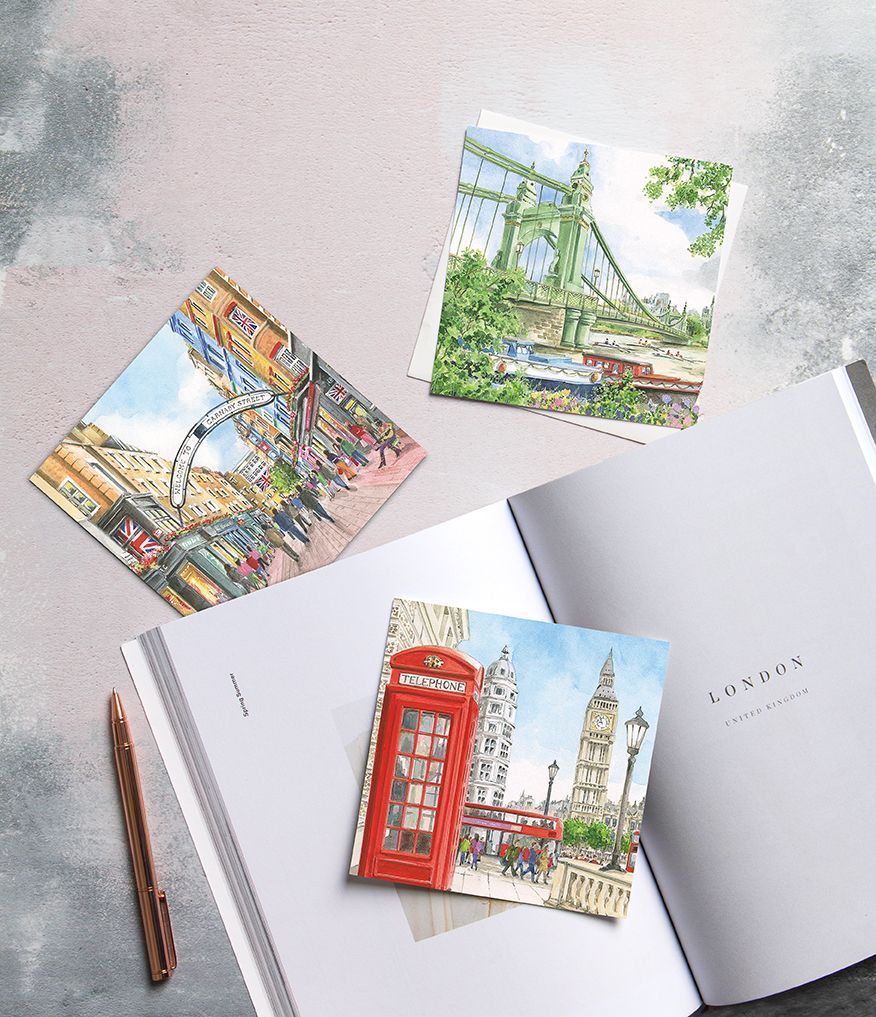 Another popular range we have extended is our Snap To Grid collection; this bright, fresh humour from award-winning designer Heather Flynn is topical, colourful, contemporary, and witty. There's no rude 'n crude here – just cheeky little cards to make your gang smile. With designs such as 'Let's be honest, limited daily exercise was a restriction neither of us wanted lifted', along with some more widely applicable funny phrases too- they're ideal for anyone! These cards are embossed and come with individually designed envelopes that make them look even more impressive.
Finally, we are expanding our ever popular gift-wrapping range to include some exciting new additions. Firstly, we'll be launching a luxurious leopard themed gift wrap and gift bag selection following on from the popularity of our Safari gift wrap collection. As well as this, our designers have created the more well-known option of leopard-print gift wrap, which compliments the rest of the collection perfectly. And last but certainly not least, our designers have created a beautiful marble design with rich, luxurious colours, titled Elderberry & Marble. All these brand-new additions are creative, colourful, and designed to turn heads!
Willsow Stand: 6J41 - Kids, Toy & Play
We're a 100% sustainable business producing the world's first plantable children's book.
Our Books are made with special handmade paper embedded with real vegetable and herb seeds. When the paper is planted in a pot of soil, vegetables will grow from the paper, amazing right!
The Story That Comes Alive - As well as seeds, all our books are made from a variety of sources such as schools and business to help save trees and reduce waste sent to landfills. We do hope that you grow the love that we have for Willsow books. Our aim is to educate Children & Adults alike that we can all do more for the environment. There is always a way to make recyclability fun.
Dragon's Den (Sara Davies) winner
Amica Accessories Stand: 20A30 – Kids, Toys & Play
Here at Amica we are all about beautiful, handmade and fair trade felt. We offer gorgeous collection of toys, gifts, Christmas decorations and home accessorie ranges. Everything is designed at our studio in Bristol, then made with great skill and to the highest quality by a fantastic team of fair trade craftspeople in Nepal.
Here in Bristol we are a small team focused on creating fantastic ideas and keeping our furry friends supplied to our loyal customers. Whether you chat to Jo on the phone, Julie & Jess at the shows or receive notes from our Christmas Elves each person is vital in keeping this company ticking.
However it is not just the Bristol office that is pivotal in the success of Amica. Many miles away in Nepal we work with a fantastic fair trade company that help us with the product development and creation of our items.
Over the many years we have been working with the team in Nepal we have made regular visits to ensure the highest of standards are maintained and that all parties involved in making our products are working in a safe and friendly environment. Our felt is made mostly by women who are incredibly skilled and hard working. We know that by supporting fair wages and conditions we can make a real difference to the quality of their lives.
MAI Clothing Stand: 20C56 – Kids, Toy & Play
MAI 'Making Animal Important' is Kidswear with a conscience.
We design high quality kidswear for children aged 0-8 years. Soft organic, unisex clothes to cherish, with beautiful hand-drawn endangered animal prints. Designed with love for children, animals & the environment. Every piece comes with a story about the animal on the print – so it's a great way to start educating children about looking after their planet.
We're 100% committed to ensuring our brand is both ethical and sustainable. From only working to the Global Organic Textile Standard, to using plastic-free packaging, we want to help create a better world for our little ones to inherit (as well-as making them look super-cute right now!).
Keel Toys Stand: 6E50-F51 – Gift, Kids, Toy & Play
Keel Toys is one of the largest designer, importer and exporters of soft toys in the UK. Keel Toys ranges offer the perfect balance between Classic & Fashion Soft Toys, including toys for Christmas, Easter and Valentine's Day.
Keeleco offers the award winning sustainable soft toys that are 100% recycled and 100% huggable.
These eco-friendly toys are manufactured and stuffed with 100% recycled polyester from plastic waste. Weighted with recycled glass beads, these floppy toys have been perfectly designed for hugging by a loving new friend. Traditional glass eyes have been replaced with cotton embroidered eyes which give a unique, and playful character to these Eco soft toys. The iconic Keel symbol and hang tag are now formed from FSC card and attached to the toy with cotton. Even the sew in label is recycled, and all are manufactured in an ICTI ethically audited factory. Keeleco features endangered animals from the four corners of the world including, Turtle, Sloth, Tiger, Snow Leopard, Panda, Blue Whale, Great Apes and Polar Bear to name a few. For Eco awareness the range will be clearly labelled with the sustainable message and offered with a variety of retail solutions.
Alphabet Jigsaws Stand: 6K51 – Kids, Toys & Play
Original handcrafted wooden jigsaw puzzles for children of all ages. We have an extensive range of Alphabet, Number and Map Jigsaws with some great new designs for 2019. Our Jigsaws come with a drawstring cotton bag for storage and are beautifully packaged in recycled cardboard. We also have a range of handcrafted magnetic wooden animals.
BIDBI Stand: 20B11 - Fashion
BIDBI stands for Bag It Don't Bin It. We are a textile printer that specialise in printing on sustainably sourced bags, accessories and homewares using environmentally friendly print methods. We are very excited to be participating in this year's Autumn Fair, and will be showcasing our Fairtrade & GOTS certified product range, which is available in 10 different on-trend colours. The products include, tote bags, wash bags, tea towels, cushion covers, and more. We are now also able to offer Edge-to-Edge printing, which is perfect for detailed, full colour printing. This bespoke service means you can create any kind of cotton product printed with your designs.
Black Yak Stand: 8C30 - Fashion
We are a Fair trade supplier of high quality hand knitted headwear, handwear, jackets and accessories. We use wool - a lot! Our buttons are natural byproducts - polished coconut, horn and bone. Zips have become metal instead of plastic. Labels are handmade paper. Fleece is made from recycled plastic. You will receive your order beautifully clean and neatly packed in a reused box and liner (if we can) but with no plastic bags inside, ready for display.