27 Mar 2019
5 Retailers Offering an In-Store Digital Experience
When consumers shop in-store (and even online) they aren't solely looking to buy products, they are also looking for an interactive retail buying experience. This trend is largely driven by Millennials, and now Generation Z, as they look for ways to satisfy their need for cool and fun experiences.
The retail brands that are thriving in this digital age, are the ones that are treating their stores as more than just a place to buy products. The following retailers are going to the next level, using in-store digital experiences, to ensure that their consumers are coming in-store.
1. Sainsbury's
Supermarkets have been creating retail digital experiences for some time with their introduction of the self-checkout tills. Sainsbury's is going one step further with a checkout free shop that they trialled in Clapham North, London. Technology is used to detect when products are taken off the shelves (or returned) and this information is kept track of in a virtual cart. Whether they will expand on this idea is still unknown, but it's definitely the start of more grocery shopping digital experiences.
2. Ralph Lauren
Ralph Lauren are also leading the way with their own in-store digital experience. Their flagship store in London features interactive mirrors that can display product information, along with the ability to request alternative sizes and colours. Cleverly, they have added a 'Complete the Look' section that matches your outfit with other items in the store. This marketing touch is fun and creative but also helps to drive sales.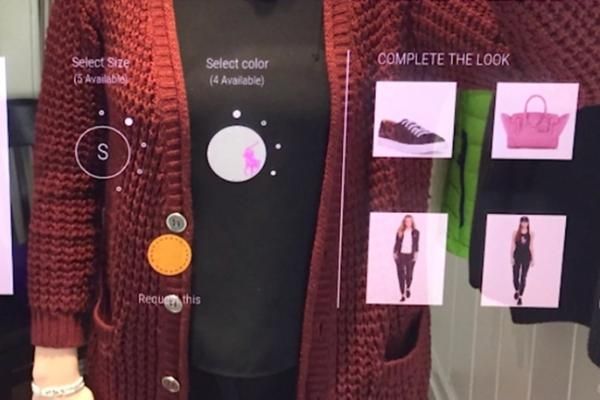 3. Specsavers
Choosing a new pair of glasses can be a timely process of figuring out the pair that suits the wearers face the best. Specsavers made this process a lot easier with their launch of an in-store tool that produces a 3D model (on a tablet) of the consumer's face and pairs the best suited pair to the persons shape, gender, and age. Consumer's can then try on multiple pairs digitally before choosing the pair they like the best.
4. Zara
As we have said, it's the norm for supermarkets to have self-checkout tills by now, but it hasn't expanded into other areas of retail as quickly. However, Zara decided that if grocery stores could do it, why couldn't clothes stores. They have jumped on this digital experience band wagon, implementing self-checkouts in a few of their stores. If you've ever shopped in Zara at rush hour, you will know that the ques can be painstakingly long, so this is one step in the right direction for all the impatient shoppers in need of a Zara fix.
5. MAC
MAC recently opened a store in China designed solely for the needs and wants of Gen Z. They did half a years' worth of research to find out what satisfies this next generation of consumers. There's a check-in process at the door where they connect to Mac's WeChat (a Chinese social media) to use while they shop. They have mirrors that can digitally apply every lipstick shade to your reflection to see what looks the best. They even had six influencers create eye shadow palettes that the consumer can tailor to their own tastes, which is then 3D printed. This is only a touch of what is on offer at the store, created for the ultimate in-store digital experience.

As we have seen a lot of retailers are using technology to make the consumer's buying experience as delightful as possible. They are tapping into their likes and dislikes to come up with innovative ways to give their customers exactly what they are looking for. While it's not as feasible for smaller retailers to give their customers as elaborate digital experiences, it is definitely an area they need to be watching. Anything retailers can do to positively heighten their consumer's retail buying experience is a step in the right direction.
Looking fore more retail insights? Visit this year's Autumn Fair and take part in the free workshops and seminars.