Wraptious
Kitchenware
Greetings & Stationery
Greetings cards
Home Décor & Accessories
Home Textile & Soft Furnishing
Cushions / Pillows
Art, Framing and Sculpture
Manufacturer
Wholesale
Product Photographs
Private Label
Drop Shipping
Services
Designer
Gift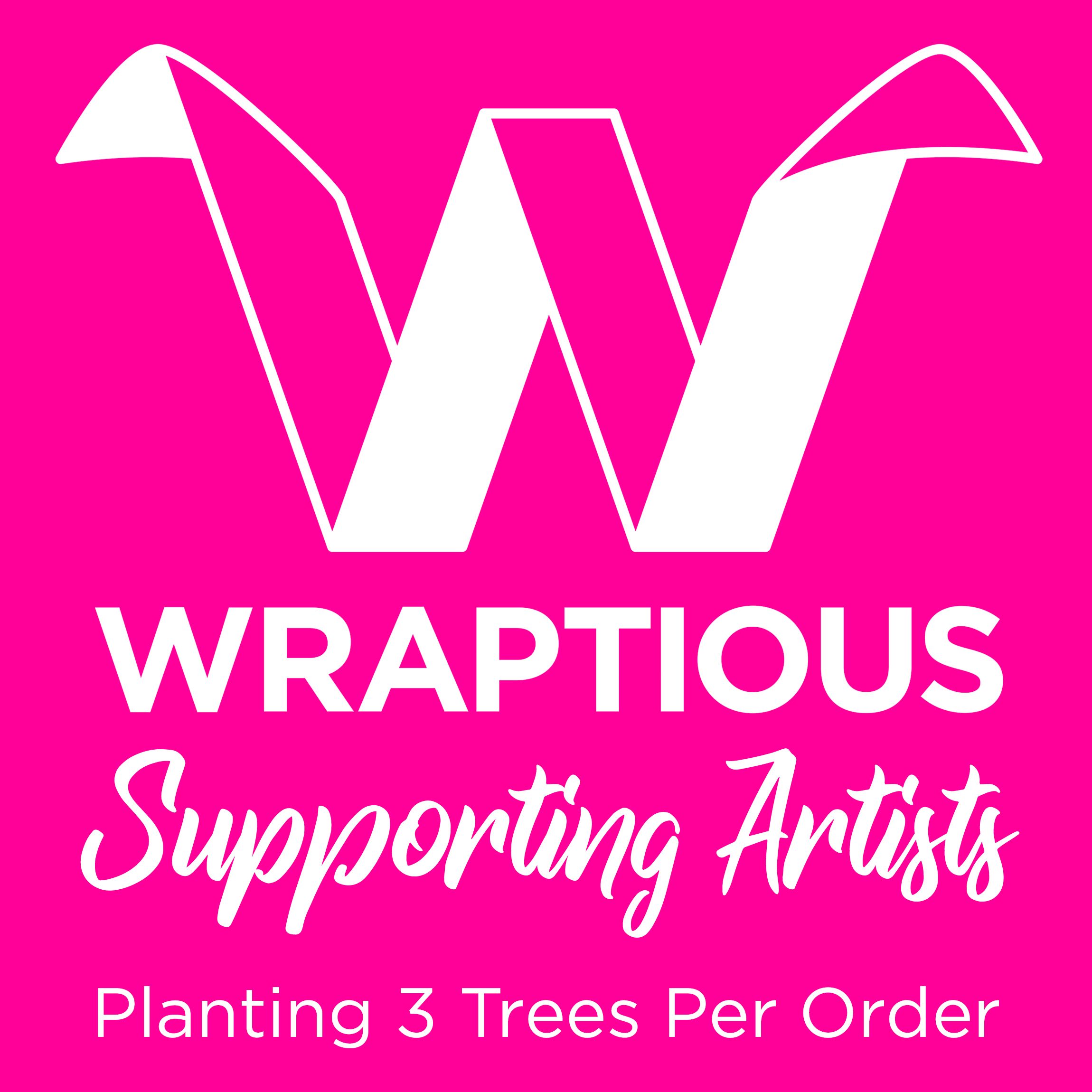 As Founder of Wraptious, I made my first sale on a windy Manchester market stall seven years ago. It quickly became clear to me that it's inherently difficult for creatives to get their work out there! So I began collaborating with artists, passionately sharing their work at over 500 market stalls and 22 trade shows to date. Now I am proud to share that Wraptious supports over 50 artists directly, and has promoted thousands of others.

We believe all artists deserve an opportunity to have their work shared and enjoyed. Our new ranges are even launched from the winners of our biannual competition - fun events where the public, not us, choose our artists!

We go above and beyond for our customers, with product quality and sustainability cornerstones of Wraptious. We plant 3 trees per order, use sustainable resources and packaging and pay artists fairly. Just some of the things we care about.

Thank you for your support in helping us make a difference.
Simon x
Address
Stockport
United Kingdom
Sustainability Role in overall company's strategic plans

At Wraptious, we believe in making a positive impact in all that we do. All businesses have a responsibility to challenge the status quo, and we are committed to continuously looking at how we can give back to our artists, the planet and its communities. Thank you for your contribution in helping us make a difference.

Sustainability initiatives

1) Wraptious plants 3 trees for every order we receive. 2) All Wraptious paper and timber products are made from FSC-certified or recycled materials. 3) Where possible we re-use all boxes and packaging from our suppliers. 4) We limit our plastic use, for instance we use cardboard bubble wrap, our cards are wrapped in biodegradable cello and our cushion bags are made from bamboo. 5) We are a member of the Slave Free Alliance, acting with integrity in all that we do, and the relationships we make.

Pledges for the year

We pledge to plant over 100,000 trees by the end of 2021, making Wraptious a carbon-positive company. We also aim to save over a tonne of plastic by moving to sustainable alternatives in Spring 2020.

Sustainable Products

Greeting Cards

Our greeting cards are made in the UK from FSC certified board, with recycled kraft envelope. They can be shipped naked if customers wish, or using our biodegradable cellos.

Vegan-Suede Cushions

As well as being vegan, our cushions are hand-made in the UK, and shipped in bags made from bamboo.

Our Packaging

We continually work to make our packaging more environmentally friendly. We no longer use plastic bubble wrap, re-use all supplier packaging and continue to bring in new box sizes, to best-fit your products and save on filler and fuel efficiency. We also challenge and work with all our suppliers to be mindful of their packaging too!

AT THE FAIR

NEW TO THE FAIR

Social equity at your company

We pay artists fairly for every sale we receive at Wraptious. We are proud to pay a Living Wage to all in our team, whilst also being a Member of the Slave Free Alliance. As an equal-opportunity employer, we uphold our responsibility to maintain dignity, respect and safety to all.

Certified sustainable products by third party

Packaging

Our packaging is plastic free

Our packaging is compostable

Our packaging is made with recycled content

All our wood and timber products are from FSC or recycled materials. Our cards are packed in biodegradable cello. Our packaging is either upcycled from our suppliers, or using recycled cardboard bubble wrap. Just a few examples.

Materials

We have products made from recycled materials

Our products are plastic free

We have products made from sustainability sourced raw materials

Ethical Considerations

Fair wages are paid to the people who make our products

Our products are made by people employed in good working conditions

We challenge our suppliers to report any ethical issues they identify

Within the workplace where our products are made there is commitment to Non-Discrimination Gender Equality and Freedom of Association

As a member of the Slave Free Alliance, Wraptious has a zero-tolerance approach to modern slavery and act with integrity in all areas of our business and our relationships. We are committed to ensuring that there is no modern slavery or human trafficking in our supply chains or in any part of our business. As an equal-opportunity employer, we uphold our responsibility to maintain dignity and respect to all.

Enviromental Impact

We are a carbon neutral company

We have a sustainability policy

We consider the environmental impact when creating our products

Some of the processes we use to manufacture products are energy efficient

For every order we receive, no matter how small, we pledge to plant 3 Trees through our Partners, Trees for the Future. Planting trees provides families with more than just food. It provides income, empowerment, unity, leadership, education and even saves lives. Every year, over 30 million trees are felled intentionally and by natural causes. Trees clean our soil and our air, provide income and nutrition and protect us from the elements. Trees For The Future is a non-profit organisation that has planted 180 million trees. At Wraptious, we have so far planted over 47,000 trees, and aim to plant 100,000 trees by the end of 2022.
Simon discusses Wraptious and the benefit of attending Spring and Autumn Fair for his business and the artists they support.