VENT for Change
Stand: 6B11
Stationery, cards & wrapping
Wholesale
£0 - £19
Drop Shipping
Point of Sale Display
Product Photographs
Private Label
Yes
Greetings & Stationery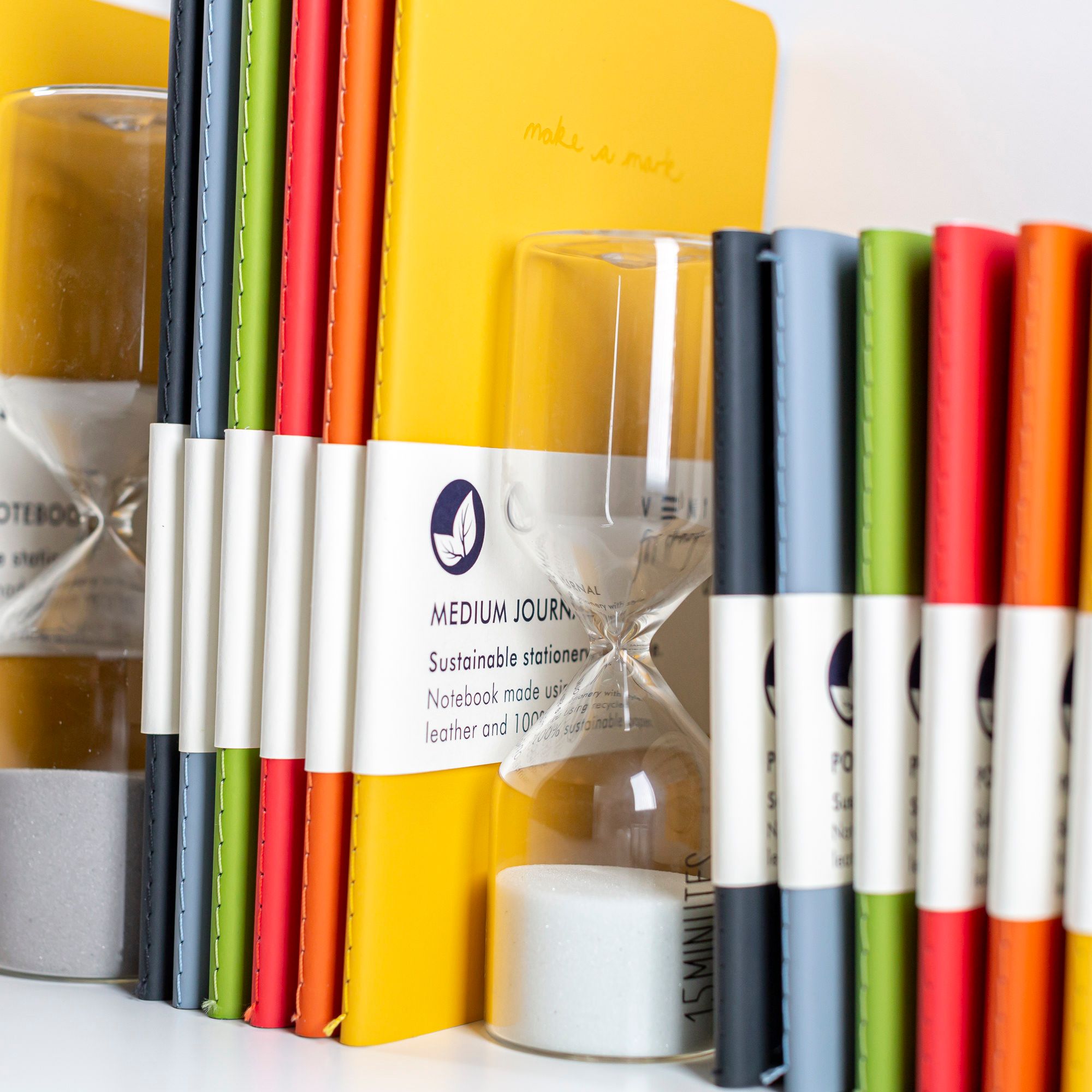 VENT is one of a growing number of conscientious brands that combine beautifully designed products with impeccable eco credentials and an ethical purchasing alternative for customers.
Made entirely from recycled and sustainable materials their ranges also support children's education projects with every item sold.
Set up by social and environmental entrepreneur Evan Lewis, Bristol based VENT for Change combines its ethical and social philosophy with award winning design.
From its UK made pencils produced in-house from recycled CD cases to its pocket books made using reclaimed coffee cup fibres and journals from recycled leather, every item as a strong environmental message of its own.
Address
Bristol
United Kingdom
Sustainability Role in overall company's strategic plans

VENT for Change is a Sustainable Stationery Company. Sustainability is the single most important criteria we consider at all stages of design and production. Everything in our range is made using recycled and sustainable materials.

Sustainability initiatives

As well as producing entirely from recycled and sustainable materials we also support children's education projects with every item sold.

Pledges for the year

VENT for Change run the UKs largest free to participate global education awareness day. Since 2017 more than 200,000 school children have signed up to take part. The day teaches children about the lack of education worldwide and incorporates SDGs into the event highlighting all manner of environmental and sustainable topics

Sustainable Products

Our Make a Mark recycled leather notebooks, journals and accessories.

Our Make a Mark range is made from recycled leather reclaimed from the Italian fashion industry, combined with FSC certified sustainable paper.

Write Notebooks

Our Write Notebooks are raw and unashamedly recycled and proud of it. Made with covers produced from uncoated 100% recycled grey board and high quality sustainable paper pages

Ideas Collection

Our Ideas Collection notebooks are made using recycled corn pulp fibres combined with recycled and sustainable paper, also in the range are pencils and pens made from single use recycled plastics

AT THE FAIR

NEW TO THE FAIR

Social equity at your company

We insist any supply chain partners adhere to the ETI Base Code as a minimum. Independent certification on social H&S and ethical practices are a pre-requisite too. VENT is a company lead by it's social philosophies and works with all partners to reach the highest standards at all times

Certified sustainable products by third party

Packaging

Our packaging is plastic free

Our packaging is compostable

Our packaging is made with recycled content

All our packaging is plastic free, all is recycled, recyclable and or biodegradable. We even use paper tape to close our boxes. Where any retail packaging is absolutely needed we have designed the most minimal packaging possible. Where it's not needed we do not offer it

Materials

We have products made from recycled materials

Our products are made from upcycled materials

Our products are plastic free

We have created products that provide an alternative to single use plastic

We have products made from sustainability sourced raw materials

Recycled Leather from the fashion industry, recycled CD cases, recycled plastic drinks bottles, reclaimed coffee beans, kiwi, cherry and lavender pulp.

Ethical Considerations

Fair wages are paid to the people who make our products

Our products are made by people employed in good working conditions

We have mapped our entire supply chain

We challenge our suppliers to report any ethical issues they identify

We have an ethical policy

Within the workplace where our products are made there is commitment to Non-Discrimination Gender Equality and Freedom of Association

Other

Other: too many to mention. Come visit us on the stand. We'd love to meet you and tell you all about what we do

Enviromental Impact

We have a sustainability policy

We consider the environmental impact when creating our products

Some of the processes we use to manufacture products are energy efficient

Some of the processes we use to manufacture products are water efficient
Our beautiful recycled leather range available as a starter set. Usually £180, now only £162! Also comes with display stands, point of sale and free delivery

A Jumbo Starter Set giving you a wide selection of our range along with display stands, Point of Sale and free delivery! The offer costs £257 giving you 10% off product which would normally cost £289.