St Eval Candle Company
Christmas Gifting
Gifting
Home & Living
Candles & Home Fragrance
Manufacturer
Seasonal Decorations
New Product Showcase
10+
Couples
£20 - £49
Home Fragrance
The Family
Housewares
Private Label
Him
Kitchenware
Her
£0 - £19
Yes
Beauty & Wellbeing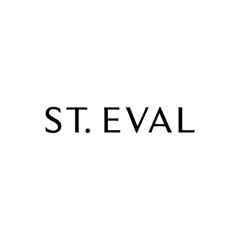 Nestled on a farm in North Cornwall, St. Eval use traditional artisan methods to craft high-quality candles by hand, perfecting the art and science for over 25 years. Our unique pots, wax blends and fragrances are all inspired by nature and our beautiful Cornish countryside, lovingly crafted using only the finest ingredients and materials from renewable sources. We proudly produce sustainably using our own energy via wind, solar and biomass; helping to reduce our carbon footprint and impact on the environment. In 2011, we erected the UK's quietest Wind Turbine which, alongside solar panels and a biomass boiler, enables us to produce enough energy to power the entire workshop.
Address
Wadebridge
United Kingdom
Inspired by the magical beauty of Cornwall, our collection of wild Oak, fresh Moss and honeyed Amber scents will engender great folk stories, awaken imaginations and stir creative souls. Discover thre ...

Inspired by snowy landscapes and the magic of Christmas, these elegant white pots with brushed gold detail are the perfect addition to the home this winter. Complete the collection with the cosy glow ...

Introducing our elegant Christmas Star Pot, providing a subtle touch of Christmas for the home and all year round. Light grey in colour and adorned with twinkling stars resembling a clear winters nigh ...

New for 2020, discover festive cheer in our heart-warming Winter Woodland Collection. The perfect charming trio for Christmas.  This collection is home to three playful characters inspired by winter w ...

Add a beautiful festive sparkle and striking look to your home with these naturally coloured candles half-dipped or marbled with glimmering gold.  Available in three festive fragrances: spicy Inspirit ...

Our stunning botanical Christmas designs for our Christmas tin and tealight collection are available again this Christmas. The festive fragrances available in this collection include spicy, soothing ' ...
Sustainability Role in overall company's strategic plans

People, planet and sustainability are the heart of St. Eval. Our core value is to 'tread softly on the earth', respecting and renewing, Our factory is run using renewable energy from wind, solar and biomass and we pride ourselves on our nature-inspired products and plastic-free packaging. Our renewable energy strategy encompasses all aspects of the business and is reviewed regularly to ensure we are at the forefront of environmental standards in the manufacturing industry.

Sustainability initiatives

This year we have successfully eliminated plastics from almost all of our collections, and we aim to be plastic-free completely next year. Sustainability is at the heart of our business and we have further expanded our biomass, doubling this renewable energy source to support our company growth.

Sustainable Products

Dinner Candles

Our hand finished dinner candles are produced using sustainable energy and packaged in recyclable cardboard boxes.

Packaging

Our packaging is made with recycled content

We are in the process of making our packaging plastic free

Ethical Considerations

Fair wages are paid to the people who make our products

Our products are made by people employed in good working conditions

We have mapped our entire supply chain

We challenge our suppliers to report any ethical issues they identify

We have an ethical policy

Within the workplace where our products are made there is commitment to Non-Discrimination Gender Equality and Freedom of Association

Embedded within our company-wide supply chain management and purchasing policy is our full commitment and responsibility to ethical trading across customer, supplier and employee networks. We work with SEDEX (Suppliers Ethical Data Exchange), an independent global company to audit our manufacturing processes. We empower our networks to follow suit by promoting our commitment to health and safety checks, social and environmental performance and improved working conditions. Our purchasing policy ensures that our suppliers are either part of the Ethical Trading Agreement, or meet British Standards, or alternatively compliance is verified via site visits.

Enviromental Impact

We have a sustainability policy

We consider the environmental impact when creating our products

Some of the processes we use to manufacture products are energy efficient