Playpress Toys
Stand: 20H63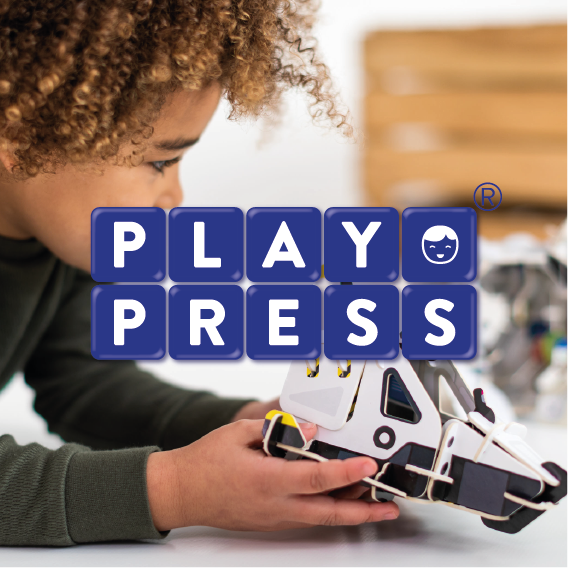 Fun for kids, kind to the planet
We believe in the power of planet-friendly, hands-on fun! Our inventive sets can be pressed out, built up, and played with time and time again.
Playpress is made from Playboard, a sturdy material that's strong enough to stand up to everyday adventures but also completely FSC® (FSC-C004309) certified sustainable, recyclable and biodegradable.
A world of creativity that doesn't cost the earth.
Press out, build up and play on!
Playpress is about exploring new possibilities. We take care to make our toys inclusive. They're designed to let children play creatively while helping them develop key motor and cognitive reasoning skills.
Sustainability & quality
We don't think that quality toys need to cost the earth. That's why we put care into every part of our product, from the sourcing of our materials through to responsible manufacturing and design.
Award-winning design
Our products win awards. Most recently we won the Play Creators Awards 2019 "Toy Designer of the year" for our collaboration with the RNLI.
Our design studio reguarly share early-stage prototypes of our playsets on instagram and they love feedback!
We love finding new ways to build new worlds
We created Playpress because we wanted to help children create new stories with toys that were affordable and eco-friendly. Our love of creativity and ingenuity is what gets us up every day and as a family-owned business, care and quality really matter to us.
Designed & Made in Britain
YES
Address
Tonbridge Wells
United Kingdom
Sustainability Role in overall company's strategic plans

Sustainability & quality We don't think that quality toys need to cost the earth. That's why we put care into every part of our product, from the sourcing of our materials through to responsible manufacturing and design.

Sustainability initiatives

Printing & binding We use vegetable-based inks and water-based glues that are vegan, biodegradable and ocean-friendly. Board & paper The fibres for our Playboard are bleach-free and sourced from sustainably managed forests in Finland. Manufacturing & transport Our toys confirm to European standards and are locally manufactured in the UK to minimise air miles. FSC® (FSC-C004309) certified sustainable, recyclable and biodegradable.

Sustainable Products

RNLI Lifeboat Eco-Friendly Playset

It's off to the rescue with the Playpress Lifeboat set, as you help the RNLI with every purchase! Construct two people and the boat then connect them together, ready for the mission. Add on our RNLI Playpress People and get the whole crew ready to save lives out at sea. Every sale includes a donation to the RNLI. Varied creative play: All PlayPress sets can be switched up, adjusted and connected, so there's no limits on imagination and every playtime is different. Perfect for ages 4-10: Develop construction, problem solving and motor skills whilst exploring characters and storytelling. Zero-waste and super-easy: Lightweight flatpack packaging makes it travel-friendly with no bulky plastic or complicated set-up. Eco-conscious: Manufactured in the UK with Playboard, our compostable material made with wood pulp from sustainably-managed forests. Pack size - 15cm x 15cm x 1.4cm

Pirate Island Eco Friendly Playset

Ahoy, me hearties! Get stranded on a tropical island with the most adventurous of crews through the Playpress Pirate Island Set. Construct three pirates, a boat, treasure chest, treasure, a parrot, accessories, then turn the pack into a colourful secret hideaway island. Varied creative play: All PlayPress sets can be switched up, adjusted and connected, so there's no limits on imagination and every playtime is different. Perfect for ages 4-10: Develop construction, problem solving and motor skills whilst exploring characters and storytelling. Zero-waste and super-easy: Lightweight flatpack packaging makes it travel-friendly with no bulky plastic or complicated set-up. Eco-conscious: Manufactured in the UK with Playboard, our compostable material made with wood pulp from sustainably-managed forests. Pack size - 20.6cm x 16.1cm x 0.8cm

Rescue Team Eco Playset

Have no fear! The rescue team are here. Construct two police, and two firepeople along with walkie-talkies, hats and rescue tools, then play with them together as all parts are connectable! Combine with almost any other set to ensure that everyone stays safe, day and night. Varied creative play: All PlayPress sets can be switched up, adjusted and connected, so there's no limits on imagination and every playtime is different. Perfect for ages 4-10: Develop construction, problem solving and motor skills whilst exploring characters and storytelling. Zero-waste and super-easy: Lightweight flatpack packaging makes it travel-friendly with no bulky plastic or complicated set-up. Eco-conscious: Manufactured in the UK with Playboard, our compostable material made with wood pulp from sustainably-managed forests. Pack size - 11cm x 11cm x 1.2cm

AT THE FAIR

NEW TO THE FAIR

Social equity at your company

All products manufactured in the UK under UK law

Certified sustainable products by third party

Packaging

Our packaging is plastic free

Our packaging is compostable

Other

The packaging is compostable, recyclable and becomes part of the play set.

Materials

Our products are plastic free

We have created products that provide an alternative to single use plastic

We have products made from sustainability sourced raw materials

Ethical Considerations

Fair wages are paid to the people who make our products

Our products are made by people employed in good working conditions

We have mapped our entire supply chain

We have an ethical policy

Within the workplace where our products are made there is commitment to Non-Discrimination Gender Equality and Freedom of Association

Enviromental Impact

Our products are created to help consumers try and reduce their carbon footprint

We have a sustainability policy

We consider the environmental impact when creating our products