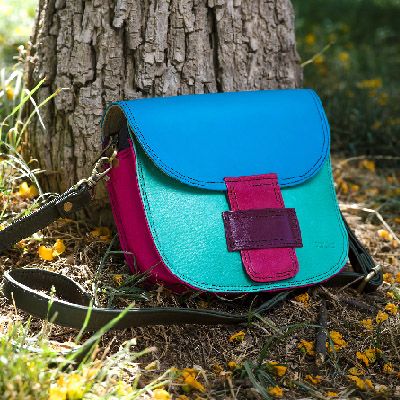 Soruka it's a modern brand commited to create handmade and unique leather products while preserving traditional techniques, supporting the sustainable fashion and the fair trade movement. Our expert artisans craft each piece by hand using unused leather that otherwise will be wasted. the result is a beautiful one-of-a-kind handcrafted piece made with the best quality leather and environmentally friendly.
Designed & Made in Britain
NO
Sustainability Role in overall company's strategic plans

Sustainability was the starting point of our company. The entire project is focused on making sustainable and environmentally friendly products.

Sustainability initiatives

Using upcycled and recycled materiales, reducing the waste and the water consumption

Sustainable Products

All our products are sustainable

Social equity at your company

We work on the one hand with independent artisans and on the other hand with artisans who work in factories. All the factories have the certificates referring to the rights of the worker, health insurance, salary, vacations, etc. Regarding the small artisans who live in the villages, without the possibility of moving to the city to work in a factory, we personally ensure the working conditions and try to support them with an increase in salary compared to factories. All our workers are of legal age and have years of experience.

Packaging

We are in the process of making our packaging plastic free

each item comes in an individual bag made from recycled saris

Materials

Our products are made from upcycled materials

All our bags and acessories are made with upcycled leather

Ethical Considerations

Fair wages are paid to the people who make our products

Our products are made by people employed in good working conditions

We have mapped our entire supply chain

We challenge our suppliers to report any ethical issues they identify

We have an ethical policy

Within the workplace where our products are made there is commitment to Non-Discrimination Gender Equality and Freedom of Association

Enviromental Impact

Our products are created to help consumers try and reduce their carbon footprint

We consider the environmental impact when creating our products

Some of the processes we use to manufacture products are energy efficient

Some of the processes we use to manufacture products are water efficient

all our articles are made with discarded leather that is destined for the garbage. By using this leather we save water, the electricity that would be spent on making fresh leather, and at the same time we reduce waste that pollutes the environment since leather is a product that, depending on treatment, takes years to decompose
Discover our new stylish collection that includes 2 lines: - Floral variety in autumn Elegant combination of flower print with variety of colors from cream to apricot but also grey and green. - Athmos ...