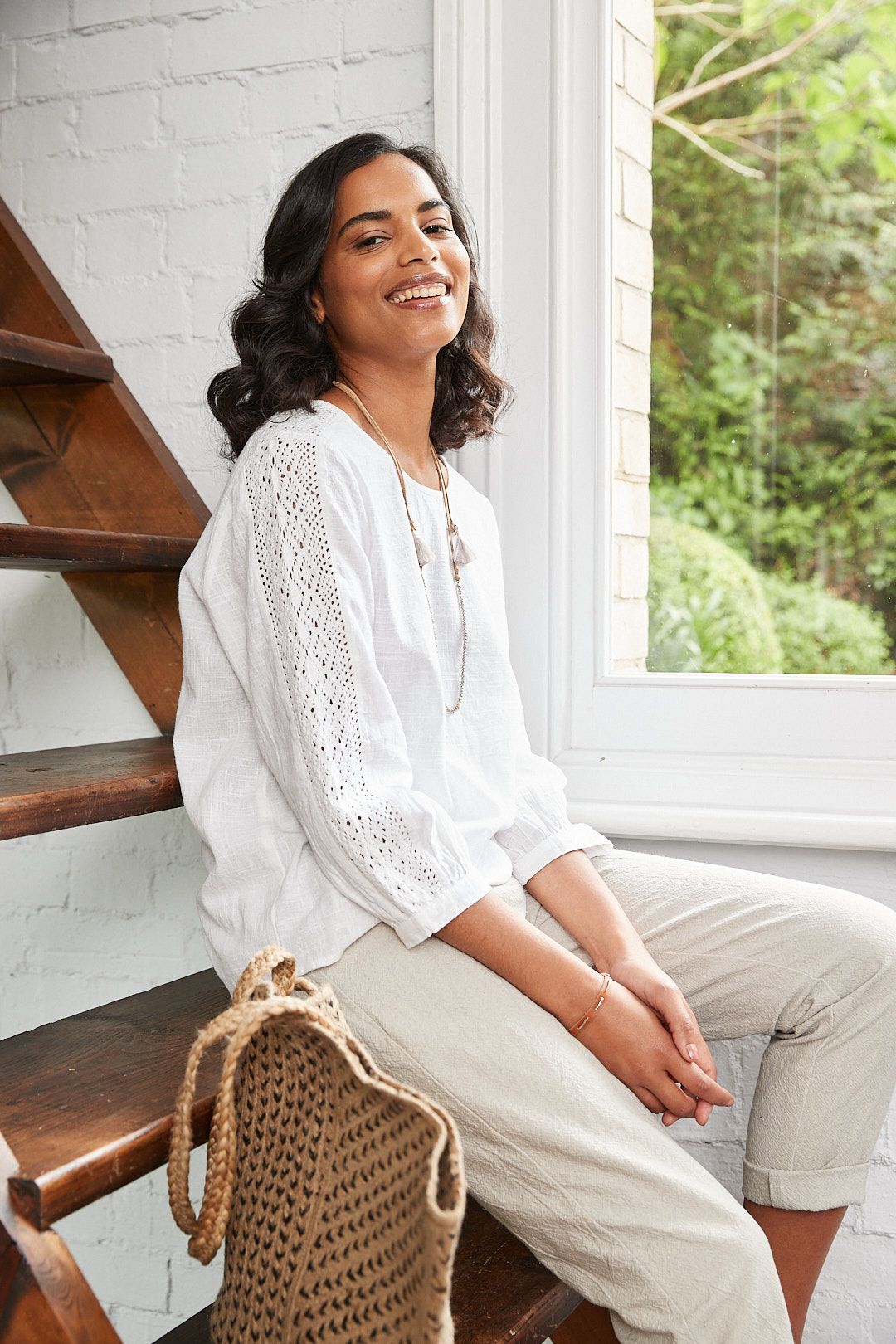 In embracing the slow fashion movement, we take the time to ensure quality production, to give value to the skilled hands that produce each product, and to contemplate our connection with the environment. We're proud supporters of the Fashion Revolution campaign and encourage consumers to ask – who made your clothes?
Our garments are made with natural fibres and GOTS certified organic cotton, and all prints are created with Azo free dyes. We are committed to seeking the best materials and methods available for both people and the planet, which is why our packaging is also biodegradable and plastic free.
Bursting with bright jewel colours in soft organics, twisted cottons, and cool voile our Spring Summer 23 collection might just be our best ever. Woven slubs run alongside BCI cottons and we've reworked our handlooms and Ikats into irresistible tactile textures. Our seasonal knitted styles have been created from a recycled cotton / bamboo mix.
New for this season is our colourful footwear range in ethically sourced materials.
Designed & Made in Britain
NO
Address
Launceston
United Kingdom
Sustainability Role in overall company's strategic plans

From design to to production and onwards to the end user, sustainability is always a consideration.

Sustainability initiatives

At Nomads we always consider the environment. We have been using sustainable viscose for several seasons and for SS23 our knits are a recycled cotton/bamboo mix. We work with our suppliers to use any waste fabrics. We incorporate handloom into our collections and the looms use no electricity. We use verified Ecovero which is fully traceable and biodegradable. Find out more in our catalogue - available to download from our profile.

Pledges for the year

To ship all goods by Sea. To increase our use of more sustainable fabrics To raise awareness with our suppliers and move towards more sustainable and environmentally friendly production where possible.

Sustainable Products

Ecovero Jumpsuit MK1057

Ecovero has been awarded the EU Ecolabel for meeting high environmental standards From sourcing to production and distribution, using less water and with lower emissions than regular viscose. The fibre is made from sustainable wood pulp, from certified and controlled wood sources, creating a fabric that is, breathable, biodegradable and traceable.

Recycled Cotton/Bamboo mix Jumper KT7051

This season our knitwear is produced using a sustainable bamboo and recycled cotton yarn which has a beautifully soft hand-feel as well as being good for the planet. This new soft and sustainable yarn is created from a mix of recycled cotton and sustainable bamboo that is produced in a closed-loop system. Not only does this help to reduce textile waste but also uses less water than growing new cotton. A natural, breathable and biodegradable yarn.

BCI Cotton Tennis Tunic Dress

The Better Cotton Initiative helps smallholders, farmers and their communities to grow cotton more sustainably, which in turn improves the working conditions, and helps reach a better standard of living for them and their communities. BCI also help to overcome inequalities and help women become more empowered. For more info visit: www.bettercotton.org

AT THE FAIR

NEW TO THE FAIR

Social equity at your company

Our Fair trade and Ethical guidelines apply to both our India producers and our UK offices and workers and always have done.

Certified sustainable products by third party

Packaging

Our packaging is plastic free

Our packaging is compostable

Our packaging is made with recycled content

We use compostable starch bags for our garments, FSC recycled paper bags and reuse and recycle our cardboard boxes.

Materials

We have products made from recycled materials

Our products are plastic free

All of our products are plastic free and most are 100% biodegradable. Our SS23 knits use 30% recycled cotton.

Ethical Considerations

Fair wages are paid to the people who make our products

Our products are made by people employed in good working conditions

We have mapped our entire supply chain

We have an ethical policy

Within the workplace where our products are made there is commitment to Non-Discrimination Gender Equality and Freedom of Association

Visit our website to view our policies https://www.nomadsclothing.com/ or our catalogue for more details about our fabrics, commitments to sustainability and more about us!

Enviromental Impact

We consider the environmental impact when creating our products

Some of the processes we use to manufacture products are water efficient

Nomads Clothing is made from the best quality natural fibres and eco-fabrics, including GOTS certified Organic Cotton. We choose to use natural fibres because they are better for the environment, as well as the farmers, producers and finally you, the wearer. All prints are created with Azo free, environmentally approved dyes. Our clothing is not tested on animals and are free from animal products. We are committed to seeking the best materials and methods available for both people and the planet, which is why our packaging is also biodegradable. Our sustainable viscose and Ecovero are both made with closed loop water systems.