Miss Milly Limited
Jewellery, Watches and Fashion
Jewellery
Bracelets
Brooches
Earrings
Necklaces
Rings
Fashion Accessories
Scarves
Exporter
Wholesale
Product Photographs
Private Label
Drop Shipping
Point of Sale Display
Distributor
Importer
Jewellery & Watch and Fashion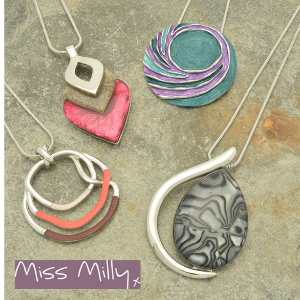 Miss Milly is a young and growing brand with an ethos of providing great quality products with mass appeal and excellent margin potential; exactly what a retailer should be looking for. We are dedicated to giving fantastic customer service, which, we believe, along with the product itself, is the most important differentiator in our industry.
Our costume jewellery lines focus on the flagship Floria Collection, a stand-out ensemble of colourful, simple, bold designs in resins, powder-coated, painted and enamelled metals. The Miss Milly collection of magnetic brooches has been incredibly popular and new styles have been added for AW20. And our first range for men, colourful, gift-boxed resin cufflinks in two designs, are also new for this season. And we also have brand new, magnetic necklace gift sets featuring three interchangeable pendants in either a resin or metal finish. All our jewellery is nickel-free, lead-free and cadmium-free, adhering to the REACH standards.
Our Scarf Collection principally features 100% viscose products with some products having 20% cotton mix, making them beautifully soft. We supply both all year round 85g to 120g weights and heavier, thicker styles for Autumn & Winter. In response to customer demand, we have both plain styles (although usually with a bit of something added to lift them such as glitter, sequins or reversible dual colours) and multicolour designs. We tend to avoid all-over prints to try and stock lines different from our competitors.
Recently we have introduced some wallet style purses in neutral, muted colours, and bulk sets of compact mirrors. New designs are being added to our popular keyring / bag charm range for AW20, including frogs, mice, hedgehogs, cows, giraffes and hippos.
We try to make Miss Milly accessible for all retailers and etailers with a low minimum order of £100, low carriage at £6.95 (free for orders over £250) and no minimum order quantities. Packaged is supplied separately to avoid waste and unnecessary expense. And branded and plain display stands are also available.
Address
Worcestershire
United Kingdom