Miss Milly Limited
Stand: 7E65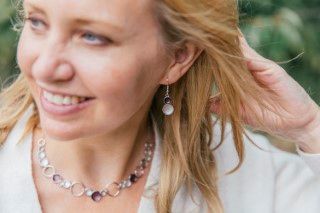 Miss Milly is a British brand with a reputation for providing great quality products with mass appeal and excellent margin potential as well as a veritable, and much sought after, rainbow of on-trend colour. We are dedicated to giving fantastic customer service, which, we believe, along with the product itself, is the most important differentiator in our industry. Our costume jewellery lines include a stand-out ensemble of colourful, simple, bold designs in resins and powder-coated, painted and enamelled metals. And we supply necklaces, earrings, bangles, rings, magnetic brooches and cufflinks with most necklace designs having matching earrings. Our scarf collection is mainly viscose and super-soft viscose/cotton mixes, curated to coordinate and contrast with the jewellery for engaging in-store displays. And you'll also find a capsule collection of purses as well as a vibrant range of enammled animal and bird keyrings, perfect for Christmas gifting and pick-up lines. Branded packaging, POS and display stands are available. Miss Milly has a £100 minimum order with no minimum order quantities.
Designed & Made in Britain
NO
Address
Worcestershire
United Kingdom
Sustainability Role in overall company's strategic plans

It is a big part of what we do, we are in the midst of several projects and all new suppliers are evaluated based on their own sustainability and that of the products or services we are looking at.

Sustainability initiatives

In May, we completed the inaugural Sustainability Basics course run by Small Business Britain, which gave us a lot of ideas and avenues to explore on top of what we were already working on. We also cycle to local meetings when we can rather than drive.

Pledges for the year

We are evaluating our packaging and potential new suppliers and hope to have this set up for new FSC certified stock from Autumn 2022. We are also working with Make It Wild to determine our carbon footprint and offset this with planting trees in Yorkshire, whilst working overall to reduce our emissions and not just greenwash. Our greatest challenge is evaluating our overseas suppliers and encouraging them to be more sustainable in their own practises and with the materials they use for our products.

Packaging

Our packaging is compostable

Other

All jewellery and scarves excluding the magnetic brooches are packaged in compostable sleeves and following a customer survey we are working on making our retailers more aware of this. For our gift packaging, we are working with a new supplier to manufacture it all from FSC certified and sustainable materials.

Enviromental Impact

We consider the environmental impact when creating our products
 Sustainability Basics is a six-week course run with Oxford Brookes University, Small99 and Sustainable Pathways, the programme began with an introduction to sustainability and how to calculate your c ...