MADE51
10+
Gifting
Home Textile & Soft Furnishing
Fashion Accessories
Seasonal Decorations
Kitchenware
Handicraft
Home, Living & Décor
Christmas Gifting
Lighting
Home Décor & Accessories
Jewellery, Watches and Fashion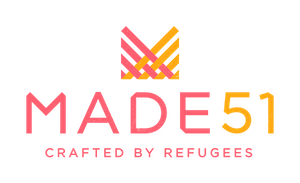 MADE51 is a new and exciting lifestyle brand of beautiful home decor and fashion items that merge contemporary design with traditional skills. Each product in the MADE51 collection is handcrafted by a refugee artisan who lives in a hosting country in Africa, Asia, Europe or the Middle East. Each piece tells a story of skill and perseverance that resonates with today´s consumers.

MADE51 design is derived from the valuable skills, traditions and heritage of refugee artisans and their countries. This creates a unique, curated collection that is sourced from unusual locations.
To give refugees access to the market and to ensure orders are handled professionally, UNHCR partners with export-ready social enterprises who work locally with refugee artisans. Together, they produce a line in the MADE51 collection and deliver on orders. Retailers can be part of the solution to the global refugee crisis by including refugee artisans in their supply chains.
Address
Geneva
Switzerland
Sustainability Role in overall company's strategic plans

UNHCR, in collaboration with the World Fair Trade Organization, verifies the ethical compliance of MADE51's social enterprise partners working with refugee artisans in hosting countries. Prior to engaging a social enterprise partner, UNHCR ensures that the enterprise abides by fair workplace practices, as defined by UNHCR Protection principles and Fair Trade standards. Once a social enterprise becomes a MADE51 partner., their workplace practices are monitored on an ongoing basis.

Certified sustainable products by third party

Certified by

World Fair Trade Organization

Materials

We have products made from recycled materials

Our products are made from upcycled materials

We have products made from sustainability sourced raw materials

Ethical Considerations

Fair wages are paid to the people who make our products

Our products are made by people employed in good working conditions

We have mapped our entire supply chain

We challenge our suppliers to report any ethical issues they identify

We have an ethical policy

Within the workplace where our products are made there is commitment to Non-Discrimination Gender Equality and Freedom of Association

MADE51 aims to include talented refugee artisans from around the world in global value chains.
Bringing beautiful refugee-made products that merge contemporary design with traditional skills to a global market.