Kushboo Soaps
Stand: 6K15
Beauty, Body & Bath
Skin & Body Care
Hair Care & Styling
Toiletries
Christmas Gifting
Gifting
Designer
Manufacturer
Wholesale
DesignFirst
4
Hair Care & Styling
Him
Her
Couples
The Family
Children
£0 - £19
Point of Sale Display
Product Photographs
Beauty & Wellbeing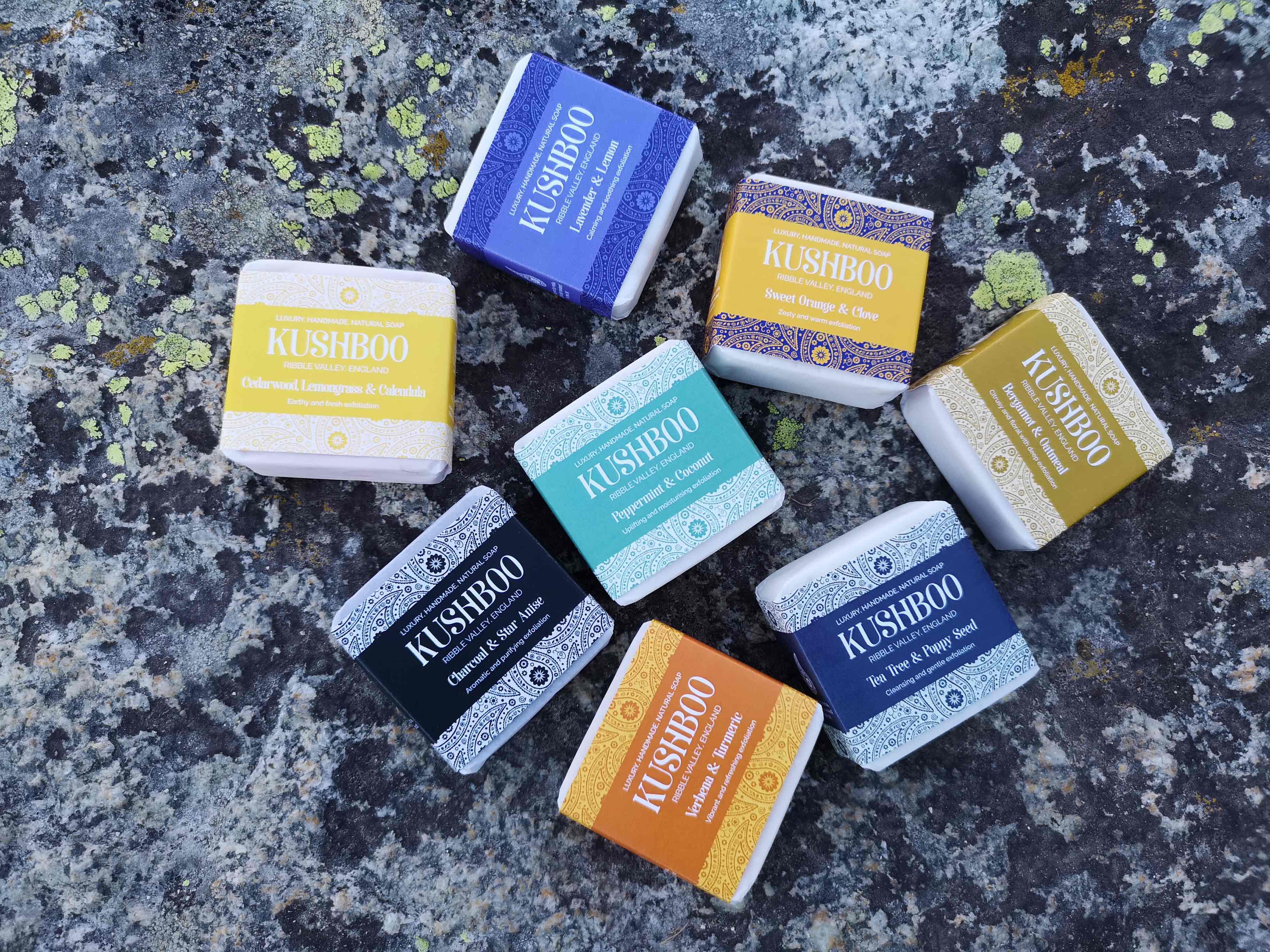 Vegan | Cruelty Free | No Plastics | 100% Natural | Made in the UK
Kushboo Soaps are exquisite individually handmade soaps, created using luxurious, moisturising quality oils enriched with a blend of essential oils and gentle botanics to cleanse the skin and indulge the senses.
All of our skincare is SLS & Paraben-Free. We believe that soap is dignity so for every bar of soap sold, we donate a bar to charity to help a vulnerable person.
As well as our award winning sustainable packaged soap bars, we offer luxury gift soap box sets, Shampoo bars, beautiful glass bottled Bath Salt Soaks, Foot Soak and our new luxury bath and body oil.
All Kushboo skincare is handmade with love in our own soap kitchen, in the beautiful Ribble Valley, England.
We are a conscious business, proud to have ethics and values at the core of all we do. We believe that we don't need to compromise on our treatment of people, animals or the Earth to create 100% natural products.
Address
Lancashire
United Kingdom
Sustainability Role in overall company's strategic plans

Protecting and caring for our planet is the very core of our brand. We respect every element of Nature and therefore work hard to to limit our impact on the environment during every process of manufacturing. All our products are individual made by us with love in our Soap Kitchen in the beautiful Ribble Valley in Lancashire, England. We don't use mass production techniques instead we individually craft all our products by hand carefully combining functionality with aromatherapy, resulting in a truly unique and beautiful artisan product. We don't outsource any of our production to other companies or add in any elements to pre-made soap.

Sustainability initiatives

We do not use plastic packaging AT ALL and always strive to find an alternative with new product launches. We wrap our soaps in recyclable paper certified by the Forest Stewardship Council - the original pioneers of forest certification who work towards improving forest management, promoting sustainability use, conservation and restoration of the world's forests. We use natural plant botanics as exfoliators in each of our soaps, which not only offer wellbeing aromatherapy benefits but also eliminate the use of environmentally damaging micro-bead plastics sometimes used in other cosmetic products. Kushboo is committed to working with local suppliers where possible, helping to reduce environmental impact. When we buy local, we also help build and grow our local community. We recycle and refuse all packaging wherever possible and help and encourage our stockists to do so too.

Pledges for the year

We made a pledge from day one to endeavour to be sustainable in everything we do and we can proudly say that we have always been a Plastic Free brand and will continue with this pledge.

Packaging

Our packaging is plastic free

Our packaging is compostable

Our packaging is made with recycled content

Materials

We have products made from recycled materials

Our products are made from upcycled materials

Our products are plastic free

We have created products that provide an alternative to single use plastic

We have products made from sustainability sourced raw materials

Ethical Considerations

Within the workplace where our products are made there is commitment to Non-Discrimination Gender Equality and Freedom of Association

Enviromental Impact

Our products are created to help consumers try and reduce their carbon footprint

We have a sustainability policy

We consider the environmental impact when creating our products

Some of the processes we use to manufacture products are energy efficient
Free Delivery on orders taken during Autumn Fair @Home

We will pay for delivery (tracked and signed) on all Miniumn quanity orders - £200 for orders taken during Autumn Fair @Home - Order now and choose when you'd like delivery and we'll do the rest.

Free Sample bottles of Bath Salt Soaks and Foot Salt Soaks

We will send a free small glass bottle of the Bath and Foot Salt Soaks with each Salt order FOC. With a screw top aluminium lid, these are ideal for customers to open and smell the beautiful aroma before enticing them to buy. Saves you opening and wasting a large bottle as a sample.

Free POS Kushboo etched Slate to display your soap bars.

For every MOQ Ordered during the AutumnFair @ Home we will send out a beautiful Kushboo Slate - perfect to display the soaps bars, shampoo bars etc helping the colours stand out and catch your customers eye. Usual price £18.50.

Whilst stocks last.