KEEL TOYS
Stand: 20D40-E41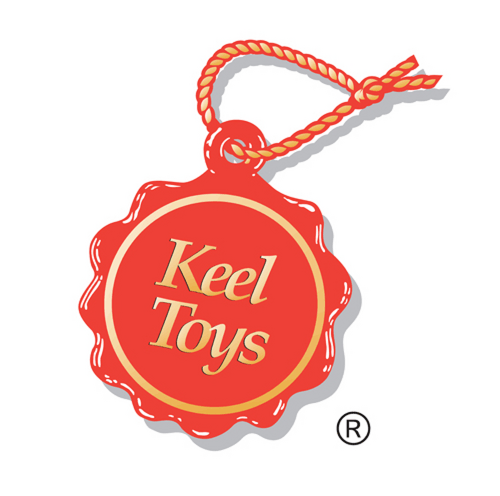 Keel Toys are celebrating their 75th Anniversary in 2022 and their ongoing commitment to creating a sustainable future has never been more important. Keeleco is a beautiful eco-friendly collection of toys manufactured and filled with 100% recycled polyester made from plastic waste. In the two and half years since launching this range they have recycled in excess of 25 million water bottles in the manufacture of these beautiful toys.
The Keeleco range now offers business partners a complete sustainable soft toy collection of over 200 products, including Wild, Farm, Sealife, Dinosaurs, Teddy Bears, Nursery, Seasonal and a new Fashion range – Keeleco Adoptable World.
Keel Toys also offers extensive experience with bespoke toys, providing a fully managed service from design to delivery.
Keeleco - 100% Recycled 100% Huggable
Designed & Made in Britain
NO
Address
Ashford
United Kingdom
Sustainability Role in overall company's strategic plans

An ongoing commitment to creating a sustainable future plays a huge role in the companies strategic plan.

Sustainability initiatives

Keeleco is a beautiful eco-friendly collection of toys manufactured and filled with 100% recycled polyester made from plastic waste. In the two and half years since launching this range they have recycled in excess of 25 million water bottles in the manufacture of these beautiful toys. This range is now more than 50% of our product offer and growing. We have also replaced all of the windows in our offices and replaced the lighting to energy efficient LED lighting. Our salesforce are also transitioning over to all electric or hybrid cars.

Pledges for the year

Continued evolution of our range to more Keeleco ranges.

Sustainable Products

Keeleco

In 2020 Keel Toys designed and launched Keeleco, a 100% recycled range of soft toys. These beautiful eco-friendly toys are manufactured and filled with 100% recycled polyester made from plastic waste. This process gives plastic a second life and uses less energy to produce than virgin polyester, as an example 10 water bottles (500ml) will produce enough fibre to make an 18cm toy. The iconic Keel logo and hangtag are now formed from FSC card and attached to the toy with cotton, even the shipping cartons are recycled. All toys are manufactured in an ICTI ethically audited factory to the highest standards. Keel Toys are delighted to announce that just two and half years after launching Keeleco we have recycled the equivalent of more than 25 million water bottles in the manufacture of the range. We can also now offer our business partners a complete sustainable soft toy collection, including Wild, Farm, Sealife, Dinosaurs, Teddy Bears, and Seasonal. Starting with the original Wild, Farm & Sealife ranges Keeleco has been extended to over 120 products making it the most comprehensive collection available. Brand new additions include a wonderfully colourful family of snakes and uniquely patterned super soft Octopus & Starfish to name a few. Each and every Keeleco toy is exquisitely designed and our best-selling Dinosaurs are no exception featuring beautifully textured exclusive fabrics and embroideries. Brand new arrivals are the magnificent Pterodactyl and Velociraptor! Keeleco - 100% Recycled 100% Huggable

Keeleco Adoptable World

Keeleco Adoptable World is the newest part of the Keel Toys sustainable soft toy range and the first fashion eco soft toy! The collection now features 14 adorable animals that are waiting to be adopted by a loving new owner. A feature of the range is the luggage label tag sewn to the toy depicting sustainable world travel by sailing boat, hot air balloon and bicycle. New characters for the later part of 2022 are a Dinosaur and the cutest Red Panda!

Keeleco Baby

Keeleco Baby launched in 2021 has been an instant success with new Unicorn, Puppy & Traditional Bears & Bunnies recently added to the super cute natural range of Koala, Giraffe, Zebra, and Lamb. To convey the Eco awareness all the ranges are clearly labelled with the sustainable message and offered with a variety of retail solutions and POS.

AT THE FAIR

NEW TO THE FAIR

Social equity at your company

All toys are manufactured in an ICTI ethically audited factory to the highest standards.

Certified sustainable products by third party

Packaging

Our packaging is made with recycled content

We are in the process of making our packaging plastic free

Recycled card cartons & paper tape on all our Keeleco ranges.

Materials

We have products made from recycled materials

We have products made from sustainability sourced raw materials

Keeleco product range is a beautiful eco-friendly collection of toys manufactured and filled with 100% recycled polyester made from plastic waste. In the two and half years since launching this range they have recycled in excess of 25 million water bottles in the manufacture of these beautiful toys. The iconic Keel logo and hangtag are now formed from FSC card and attached to the toy with cotton.

Ethical Considerations

Fair wages are paid to the people who make our products

Our products are made by people employed in good working conditions

We have mapped our entire supply chain

We challenge our suppliers to report any ethical issues they identify

We have an ethical policy

Within the workplace where our products are made there is commitment to Non-Discrimination Gender Equality and Freedom of Association

All toys are manufactured in an ICTI ethically audited factory to the highest standards.

Enviromental Impact

We have a sustainability policy

We consider the environmental impact when creating our products

Some of the processes we use to manufacture products are energy efficient

Recycled polyester uses 59% less energy to make than virgin polyester