Inside out toys Ltd
Stand: 6J40-K41
Distributor
Importer
Manufacturer
Wholesale
10+
Licensed Products
Nursery & Baby
Toys
Children
£0 - £19
£20 - £49
£50 - £99
Point of Sale Display
Product Photographs
Private Label
Yes
Kids, Toy & Play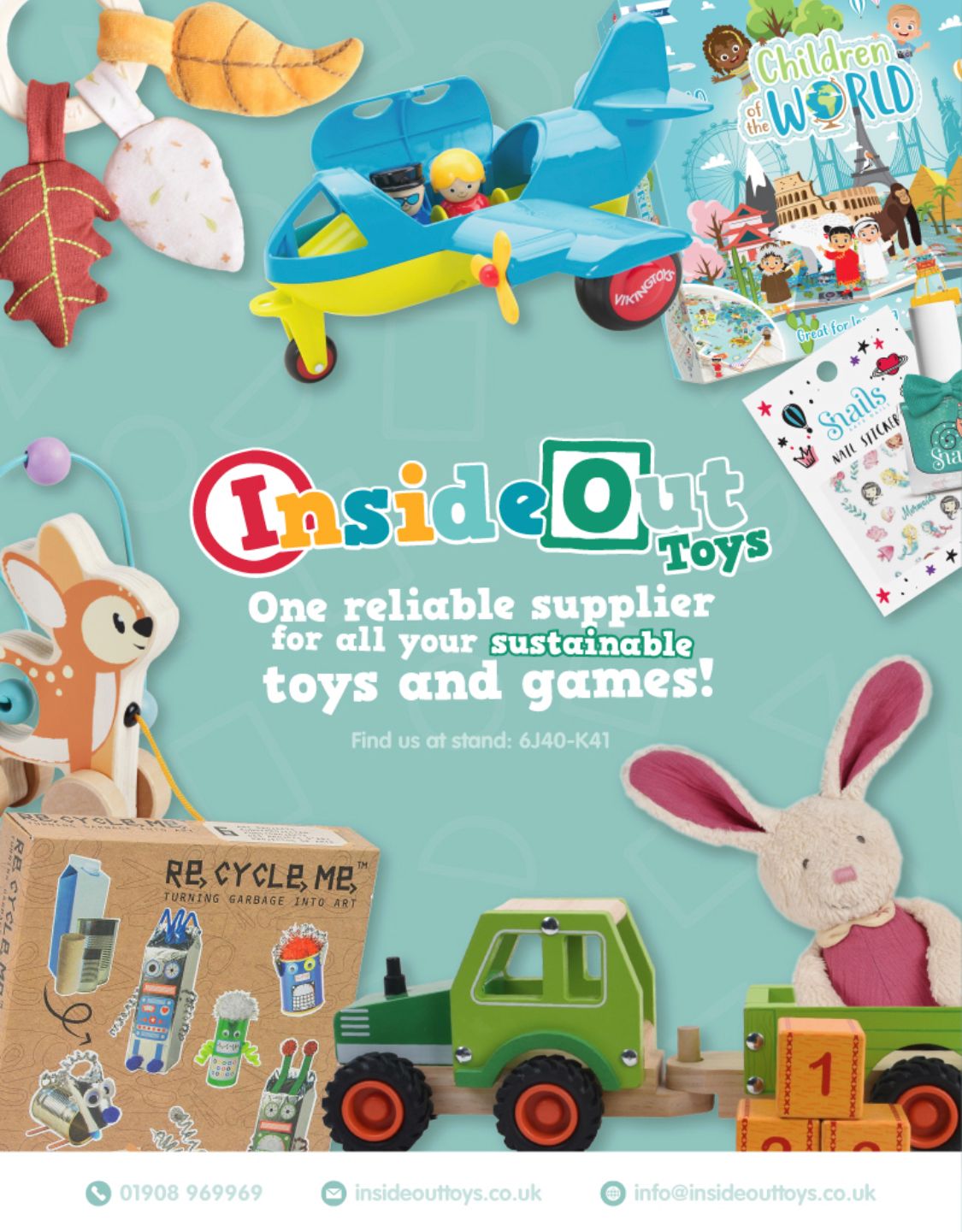 Julian and I 'joined forces' in 2012 and Inside Out Toys Ltd was borne out of a desire to create something which would keep us both busy up until retirement age. Both of us had come from corporate backgrounds and the lure of working for ourselves was strong! The company was originally established in a small industrial unit just outside Derby – Julian's hometown – and it moved to Milton Keynes in 2016 when we bought our family home in Silverstone.
Between us, we have 6 children – 4 of whom are all grown up, and 2 still living at home – so we know only too well the sort of toys children love to play with and those that parents love to have in their homes!
We have a small team at our premises in Milton Keynes and have always prided ourselves in being a family-friendly employer – taking our responsibilities seriously in terms of offering flexible working and looking after our employees. We also recognise that we have a social responsibility as a business and try to support as many charities as we can every year – through donations to Northamptonshire Health Charity and Giving World amongst others.
Our product ranges are constantly evolving – influenced by feedback from a growing army of loyal trade customers. We recognise the desire for sustainable toys, produced by ethically and socially responsible manufacturers and the brands we offer reflect those values. Jumini, our own brand of brightly coloured wooden toys, was launched in 2016 and this was followed in 2019 by the Studio Circus collection of pastel coloured wooden toys, which are designed in the Netherlands. We have been actively looking for other brands of environmentally friendly toys to add to our portfolio and came across the award-winning Tikiri brand of natural rubber and organic cotton toys at Spring Fair 2020. So, we are immensely proud to have been chosen to represent this brand in the United Kingdom.
During 2020 lockdown we have added a further 4 brands to our portfolio: Viking Toys, Tactic Games, ReCycleMe and Snails - safe nails.

We hope you will love what we have to offer as much as we do and cannot wait to supply you with some toys for your store!
Julian & Nikki Garner
Address
Milton Keynes
United Kingdom
Sustainability Role in overall company's strategic plans

Our mission is to become the 'go to' supplier of sustainable toys in the UK, and this focus has lead us to choose the brands we currently have in our portfolio, as we recognise the need for ethically sourced, sustainable toys and games to satisfy the growing demand for these types of products.

Sustainability initiatives

Alongside choosing only ethical manufacturers and sustainable toys, we have already made changes to our packaging to reduce plastic and ensure every box is no bigger than it needs to be. All our cardboard packaging is fully recyclable, and much of it is actually recycled - and some items can be purchased with just a swing tag to reduce packaging further. Much of the furniture you can see on our exhibition stand was actually made by ourselves, using old pallets - demonstrating our belief in reducing waste, reusing materials and recycling where possible.

Sustainable Products

Studio Circus wooden toys

All Studio Circus wooden toys are made from wood carrying the FSC mark, meaning that the factory met all requirements of the Forest Stewardship Council - ensuring the wood, paper and other products come from well-managed forests and/or recycled sources.

Viking Ecoline Toys

Viking Ecoline toys are made from a form of "bio-plastic" - an oil-free plastic derived from sugar cane. Sugar cane is renewable and absorbs more CO2 whilst growing than when it is turned into bio-ethylene for Ecoline toys. It is also completely recyclable along with normal plastic and uses recycled packaging. These toys are extremely strong and durable - the antidote to throwaway culture, made to last a lifetime!

Tikiri Toys

Tikiri toys won the 'Ethical Gift of the Year' in 2021 for their natural rubber baby bath rattle teething toys. Tikiri is based in Sri Lanka and they use locally sourced rubber from the latex of the hevea tree to minimise their carbon footprint and their impact on the environment. The toys are hand-crafted from eco-friendly and sustainable natural materials - the first in the world to hold the GOLS certification for organic latex used for toys.

AT THE FAIR

NEW TO THE FAIR

Social equity at your company

The factories producing our toys hold the relevant documentation to ensure their workers are paid a fair wage and that their working conditions are appropriate. Our own IOT staff are offered flexible working and we support a number of national and local children's charities (including Barnardos) through donations of toys.

Certified sustainable products by third party

Packaging

Our packaging is plastic free

Our packaging is made with recycled content

We are in the process of making our packaging plastic free

Other

Most of our packaging is plastic free and we are working towards reducing this further. Viking Ecoline comes in recycled packaging.

Materials

Our products are plastic free

We have created products that provide an alternative to single use plastic

We have products made from sustainability sourced raw materials

Both jumini and Studio Circus are made from ethically sourced wood. Tikiri toys are made from sustainably sourced natural rubber and organic cotton. Viking Ecoline is made from oil-free plastic and the Viking Classic range is designed to be strong enough to last a lifetime!

Ethical Considerations

Fair wages are paid to the people who make our products

Our products are made by people employed in good working conditions

Enviromental Impact

Our products are created to help consumers try and reduce their carbon footprint

We have a sustainability policy