Inside out toys Ltd
Stand: 20K44-L45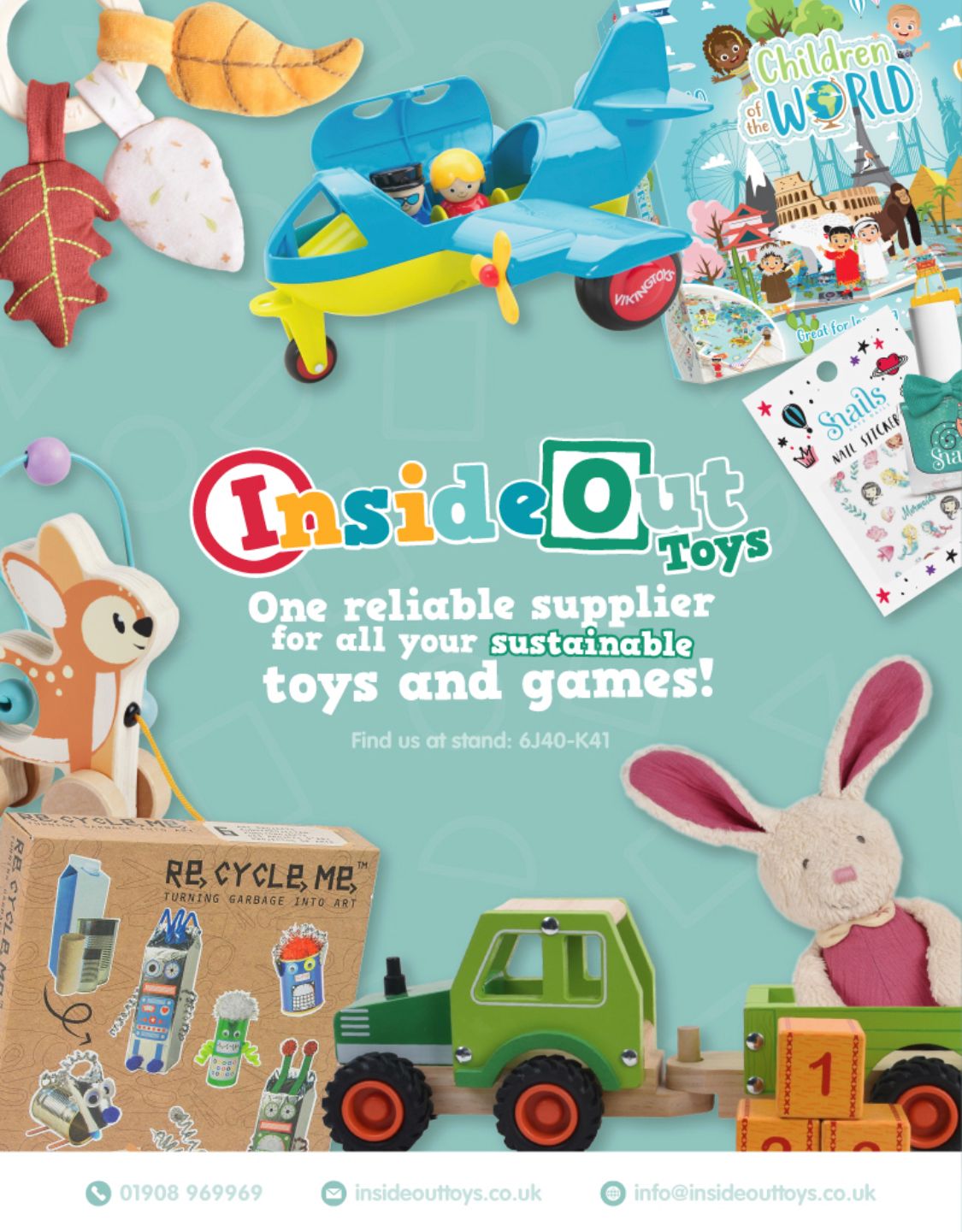 IOT – Home of Sustainable Toys
2022 is the 10th Anniversary year of Inside Out Toys! A year to celebrate our amazing portfolio of sustainable toy brands.
Inside Out Toys Ltd was established 10 years ago by Julian Garner; an entrepreneur looking to provide for his family, and to keep him and his wife busy. The company was originally established in a small industrial unit just outside Derby – Julian's hometown – and has recently moved from its premises in Milton Keynes to a beautiful eco-farm in Northamptonshire. The new warehouse is a converted grain store, and the office was extended from the original drying room – repurposing at its finest! Our new home boasts spectacular countryside views, whist the solar panels adorning the warehouse roof and maize being digested on the farm to create electricity are constant reminders of the site's environmental credentials.
"2020 brought a raft of challenges as we adjusted how we do things in response to COVID-19. During this period, we decided to use the 'quiet' time to plan the next chapter of our business. This has led to IOT taking on the role of UK Distributor for some amazing brands over the last 18 months. We recognise the desire for sustainable toys, produced by ethically and socially responsible manufacturers and the brands we offer reflect those values. Ten years after the very first toy was despatched from our premises, we are now proud to be one of the only toy companies in the UK to offer a 'one stop shop' for all your sustainable toy needs!"
Understanding is key; the understanding that sustainability is not just about reducing plastic packaging, but also about the choices being made by consumers today, on behalf the children who will inherit this planet. 'Don't gift a toy that will cost the earth' … your customers should feel safe in the knowledge that they are buying a great quality, reasonably priced toy, that will also have minimal impact on the environment – and we can help with that! Our point-of-sale materials are designed to share key brand messages so that you don't have to.
We hope you will find everything you need for your store in our 2022 collection.
Keep up to date with all IOT news by following us on social media. Tag us in your photos for a chance to feature in our Stories.
Facebook: @insideouttoysltd Instagram: @Inside_out_toys_uk
Supported charities: Barnardos, Northamptonshire Health Charity, Giving World
Designed & Made in Britain
NO
Address
Milton Keynes
United Kingdom
Sustainability Role in overall company's strategic plans

Our mission is to become the 'go to' supplier of sustainable toys in the UK, and this focus has lead us to choose the brands we currently have in our portfolio, as we recognise the need for ethically sourced, sustainable toys and games to satisfy the growing demand for these types of products.

Sustainability initiatives

Alongside choosing only ethical manufacturers and sustainable toys, we have already made changes to our packaging to reduce plastic and ensure every box is no bigger than it needs to be. All our cardboard packaging is fully recyclable, and much of it is actually recycled - and some items can be purchased with just a swing tag to reduce packaging further. Much of the furniture you can see on our exhibition stand was actually made by ourselves, using old pallets - demonstrating our belief in reducing waste, reusing materials and recycling where possible.

Sustainable Products

jumini and Studio Circus wooden toys

All new jumini and Studio Circus wooden toys are made from wood carrying the FSC mark, meaning that the factory met all requirements of the Forest Stewardship Council - ensuring the wood, paper and other products come from well-managed forests and/or recycled sources.

Viking Ecoline Toys

Viking Ecoline toys are made from a form of "bio-plastic" - an oil-free plastic derived from sugar cane. Sugar cane is renewable and absorbs more CO2 whilst growing than when it is turned into bio-ethylene for Ecoline toys. It is also completely recyclable along with normal plastic and uses recycled packaging. These toys are extremely strong and durable - the antidote to throwaway culture, made to last a lifetime!

Tikiri Toys

Tikiri toys won the 'Ethical Gift of the Year' in 2021 for their natural rubber baby bath rattle teething toys. Tikiri is based in Sri Lanka and they use locally sourced rubber from the latex of the hevea tree to minimise their carbon footprint and their impact on the environment. The toys are hand-crafted from eco-friendly and sustainable natural materials - the first in the world to hold the GOLS certification for organic latex used for toys.

AT THE FAIR

NEW TO THE FAIR

Social equity at your company

The factories producing our toys hold the relevant documentation to ensure their workers are paid a fair wage and that their working conditions are appropriate. Our own IOT staff are offered flexible working and we support a number of national and local children's charities (including Barnardos) through donations of toys.

Certified sustainable products by third party

Packaging

Our packaging is plastic free

Our packaging is compostable

Our packaging is made with recycled content

We are in the process of making our packaging plastic free

Other

Most of our packaging is plastic free and we are working towards reducing this further. jumini puzzles are now wrapped in biodegradable cellophane. Viking Ecoline comes in recycled packaging.

Materials

Our products are plastic free

We have created products that provide an alternative to single use plastic

We have products made from sustainability sourced raw materials

Both jumini and Studio Circus are made from ethically sourced, FSC certified wood. Tikiri toys are made from sustainably sourced organic rubber and cotton. Viking Ecoline is made from oil-free plastic derived from sugar cane and packaged in recycled cardboard boxes.

Ethical Considerations

Fair wages are paid to the people who make our products

Our products are made by people employed in good working conditions

We have an ethical policy

Within the workplace where our products are made there is commitment to Non-Discrimination Gender Equality and Freedom of Association

Enviromental Impact

Our products are created to help consumers try and reduce their carbon footprint

We have a sustainability policy

We consider the environmental impact when creating our products

Some of the processes we use to manufacture products are energy efficient
This is a fabulous opportunity to try our wonderful Scratch Range of puzzles made from recycled card. This starter kit provides an approximate 6% saving on the items if purchased individually. Bundle ...

Woodland Collection – Bundle Deal Offer RRP £380.00 This is a fabulous opportunity to try our wonderful Jumini Woodland Range. This starter kit provides a 3% saving on the items if purchased individua ...