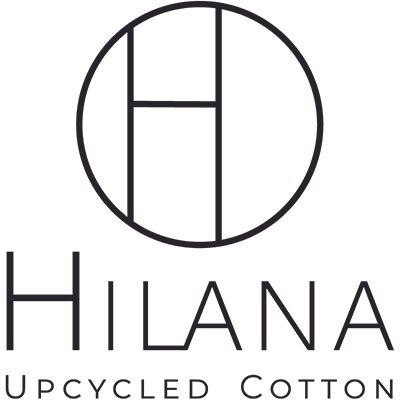 The Good Choice
Hilana Upcycled Cotton closes the loop on cotton in the cleanest way. Our textiles are made from recycled material through a zero waste process under the triple impact criteria.
Artisans empowered by their ancestral craft, are promoting the circular economy for a better world.
We are 100% committed to evolving and finding new ways to protect the environment. Our passion for the planet drives our desire of sustainability, responsibility and love for craftmanship.
Thank you for joining our green crusade and becoming a #changemaker.
Designed & Made in Britain
NO
Let us introduce you one of our favorites styles for the summer, for chilly days and more: Casablanca! Casual striped recycled cotton towel in warm, neutral, and earthy tones make every day an experie ...

Our amazing blankets are back! Pipa is in a league all its own. Striking the perfect balance between softness and substance with its beautifully easy going style. Pipa is remarkably soft, ethically ma ...
Sustainability Role in overall company's strategic plans

Behind each of our products is a story of sustainability, responsibility, and passion for the planet. Our products are made with 50% or 100% recycled cotton, through a zero-waste process and free of chemicals.

Sustainability initiatives

We are proudly B Corp Certified and we are currently working on our re-certification

Pledges for the year

Towels

Sustainable Products

AT THE FAIR

NEW TO THE FAIR

Social equity at your company

Yes, and we are working on the Fair Trade Certifications as well. We want to be as transparent and accountable as possible

Certified sustainable products by third party

Certified by

B Corporation

Packaging

Our packaging is plastic free

Our packaging is compostable

Our packaging is made with recycled content

· Our mailers and bookmarks are compostable · The kraft collar is made from recycled paper · Our products are plastic-free

Materials

Our products are made from upcycled materials

Our products are plastic free

We have products made from sustainability sourced raw materials

Our products are made from recycled cotton: dead stock that is shredded and spun again, becoming regenerated yarn. We do not dye the yarn, we use the colors that are already there.

Ethical Considerations

Fair wages are paid to the people who make our products

Our products are made by people employed in good working conditions

We have mapped our entire supply chain

We have an ethical policy

Enviromental Impact

Our products are created to help consumers try and reduce their carbon footprint

We consider the environmental impact when creating our products

Some of the processes we use to manufacture products are energy efficient

Our production is zero waste, and energy efficient, since the looms need human traction to function.