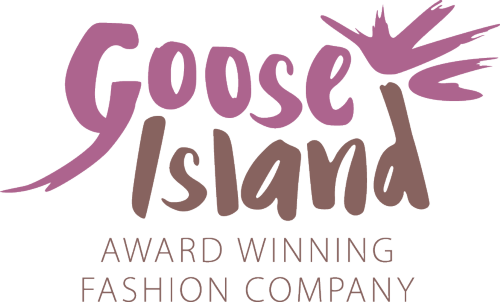 Hello and welcome to Goose Island. Founded by Karen Hutchings in 1993 the brand was developed after discovering her love for the fabrics and colours from travelling around India and the Far East.
With our head office being based in Swansea, South Wales, Goose Island is a family business that has been successfully sourcing, importing and retailing high quality Italian ladies fashion for over twenty years.
With a keen eye for quality and constantly striving to create a unique range of women's clothing that is comfortable, affordable and stylish, and not to mention one size!
The Goose Island team regularly visits our Italian suppliers to source the latest prints, fabrics and designs for our wonderfully curated wholesale customers; keeping our ever evolving brand up to date and on trend.
Goose Island has become a brand associated with individuality, quality and comfort, and has consequently created a loyal and broad customer base throughout the UK and Mainland Europe. It's relaxed, layered style with intricate fabric combinations, beautiful prints and elegant feminine shapes, and also excellent knitwear, compliment any occasion.
Lots of Love, your Goose Island Wholesale Team.
Designed & Made in Britain
YES
Address
Swansea,
United Kingdom
Our NEW mid season collection continues with the vibrant colours and bold patterns and prints. In search of those Summer trends then look no further, you will find ocean blues, garden greens and those ...
Sustainability Role in overall company's strategic plans

Sustainability plays a large roll in our strategic plan as it is the overall outcome as to how we get our products to our customers in the most environmentally friendly way possible. We also ensure that throughout the year we donate a significant amount of clothing to charities locally and internationally.

Sustainability initiatives

We have implemented a process in which any two orders are going to the same boutique/shop are carried out the same time in order to receive the amount of packaging being used. We are 0% landfall and have been for a few years.

Pledges for the year

We hope to use recyclable hangers or work alongside our customers in promoting them to not receive hangers from ourselves. Creating an improved outcome of reducing the amount of plastic.

Sustainable Products

Cardboard Boxes / Bulk Dispatching of Orders

All orders at Goose Island Wholesale are dispatched in cardboard boxes, no plastic is used in this process. If one of our customers places two orders and all stock is available we would aim to send both within one box - Reducing the amount of Carbon produced on the roads and the overall use of packaging.

0% Landfil

Here at Goos eIsland we have ensured that we are 0% landfill, as we believe with such turn overs of clothing it is important to protect the environment. To help with this we also ensure that we donate an array of clothing to local and international charities throughout the year donating over 250 pieces each time.

Emailing

We provide order confirmation, invoices, dispatch notes, and delivery updates via our emailing system. Therefore limiting the amount of paper used and wasted.

Packaging

Our packaging is plastic free

We package all of our products in cardboard boxes.

Materials

Our products are plastic free

We have created products that provide an alternative to single use plastic

All of our products are packaged in a cardboard box and no plastic is used.

Ethical Considerations

Our products are made by people employed in good working conditions

We have an ethical policy

All our products are sourced and purchased from ethically approved suppliers.

Enviromental Impact

We are a carbon neutral company

We have a sustainability policy

We consider the environmental impact when creating our products

Other

We ensure that if one customer has two orders that are being delivered within the same time frame, they are boxed and dispatched at the same time to reduce the overall carbon footprint. We ensure tat when are clothing is produced we ensure a 0% landfill policy as well as donating throughout the year also.
Our mid season collection showcases vibrant colours, bold patterns and prints; you will find ocean blues, garden greens and those pinks ready for the perfect sunsets.