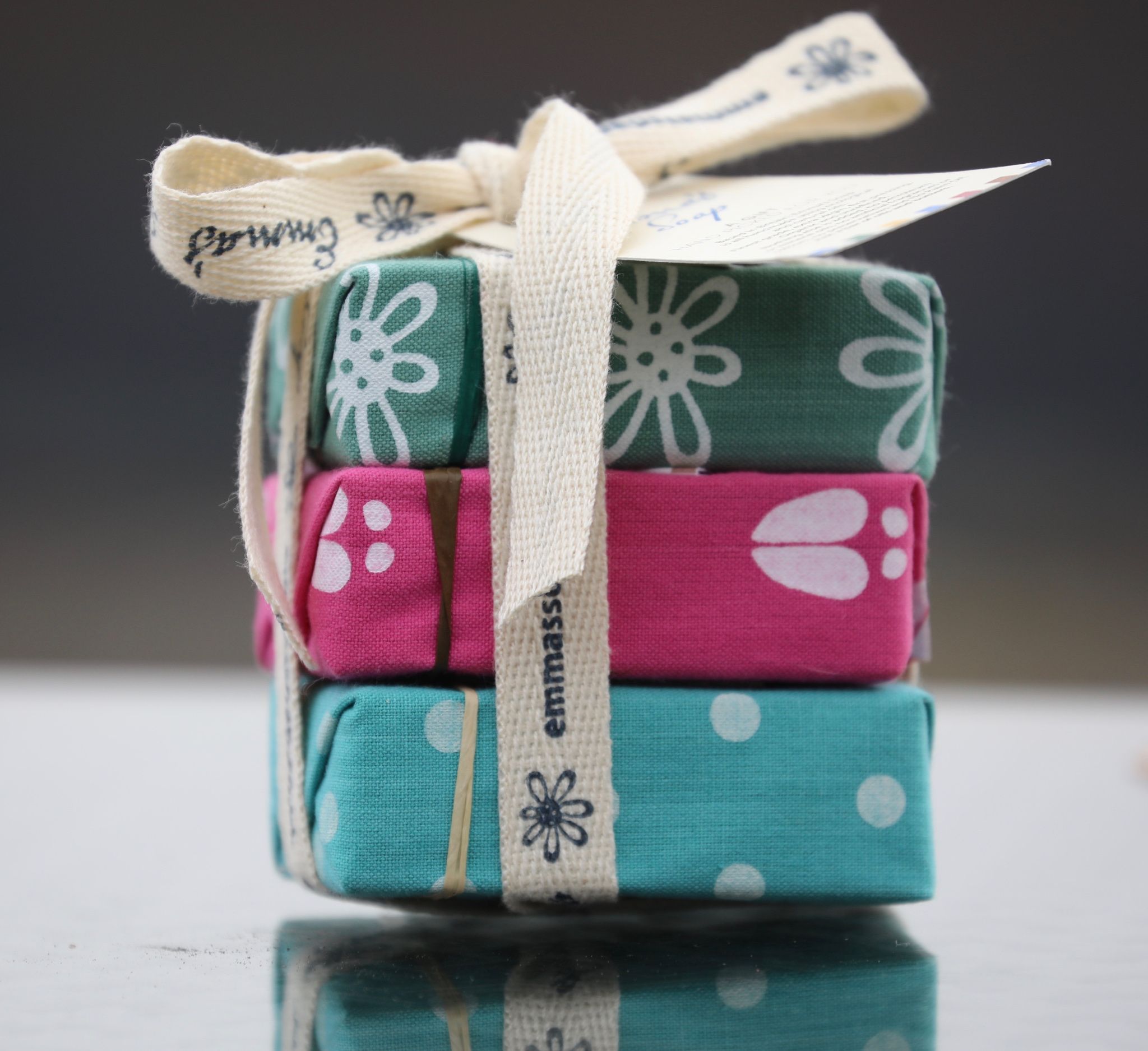 Based in Britian Emma's Soap is all handmade using the best grade ecological natural oils: extra virgin, first pressing, Organic and unrefined. Nothing else is added, no petroleum or mineral oils, no artificial fragrances or colours no preservatives and No Palm Oil. Just a bar of oils and butters Wrapped in Organic fair-trade cotton, reusable packaging.
Emma's Soap is presented with zero to landfill waste as all the packaging can be reused, recycled or composted. And its good for your skin too, shortlisted in the FreeFrom Skincare Awards and Gift of the Year.
Designed & Made in Britain
YES
Address
Hennock
United Kingdom
Sustainability Role in overall company's strategic plans

Every Aspect of the business from manufacturing waste to deliveries is made with an environmental sustainable conscience.

Sustainability initiatives

Emma's Soap has been Zero waste and plastic free since establishing in 2010. All products and ingredients are sourced considering the world environment, animal welfare, workers rights and their health and safety policy.

Pledges for the year

We are continuing to expand our range offering sustainable, ethical ecological alternatives.

Sustainable Products

Emma's Soap

We have 35 bars in the range, using the finest, highest grade of oils and butters, nothing added, no chemicals, fragrances or colours. Wrapped in Organic fair-trade cotton - reusable. label, raffia, parchment paper is all compostable

Olive Wood & Bamboo Soap Dishes & brushes

Olive wood - a bi product from the olive industry, trees are pruned Bamboo - tree grass, forest can grow in 2 years without aid of chemicals

Ramie cloths, loofahs and pumice stones

Natural spa products Ramie is a Chinese nettle Loofahs are grown - squash family Pumice - volcanic rock

Packaging

Our packaging is plastic free

Our packaging is compostable

Our packaging is made with recycled content

Organic Fair trade cotton is reusable, parchment paper, raffia and soap label (recycled card with vegetable ink) is compostable.

Materials

Our products are plastic free

We have products made from sustainability sourced raw materials

Ethical Considerations

Fair wages are paid to the people who make our products

Our products are made by people employed in good working conditions

We have mapped our entire supply chain

We challenge our suppliers to report any ethical issues they identify

We have an ethical policy

Within the workplace where our products are made there is commitment to Non-Discrimination Gender Equality and Freedom of Association

For our Environmental policy an statement go to: https://www.emmassoap.co.uk/about-emmas-soap_enviromental.htm

Enviromental Impact

We have a sustainability policy

We consider the environmental impact when creating our products

Emma's Soap manufacturing premises is up-cycled repurposed shipping containers, lightweight, highly insulated, airtight buildings, requiring minimal heating, with natural ventilation, maximising solar gain.