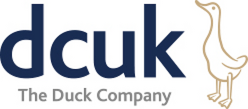 Hello there. We hope this finds you well.
We're The Original Wooden Duck Company.
Or as our friends call us, DCUK.Â
Â
Every DCUK original is hand carved from earth-kind bamboo and carefully painted individually, making each one unique. Arriving with their own name tag, the DCUK Pin is added to each character who passes our smile and quality tests - our visible promise of a gift of exceptional quality and charm.
Our friendly trade team would love to talk to you about the benefits of offering DCUK characters to your customers. They can clarify the best stock combinations and price packages, share retail customer insights - and provide access to engaging visuals and display assets.
Give us a call on 01803 866 316 to discuss options or to get some advice - just ask to speak to Natalie or Louise.

You can also request access to our trade website at dcuktrade.com, or email us at mail@dcuk.com.Â
Â
Â
Â
Address
Totnes
United Kingdom