DCUK
Stand: 20F30
Christmas & Seasonal decorations
Christmas Gifting
Seasonal Decorations
Gifting
Craft
Personalised gifts
Handicraft
Manufacturer
Gift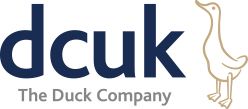 Hello there. We hope this finds you well.
We're The Original Wooden Duck Company.
Or as our friends call us, DCUK.

We're an ambitious brand that likes to work hard, have fun, and also make life just that little bit better. Every duck or feathered friend we sell is a true original, having been hand-carved and painted individually. All DCUK characters are raised from brilliant bamboo root, with our team in Indonesia rescuing the discarded roots and transforming them into something more loveable.
-----

For Autumn Fair, we're pleased to unveil the adorable Hedgies as our new pre-order for spring 2022, the latest addition to our engaging Toadstool Folk range. To keep them company, we're also announcing that the popular previous short-run Toadstool Ducklings and Duckys will now be fully available to the trade from 2022.

As well as the Hedgies and Toadstool Folk, pre-orders are now being taken for several of our ranges that SOLD OUT so quickly this year, including Wild Wellies, Raincoat Ducklings and our very popular Dinky Ducks.
We're also really excited to present our brand new free-standing display units (FSDUs), created especially for storing, promoting and selling our pre-boxed Garden Birds and Dinky Duck ranges. Head to our stand and see just how eye-catching they are, or get in touch for more details so you don't miss out on the chance to literally take your DCUK merchandising to the next level.

-----

If you can't say hello during Autumn Fair, give us a call on 01803 866 316 and ask to speak to Louise or David for some tips or advice. They can also arrange a friendly face-to-face catch up at a convenient time after the show, with Steve K, our UK Sales Manager. He would love to come and say hello, bring some samples, and chat through a few options and ideas.
If you already know what you want, you can request access to our trade website at dcuktrade.com, or email us at mail@dcuk.com.
Address
Totnes
United Kingdom
Natural Finish, Spotty Hats Wide-eyed and kind-hearted, the Toadstool Hedgies have colourful caps where you might expect to find spines... matching the same five pastel shades as their friends, the To ...

Dinky Ducks (2022 edition) Delightfully dinky and ready for rain, our Dinky Ducks in spotty boots don't want to miss out on those lovely puddles! Carved from bamboo root and painted by hand, naturally ...