DCUK
Stand: 6K48
Christmas & Seasonal decorations
Christmas Gifting
Seasonal Decorations
Gifting
Craft
Personalised gifts
Handicraft
Manufacturer
Gift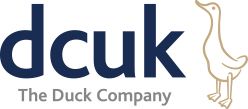 Hello there. We hope this finds you well.
We're The Original Wooden Duck Company.
Or as our friends call us, DCUK.

Our Devon team has been busy throughout lockdown, creating some stunning product videos that bring our new characters to life
If we haven't yet met, you may know us as the people who make wooden ducks in wellies! Since our designer had her vision of loveable, puddle-splashing ducks in 2004, we've been on quite an adventure, inspired by nature to create characters who love to share their heart-warming smiles with the special people who buy and sell our gifts.
DCUK Ducks and Feathered Friends are hand-carved from sustainable bamboo root and painted one-by-one. Each character has its own name wears the DCUK Pin, a mark of exceptional quality and charm unique to The Original Wooden Duck Company.
This year, we can't wait for you to meet our newly-hatched Bonnie Birds and Toadstool Folk.
We'd love to talk to you in person about your customers' needs and interests, and our personalised name tag service which adds a fun experience to their purchases. We pride ourselves on our flair for storytelling and we're only too happy to share our resources with you.
Give us a call on 01803 866 316 to talk through options or to get some advice - just ask to speak to David or Louise.

You can also request access to our trade website at dcuktrade.com, or email us at mail@dcuk.com.
Address
Totnes
United Kingdom
Look what we found, hidden in the garden

Toadstool Folk of all shapes and sizes are heading out into the big wide world from Spring 2021.

Pre-orders are now being taken.

Oh look, it's the Bonnie Birds

Say hello to the latest additions to our Garden Birds range - flying into stores in Spring 2021.

Pre-orders are now being taken.