D & J Glassware
Point of Sale Display
Gifting
Wholesale
Glassware
Candles & Home Fragrance
Designer
Christmas Gifting
£20 - £49
Bird & Pet Care
Christmas & Seasonal decorations
Home Décor & Accessories
£0 - £19
Gift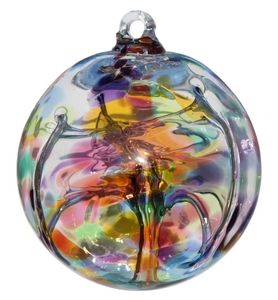 David & Jocelyne welcome you to D & J Glassware: the UK's favourite glassware supplier. A lot has changed since we started our business way back in 2002, but one thing remains the same and that is our passion to offer you the very best quality in hand crafted glassware. Our 'Friendship collections' are firm favourites amongst our stockists. We were the first UK company to bring you the fabulous Tree of Life mouth blown balls and have grown the collection over the past few years to make it a 'must-have' for quality retailers. Where possible, we use re-cycled or reclaimed glass: many of our beautiful items are made from crystal glass reclaimed from the manufacture of high-end wine glasses. Our packaging has always been easily recyclable, which we feel is increasingly important.

Don't miss our delightful fused glass animals. We started off with just a few cats, in fact we are often called the 'Home of the Happy Cats!' But the menagerie keeps growing and this year will see the introduction of new designs! All of our pieces are completely hand-made, which gives them their particular charm and collectability.

Last, but certainly not least are our burgeoning Fragrance Collections: stunning glass reed diffusers, unique melt burners, pot pourri and room sprays - all with delicious British made fragrances and all embracing our signature ethos of quality.

As our attention turns to Autumn/Winter 2020, we are pleased to present our Christmas selections: glorious glass Snowman, Santa and Christmas Trees; festive fragranced pine cones, reed diffusers, room sprays, pot pourri and our new 'Woodland Delight' , to bring the scent of Christmas into the home.

So, whilst we will really miss seeing you face-to-face at Autumn Fair this year, we can still help you to ensure your retail outlet is stocked with the finest glassware and fragrance collections! Just get in touch.
Address
Attleborough
United Kingdom
An elegant collection of mouth blown glass globes paired with heavenly British fragrance oils. Available in a selection of colours. Gift boxed. Re-fill oils also available.

Our Stand Up Figures are a delight and our designs for Christmas make everyone smile: Snowman, Father Christmas, Robins Christmas Trees and Angels!