Child's Play (International) Ltd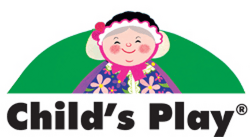 Child's Play, founded in 1972, has a history of creating innovative award-winning books for children from 0-7 years, that promote learning through play. Vibrant illustrations positively portray children of all cultures, nationalities, gender and abilities, helping children to develop and enjoy an understanding of our diverse society.
Visit www.childs-play.com to find out more about our nursery rhymes, fairy tales, finger puppet books and picture books, games and plush toys. A wire floor standing spinner is available to display the books.
Address
Swindon
United Kingdom