Aromatize
Stand: 7F44-G45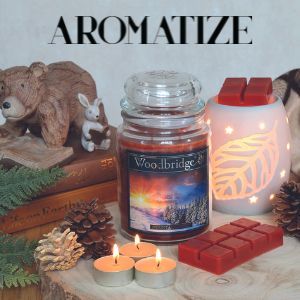 Aromatize Ltd are a wholesale supplier of a number of high-quality home fragrance product ranges. These include Aroma Accessories, Sleep Sakes, Woodbridge, Village Candle and new for the Autumn - Michel Design Works.
Aromatize specialise in home fragrance and our range of Aroma Accessories including; electric and tea-light wax melt burners, fragrance lamps, LED ultrasonic diffusers and glass candle accessories - are great value for money and excellent quality.
Aromatize are the nominated UK and Ireland distributor for Sleep Sakes, a brand with its heart in wellness - offering comforting fragranced products made with natural ingredients and beautiful keepsakes to cherish. The range includes chamomile infused bath bombs and fragranced sprays, plus lively characters in the form of plush toys, lighting, and money boxes.
Woodbridge is our own exclusive range containing fragranced traditional candle jars, candle tins, wax melts, essential oils, bath bombs, and reed diffuser refill liquid.
Aromatize Ltd are the exclusive distributor for Village and Michel Design Works luxury products in the UK and Ireland.
Address
Accrington
United Kingdom
Aromatize are the exclusive wholesale supplier of Aroma Accessories, a collection of quality home fragrance products. Aroma Accessories has a huge range including; popular electric burners, ultrasonic ...

Woodbridge is our own brand of home fragrance. A collection of dual wicked paraffin wax apothecary jars and wax melts, Tumbler Candle Jars, beautiful marble candle tins with three wicks, essential oil ...