Annie with Alex
Stand: 7A24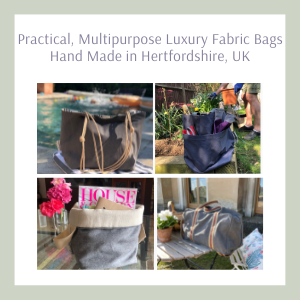 Annie with Alex are a mother and daughter collaboration. We design, create & make practical, multi-purpose, multi-gender fabric bags for you and your home.
Our bag portfilio includes: home storage for the side of the sofa, the bathroom, as well as traditional types of bags:messenger, handbags, tote bags, beach bags, cross body bags and washbags.
The design inspiration comes from us actually using the bags and thinking about multiple uses for one bag: ie our beach bag is large enough for a family of 4, its reversible for when the sand/ pool side is wet and in winter you can use it for football boots to keep the car from getting dirty!
As our portfolio of bags are made out of Luxury Cotton Canvas, French Provincial Linen and Luxury British made Wool they are all washable so that you can keep them nice and sparkly like the day they were bought.
Hand Made in Hertfordshire, England
Exclusive to Autumn Fair
YES
Designed & Made in Britain
YES
Address
Watford
United Kingdom
Sustainability Role in overall company's strategic plans

Sustainability is very important, we use textiles that are naturally died, are vintage or are upcycled.

Sustainability initiatives

have recently launched a range of Eco Ocean bags made out of recycled cotton fabrics and linens and lined with old used ships sales

Sustainable Products

Ocean Eco Pouch

Carry your small, personal items in this sustainable purse made from recycled materials. This triangle zipped pouch bag is perfect if you are into ethical fashion. The environmentally friendly pouch can be used as a pencil case, an eco friendly make up bag or small over night washbag, there are endless possibilities. With a small jute rope it's perfect for hanging onto one of our other bags or simply using it as a handle. Product Information The outer layer is made from a mix of recycled plastic bottles found in the ocean and mixed with cotton, whilst the lining is upcyled from old ships sails which makes it perfectly waterproof.

Come Sail Away With Me - Eco Friendly Tote Bag

This Ocean Eco Friendly tote bag is a perfectly unique piece of sustainable fashion. Our all-purpose sustainable tote bag is ideal for all scenarios. Whether you need a holiday bag for touring the sites, a beach bag to hold your towel in or a shopping tote bag to hold your groceries during a trip to the supermarket; this versatile environmentally friendly bag is for you. Product Information This ethical tote bag is made with a rPET, a recyled plastic and cotton mix, with an up-cycled sail as its waterproof lining. It is also a reversible bag. meaning you get two looks in one. The double clasp functionality ties the two sides of the bag together for extra security, or you can clip your keys to them to let them hang on the inside. The interior of the bag comes with a phone pocket and with a key pocket.

AT THE FAIR

NEW TO THE FAIR

Packaging

Our packaging is plastic free

Our packaging is compostable

Our packaging is made with recycled content

Materials

We have products made from recycled materials

Our products are made from upcycled materials

Our products are plastic free

We have created products that provide an alternative to single use plastic

Our Eco ocean range is made from old ships sails from our local sailing club in Herfordshire. The lining is made from old used cotton fibers which have been respun into new fabrics

Ethical Considerations

Fair wages are paid to the people who make our products

Our products are made by people employed in good working conditions

We have mapped our entire supply chain

We have an ethical policy

Within the workplace where our products are made there is commitment to Non-Discrimination Gender Equality and Freedom of Association

Enviromental Impact

Our products are created to help consumers try and reduce their carbon footprint

We have a sustainability policy

We consider the environmental impact when creating our products

All of our products are made in Herfordshire 1 mile away from HQ
We have always been motivated by the changing demands on a modern lifestyle, our collection is a range of contemporary and functional accessories which we hope people will use day after day. Our Bags: ...