Amica Accessories Ltd
Stand: 20A22
Christmas & Seasonal decorations
Christmas Trees
Festive Baubles
Easter
Gifting
Toys
Funky / Novetly Gifts
Kids
Toys
Toys
Home D'cor
Christmas & Seasonal
Importer
Wholesale
10+
Seasonal Decorations
Toys
The Family
Children
Product Photographs
Yes
Gift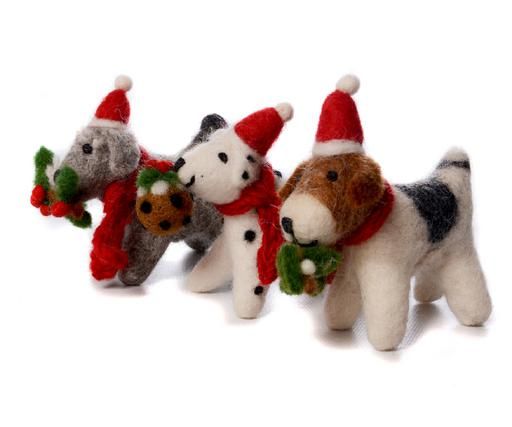 Here at Amica we are all about beautiful, handmade and fair trade felt. We offer gorgeous collection of toys, gifts, Christmas decorations and home accessorie ranges. Everything is designed at our studio in Bristol, then made with great skill and to the highest quality by a fantastic team of fair trade craftspeople in Nepal.

Here in Bristol we are a small team focused on creating fantastic ideas and keeping our furry friends supplied to our loyal customers. Whether you chat to Jo on the phone, Julie & Jess at the shows or receive notes from our Christmas Elves each person is vital in keeping this company ticking.

However it is not just the Bristol office that is pivotal in the success of Amica. Many miles away in Nepal we work with a fantastic fair trade company that help us with the product development and creation of our items.

Over the many years we have been working with the team in Nepal we have made regular visits to ensure the highest of standards are maintained and that all parties involved in making our products are working in a safe and friendly environment. Our felt is made mostly by women who are incredibly skilled and hard working. We know that by supporting fair wages and conditions we can make a real difference to the quality of their lives.

Address
Bristol
United Kingdom
Sustainability Role in overall company's strategic plans

Sustainability is at the forefront of what we do at Amica. The impact of Christmas on the environment is increasing and we want to ensure that we are not part of this problem. As we of 2021 we have made huge steps in reducing our impact and ensuring Christmas has a sustainable future.

Sustainability initiatives

1. all new Christmas decorations will be made of 100% wool making them plastic free and biodegradable. 2. Banning the use of glitter and metallic thread on all new designs. 3. All items will be packed in recycled plastic bags, recyclable or paper bags. 4. removal of all plastic kimbles

Sustainable Products

New Christmas Decorations 2021

All our new Christmas decorations are 100% plastic free making them the perfect choice for any sustainable retailers.

Pocket Pal Wool Toys 2021

All toys in our Pocket Pal range are 100% plastic free making them the perfect choice for any sustainable retailers.

AT THE FAIR

NEW TO THE FAIR

Social equity at your company

Our manufacturer in Nepal is registered with the World Fair Trade Organisation and a Fair Trade USA certified company ensuring that all our colleagues in Nepal are treated fairly and provided with a safe place to work.

Certified sustainable products by third party

Certified by

World Fair Trade Organisation Fair Trade USA

Packaging

Our packaging is made with recycled content

Other

All items will be packed in recycled plastic bags, recyclable or paper bags.

Materials

Our products are plastic free

We have created products that provide an alternative to single use plastic

All new products are made from 100% sheep's wool

Ethical Considerations

Fair wages are paid to the people who make our products

Our products are made by people employed in good working conditions

Within the workplace where our products are made there is commitment to Non-Discrimination Gender Equality and Freedom of Association

Our manufacturer provides opportunities for all men and women in the company to improve skills and develop within the company. A workers committee consisting of an representative from each area of the business runs alongside management to make sure any concerns, opinions are shared and changes are made.

Enviromental Impact

We consider the environmental impact when creating our products

In the last year we have taken huge steps in removing all plastic from any new product designs from 2021 onwards.