Alex Sharp Photography
Stand: 6B21
Stationery, cards & wrapping
Greeting cards
Product Photographs
10+
Stationery
Designer
Christmas Gifting
Greetings & Stationery
Giftwrap
Greetings cards
£0 - £19
Greetings & Stationery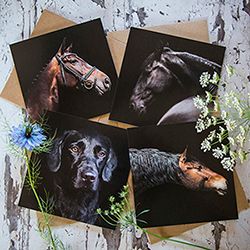 We are a Photographic Greeting card publisher based in Worcestershire England, I (Alex), have taken all of the images myself, now having over 300 cards in our range including floral, equestrian, country scenes, working dogs, pheasant shoots, farm animals plus world travel and wildlife, wolves and extreme locations around the globe and of course Occasion cards.
We pride ourselves on the high quality 300gsm trucard that our cards are printed on. Our customers comment on the card quality and we like that many customers will keep and often frame their cards.
We use biodegrable cello wrap on the cards as they are often in country stores and garden centres where they need to be kept clean from dust etc. but they can also be supplied naked if you prefer.
Our range grows month on month as does our range of homewares, including travel mugs, mugs, coasters and prints, with Aga toppers and tea towels coming soon.
We also license images, so if you are interested in licensing please ask to see our full range of available images.

Address
Dodford
United Kingdom