3D Displays Ltd
Stand: 6E43
Manufacturer
DIY
Retail services & Shop Fitting
Point of Sale Display
Gift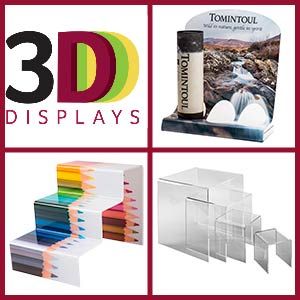 3D Displays, established in 1977 are UK based acrylic fabricators.
With a wealth of experience within the shop & display equipment sector 3D Displays have been manufacturing acrylic displays for over 40 years.
3D Displays have over 700 display products available from stock to purchase on-line or by phone. In addition a UK based manufacturing facility 3D have the expertize to manufacture custom made products to your specific requirements. 3D Displays also offer a printing service. You provide an image - a logo, photo, pattern or text and 3D Displays will print it directly on to the acrylic or slatwall panel.
If you need display equipment - or any other product - fabricated from acrylic, PVC or PETG then 3D Displays are the company to speak to. Being manufacturers 3D Displays can cater for large or small run sizes from single units to thousands of bespoke units.
When you purchase your acrylic display products from 3D Displays you can be sure they are fabricated with the utmost care and precision through the entire process. Whether they be routed with the CNC router flame polished, bent on line benders or our ovens we maintain the highest standards throughout.
Address
Faversham
United Kingdom