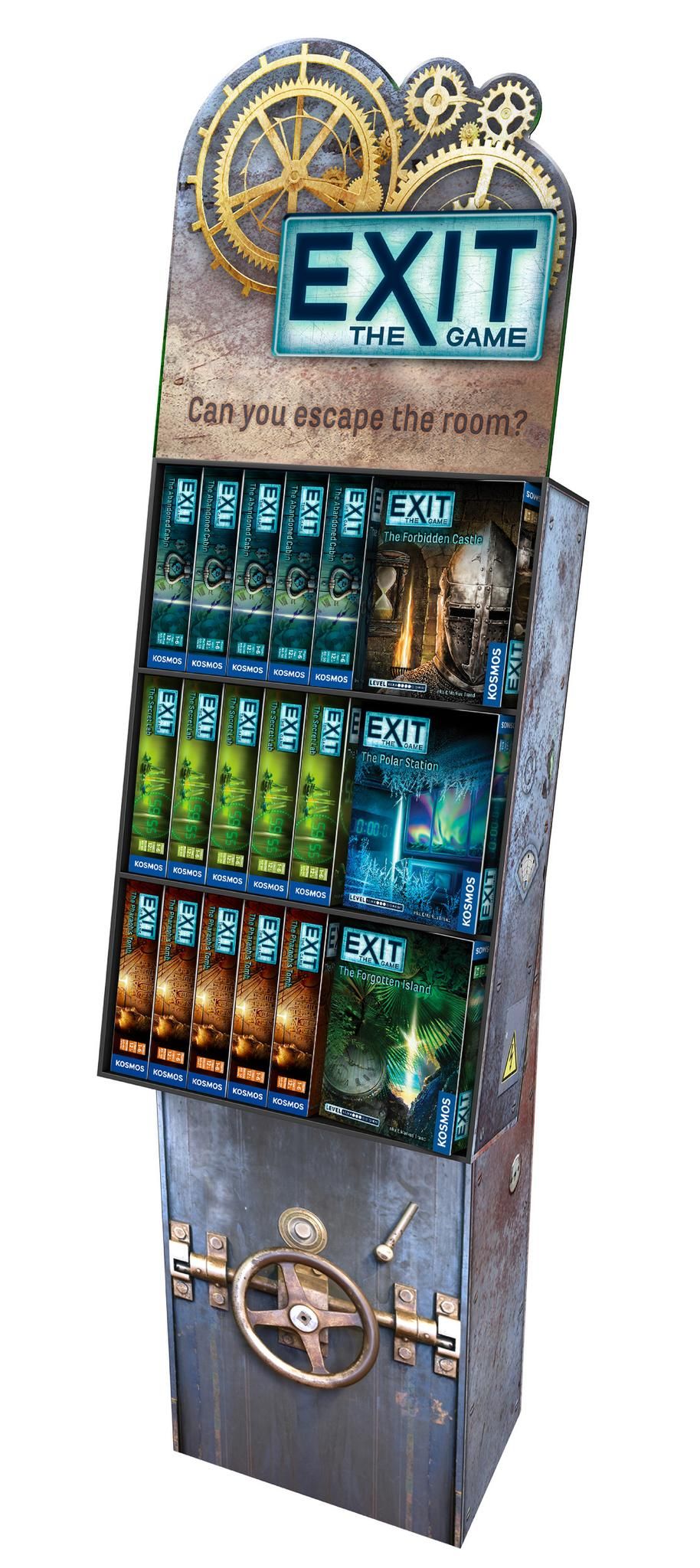 "EXIT – The Game" from KOSMOS Verlag continues its course for growth. In the first half of 2019, the brand ranked 1st among the strongest game brands by sales in Euros from January to June 2019.* With this, "EXIT – The Game" manages to oust the previous, long-standing top game brand from the No. 1 spot in just two and a half years.

With "EXIT – The Game", Stuttgart-based KOSMOS Verlag was one of the first to publish a new board game series on the trending topic of Live Escape Games in Autumn 2016. More than four million EXIT games have already been sold worldwide and the first three games have been awarded the internationally important game prize "Connoisseur's Game of the Year 2017". Currently, around 20 different EXIT scenarios and books are available in the series across multiple languages.

The innovative game principle works in "EXIT – The Game" just like in the real escape rooms – just without the space. To start, players find themselves with one decoding disc and a mysterious book including a picture of a room. By examining this, different objects can be seen; each of them with different symbols. With a little coordination, team-work and creativity, players gradually discover more and more clues, crack codes, solve puzzles and get a little closer to freedom with each step. Each EXIT game is a standalone experience, and just like a live escape game, once the secret of the room has been revealed the game cannot be played a second time, as players mark, tear, fold, and cut the components to solve the mystery. By using the game materials in unique ways, particularly astonishing puzzle experiences are possible.
KOSMOS was able to work with the successful designer couple, Inka and Markus Brand, for the development of the original puzzle games. The concept and idea of the successful game series originated in the publishing house, and it continues to be one of the best-selling series with new titles regularly released for fans of escape games.
All games in the EXIT: The Game range are RRP £13.50 and are available in the UK from Thames & Kosmos.
Trade enquiries: sales@thamesandkosmos.co.uk / 01580 713 000
*Source: npdgroup deutschland GmbH, Retail Tracking Toys, category family games, January - June 2019

For more information:
kosmosgames.co.uk
Autumn Fair stand 7E92
- ends -
For Further Information:
Please contact Playtime PR:
Alex Frith - alex@playtimepr.com – 07791 592 011
Note to Editors
Thames & Kosmos (T&K) was founded in 2001 by Jane Holdsworth, with the mission of improving informal science education by publishing high-quality science and technology related educational products for children of all ages. T&K places an emphasis on teaching concepts and skills through hands-on modelling of real-world devices and processes, and by offering comprehensive, meaningful reading materials for a rich learning experience. Thames & Kosmos UK operates as the exclusive European distributor for the English Language science kit line of our partner company — the 189-year-old, German-based publishing house, Franckh-Kosmos Verlags-GmbH. Kosmos has an existing line of high-quality science kits that T&K translates, rewrites, and distributes in the English language. The UK branch was set up in 2010 to meet demand from UK and Europe.